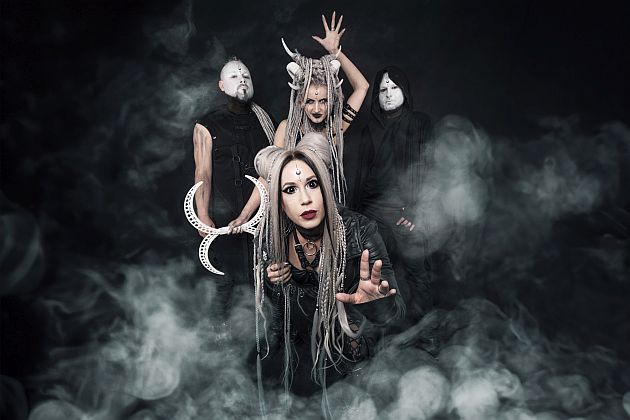 Interview with
Yu (vocals), ad-x (synths) and Louve (performer) from Her Own World

The Polish project HER OWN WORLD, originating from Szczecin, is experiencing dynamic growth. A unique stage presence, performances filled with drama and theatricality, and exceptional music encapsulate the essence of HOW. In this interview, we delve into their inspirations, music, funny scenic moments and future plans and discuss the new album 'Tales from Another Life' and the upcoming show at Dark Dance Treffen.
Reflections of Darkness [RoD]
: Your shows are a captivating fusion of musical and visual artistry. Could you share the concept behind HER OWN WORLD?
Yu
:
From the beginning this band was my child. Even when it hasn't been even real yet, it existed in my head many years before. When I decided to work with Ad-x and to create together as a band we wanted to make something that would stand out from ordinary Gothic bands. We know that maybe what we present to the audience is not completely innovative, but it is our way to tell our stories. We want to give to the listener more than just the music. For me, as a graphic designer, the visual and musical layers are equally important. And it is not even the final shape of HOW because we are constantly evolving.
RoD
: Your concerts are notably theatrical, often incorporating elements like fire shows and intense performative efforts. Could you shed some light on your preparations for live performances and the sources of your inspiration?
Yu
:
Well, we make a lot of full band rehearsals obviously. When we were creating our current show, we gathered our ideas and put it together piece by piece to its final form. The show is in two versions - with real fire and as a LED performance. Of course, we love to present this first one, because it is more spectacular. Unfortunately, not every venue is allowing such. We treat our performance like a theatre play, with a general script, with a good beginning and a strong, powerful end.
Louve
:
The choreography, the stage outfits, all the ads and other preparations all together, come from the rhythm and the lyrics naturally. If we sing about Guarding Angel, be sure there will be wings, if we sing about Vampire: there will be blood (no worries fx safe only!) and if there is a song about 'This Fire' - well guess what will happen… What we aim to achieve is to make a complete experience, with a meaning, with bright, memorable visuals. And first above all: me as a dancer and a stylist live to a rule: enjoy yourself and let the world watch while you do! If you are honest in your passions rest assure: so, will be the show. And I just cannot wait for another one with my amazing band!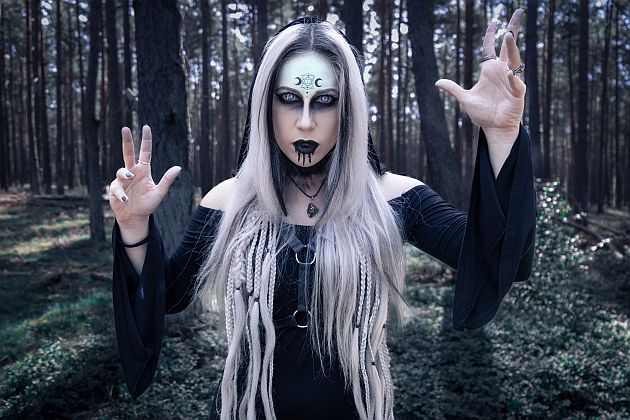 RoD
: I've heard that during one of your fire shows, there was a memorable incident involving the roof melting. It seems that art can indeed be an adventure! Do you recall any show that has stuck in your memory for its unique circumstances?
Yu
:
Yes! We had such an "accident" in VooDoo club in Warsaw this year! I found out about it after the show, because Louve controlled the situation like a pro (unfortunately some of the roof melted on her skin, ouch! But really nothing serious, don't worry). I saw some films and photos. But it generally tells a lot about our shows - even if it is not perfect for us, the audience has to think that nothing happened - the show must go on. I can recall another "funny" situation involving Ad-x. He had a spider stand for keys. During the moment he stood on it and started to jump, it fell apart and all his equipment fell down. Luckily, he caught the keys before they hit the ground! It was close! Of course, I did not see this moment too because I was standing in front of him… He was struggling with the situation and I was performing like nothing was happening because I did not see it. I got it filmed - I will show you the next time we meet. Oh! In Czechia during the Prague Gothic Treffen festival, Louve got tangled in her led poi, Ad-x had to rescue her and play the keys at the same time. Guess what? I did not see it either…

RoD
: How would you describe the musical style of HOW? Could you provide some insights into your typical songwriting process?
Ad-x
:
We combine many musical genres, and it is difficult to clearly define what genre of music we play. We called it nu-goth because it contains elements of Gothic Rock, Gothic Metal, Industrial, Dark Electro and even a slight hint of Trance. As a producer and creator of most of the music in HOW, I usually start creating a song with the chorus and its main melody. I realize that this may not be a typical workflow, but the most important thing is that the final result is satisfactory for everyone. I sometimes work on two or three songs at the same time because I am not always able to come up with the entire structure of the song. I usually work late in the evenings because that's when my creativity is unleashed.
Yu
:
When a skeleton of a song is ready, then I listen to it like a hundred times and think about the emotions that accompany me while listening. Then I start to write the lyrics. I try to put myself in the situation of the lyrical subject, as it was my own. For example, in 'Jessie' - it is not my story, it is about young girl, who was struggling with mental health and it ended tragically - with suicide.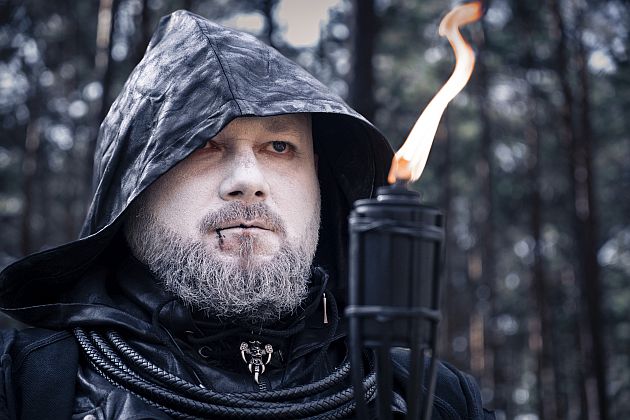 RoD
: Your most recent album, 'Tales From Another Life,' released in 2023, is a blend of poetry, ephemeral beauty, and dynamic catchiness. Could you share your experience working on this album? Is there a song from the album that holds particular personal significance for you?
Ad-x
:
Working on the album was a strange and somewhat complicated process because we were at the stage of transforming the style from classic Pop / Dark Electro to more guitar-oriented (nu-goth). My personal fav is definitely 'My Darkling', I identify very much with this song musically because it very well reflects the path we have taken musically since the singles while still under the previous name HOW until the album is released.
RoD
: 'Sin' was recently remixed by Jeremiah Kane. How do you typically choose the musicians you want to collaborate with?
Ad-x
:
We don't have a specific pattern of musicians we choose for collaborations. For 'Sin' we could have just as easily used Dark Electro artists, although it wouldn't have had such a nice sound. We decided to do the JK remix because they fit perfectly into the image I had in my head, not too heavy, not too cliched, but delicate and melodic.
RoD
: Your video for 'Autumn Song - part 2' was released on October 21st. Could you tell us more about the concept behind it and the creative process involved in its making?
Yu
:
We came up with the idea for the video when we were coming back from Castle Party this year. We just talked and somehow it just popped out. It was a general idea which turned into a full scenario a few weeks later. It was not an easy video. It was VERY hot during video shooting and we had only two days to film everything so we worked on set for very long hours. It was our first such extensive music clip production. It involved three different locations: Pomeranian Library in Szczecin in Poland, the island of Rügen in Germany and a studio. First time we used shots from a drone. We cooperated with a new film crew for this one and we are very pleased about it (Paweł Kochański and Magdalena Drelich - you are the best). We hope that you all can see how much effort we put in this video. We are so proud of it.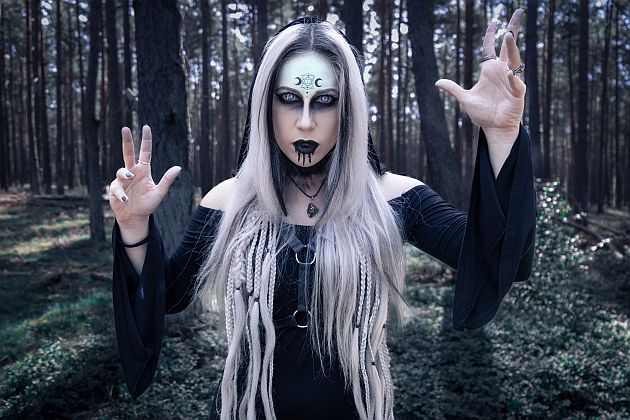 RoD
: You'll be performing at Dark Dance Treffen later this year. What other plans do you have for the upcoming months, both in terms of concerts and new music releases? What can your audience expect from you in the near future?
Yu
:
At Dark Dance Treffen will be our last concert this year. After this we are planning to rest from concerts a little bit and focus on new singles for 2024. BUT till the end of this year, we will release one more song in which we are featured, called 'Dark Knight' in cooperation with EXTIZE (Germany, darkTunes music group). It will be completely different from what we do now, with an Electro / Future Pop vibe. There will also be a music video for the song. Both will be released on 8th of December. We also made a collaboration with DAWN OF ASHES (USA, metropolis records) recently. 'Her Lethal Injection' was released on 3rd of November. On YouTube you can find a lyric video for the song (which is little bit a music video). Well, we have some concert plans starting spring 2024, but we can't spill anything yet. Just stay tuned.
RoD
: Thank you very much for your time!
Pictures property of Her Own World
See also (all categories):