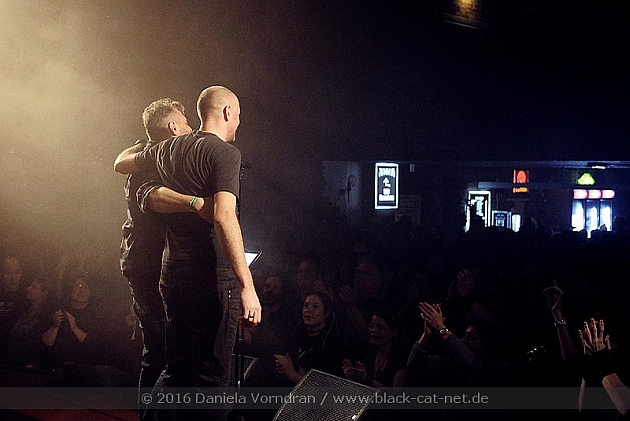 Kulttempel, Oberhausen, Germany
17th December 2016
Neuroticfish, Binary Park & Mortaja

Once again the band invited to "Home match", now as version 3.0, as NEUROTICFISH are hailing from the Ruhr area. And of course the fans and friends followed this invitation in order to celebrate a gorgeous pre-Christmas party. The concert was almost sold out. Alongside the band, BINARY PARK and MORTAJA did their best to entertain the audience and make them move.
Mortaja
This is a one man project by Bert Lehmann who lives also in the Ruhr area. Formerly it was more of a living room only project until Bert decided to give a demo to the Audiophob label. His musical pieces appeared on several releases but he also proved great live performance abilities at the Maschinenfest and Schlagstrom festivals amongst others.
http://www.audiophob.de
/
https://www.facebook.com/Mortaja.de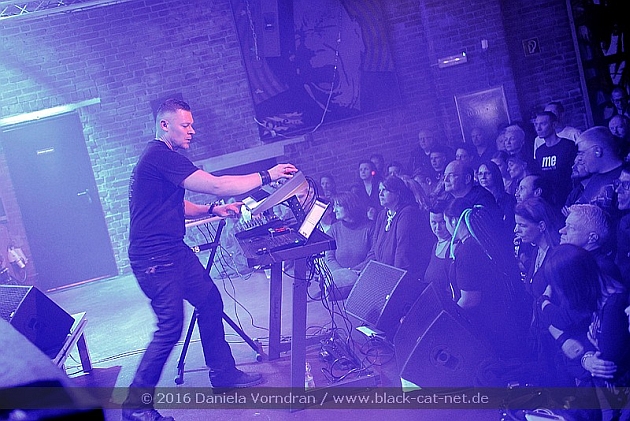 Music & Performance

While you probably find influences of the Dark Ambient/ Industrial in his music I would describe it as Tribal Ambient/ Industrial sound as during his live performance on that evening videos of dancing people from different cultures/ tribes were displayed fitting perfectly to the rhythm of the songs. At the beginning some people looked quite sceptically while listening to the instrumental songs but after a while you could spot several people moving the music. Probably he could have reached more people if he had addressed to them.
Setlist

01. Paint my face
02. Derelict
03. Poignant
04. Esbat
05. Escapism
06. Out of body
07. Asesinato ritual
Rating

Music: 7
Performance: 5
Sound: 9
Lights: 6
Total: 6.5/ 10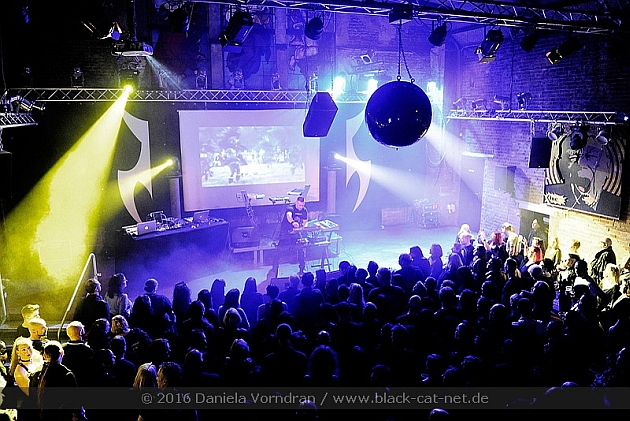 Binary Park
Founded in 2009 by Torben Schmidt and Alfred Gregl, who worked together already on some projects since the 90's, the guys decided after their first demos that they need a singer for their songs. Eventually they found in Huw Jones, who lives in the UK, the one to do this job. The music of the band can be described as a mixture of Electro/ Industrial / EBM and Synth Pop. Up to now the band has launched two albums and two EPs.
http://www.binary-park.net
/
https://www.facebook.com/binarypark/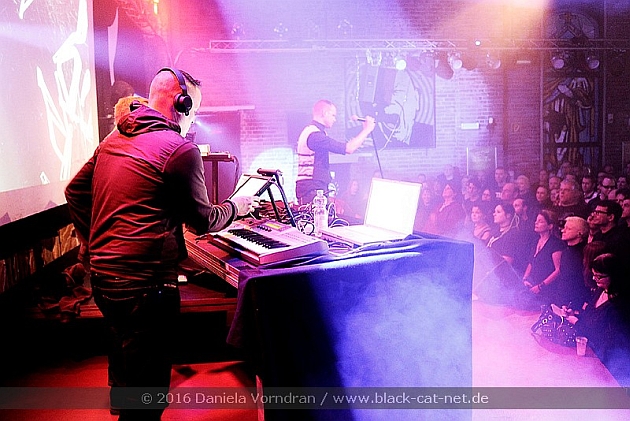 Music & Performance

When the band entered the stage more people have arrived at the venue and apparently there were some fans among them as they cheered loudly especially when Torben was introduced after the first song. Actually the music itself was enjoyable but I don't know if the singer had just a bad day but his vocal quality was awful. The fans of the band didn't mind and applauded loudly after each song while I left the place for a while because I couldn't bear this singing anymore. I heard that the band had released many instrumental songs especially in the beginning. Well, I wished on that evening that the performance would have been instrumental as well. Anyway Huw did his best to entertain the people and addressed frequently to them.
Rating

Music: 6
Performance: 7
Sound: 9
Lights: 6
Total: 7 / 10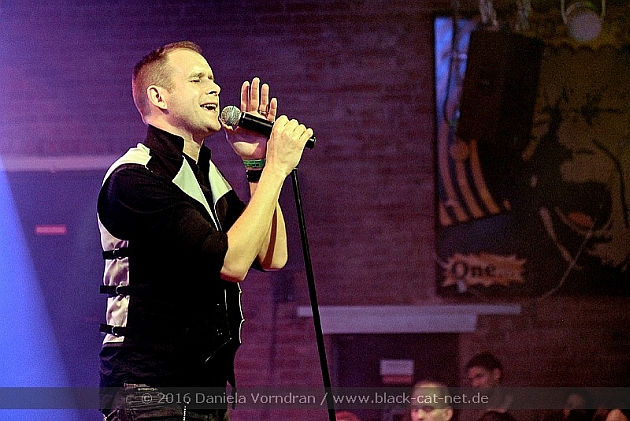 Neuroticfish
In the early 90's Sascha Mario Klein (vocals, music, lyrics, production) created the project and soon, Henning Verlage (keyboard, production) joined in. With music of the genre Future-Pop/ Synth-Pop / EBM they created songs made for the dance floors. But in 2008, NEUROTICFISH gave notice of the end. Fortunately in 2013, they announced their comeback with a 'Sign of life' concert in Bochum. Not only did the break them good which was proven by the release of the album 'Sign of life' but on various concerts and festivals the band raised the roofs. Just in time for the late Christmas gifts shopping NEUROTICFISH has launched the remastered version of 'Gelb' and to top it all the 'Agony' EP. Including the latter mentioned remastered album and EP, the band has released six albums and eight EPs.
http://www.neuroticfish.com
/
https://www.facebook.com/OfficialNeuroticfish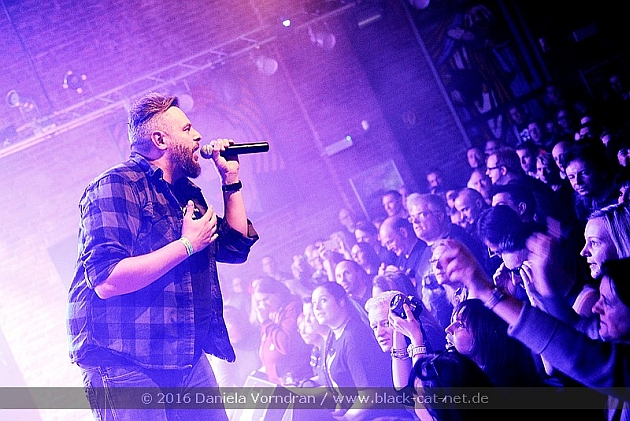 Music & Performance

Had the evening started a bit viscous Sascha dragged the audience immediately out of its lethargy. The venue was full now and right from the beginning the masses started to dance. There were some problems with the microphone as the singing was too quiet and there were some unpleasant feedbacks of it. But that was fixed quickly and it did not harm the good mood of the fans and almost everybody was singing, dancing and cheering. Apparently Sascha was in a brilliant mood as well, chatty as always between the songs. And even Henning, who suffered from a torn ligament after a sports accident and therefor had to take strong painkillers so that he could stand on stage, enjoyed performing, too, as he was constantly smiling. And before you get it wrong it was not because of the meds as these don't give you a kick. After the first songs that invite you to dance we were granted a short rest period with a slower song 'Suffocating right'.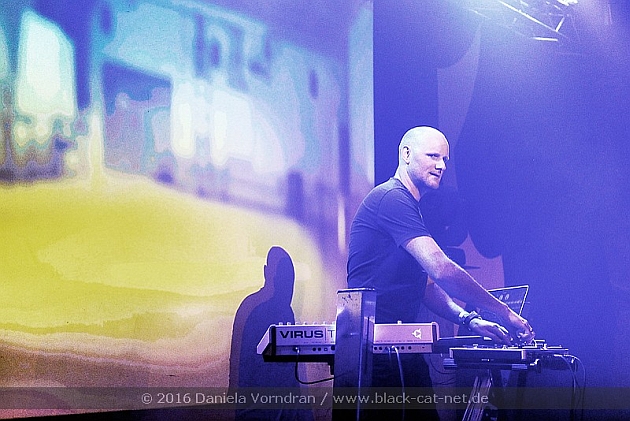 Two years ago I regretted it not to have some sparklers with me but this time I was perfectly prepared as I had a colourful LED stick in my Mary Poppins bag so that I could wave it during the song. After this song there was a short break due to technical problems that Henning had to fix. Sascha bridged it by talking to the audience including mentioning that I use to take half of my household in my bag to the NEUROTICFISH concerts. Before the show went on with the new single 'Agony' Sascha didn't want to go unmentioned that we could buy the new EP at the merchandise stand later. Then several older dance tracks followed and of course we were all singing along and moved to the songs. The pinnacle was of course the performance of 'Velocity' where the band once more raised the roof. The main set was finished with 'They're coming to take me' but in a simplified version regarding the lyrics. Maybe Sascha had forgotten them or couldn't read them from the iPad he always has on a stand close to his microphone. But in the end nobody cared.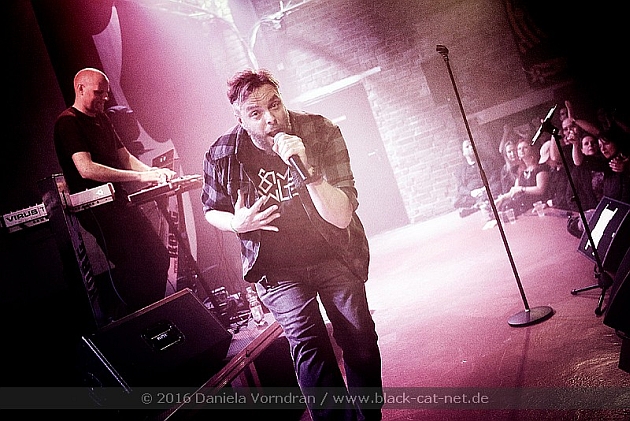 For the first encore, 'Hospitality' was performed live and yet unpractised for the first time. Two more songs followed but the audience had still not enough and so we were granted even a second encore, though unplanned but improvised perfectly. After the show Sascha and Henning took their time to sign CDs, pose for photos with their fans and of course have a chat with them.
Setlist

01. Intro 'Rose'
02. Silence
03. Former me
04. Bomb
05. Behaviour
06. Wake me up
07. Suffocating right
08. Agony
09. Is it dead
10. Civilized
11. M.F.A.P.L.
12. Somebody
13. Velocity
14. Need
15.They're coming to take me
---
16. Hospitality regained
17. A greater good
18. I don't need the city
---
19. Illusion of home
20. Solid you
Rating

Music: 10
Performance: 10
Sound: 9
Light: 9
Total: 9.8 / 10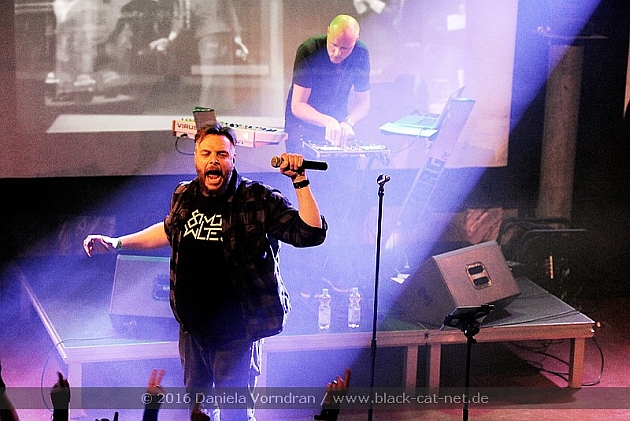 All pictures by Daniela Vorndran (
http://www.vorndranphotography.com
/
http://www.facebook.com/blackcatnet
)