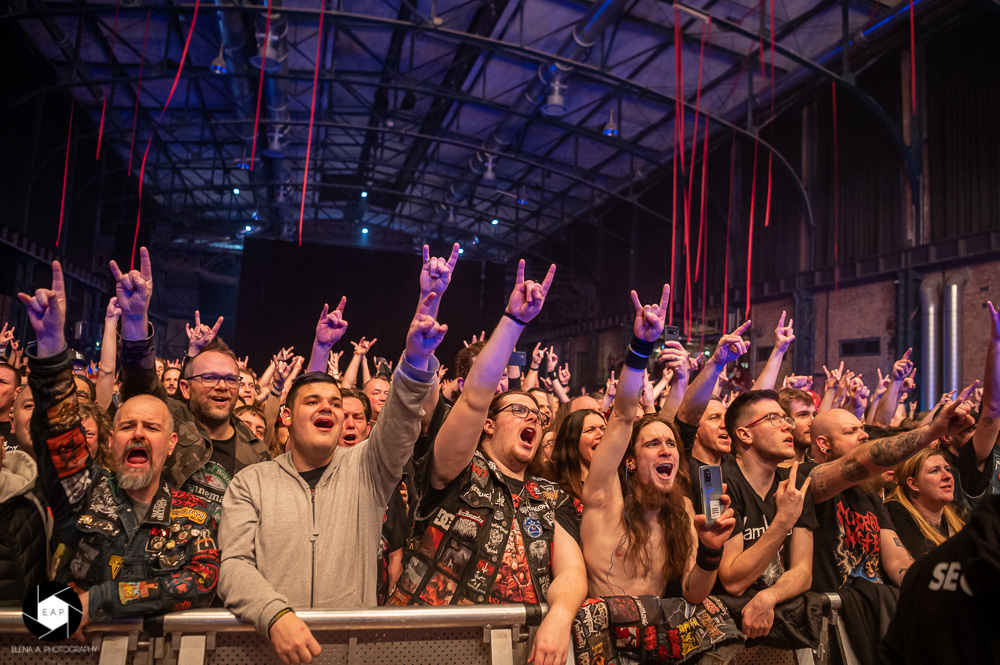 E-Werk, Saarbrücken, Germany
18th March 2023
Kreator & Lamb of God - "State of the Unrest Tour" 2023 - Support: Municipal Waste

For three long years, the fans had to wait for this tour. First, the tour fell victim to the Corona pandemic, then later it was postponed due to organizational reasons. Three years in which a lot happened. Besides the well-known tragic events - the pandemic and the war in Ukraine - Riley Gale, singer of the band POWER TRIP, who were originally scheduled as support act for the "State of Unrest" tour, died in August 2020. With the last postponement, THY ART IS MURDER and GATECREEPER, who had initially slipped into the billing, disappeared from the flyer again - finally MUNICIPAL WASTE are now allowed to warm up the audience on the tour. All in all, the wait was worth it, an evening with three times Thrash Metal - interpreted completely differently thrice: once old-school, once modern and once cross-generational.



Municipal Waste

MUNICIPAL WASTE is an American crossover Thrash band from Richmond, Virginia, formed in 2001. To date, the band has released seven studio albums, three EPs and four splits. They have gone through a few line-up changes, leaving vocalist Tony Foresta and rhythm guitarist Ryan Waste as the only constant members. In addition to Foresta and Waste, their current line-up includes Philip "Land Phil" Hall on bass, Dave Witte on drums and Nick "Nikropolis" Poulos on lead guitar. The band members themselves have stated that they are influenced from groups such as SUICIDAL TENDENCIES, D.R.I., SLAYER, ANTHRAX, EXODUS, TESTAMENT, SEPULTURA, NUCLEAR ASSAULT, S.O.D., M.O.D. and the CRO-MAGS.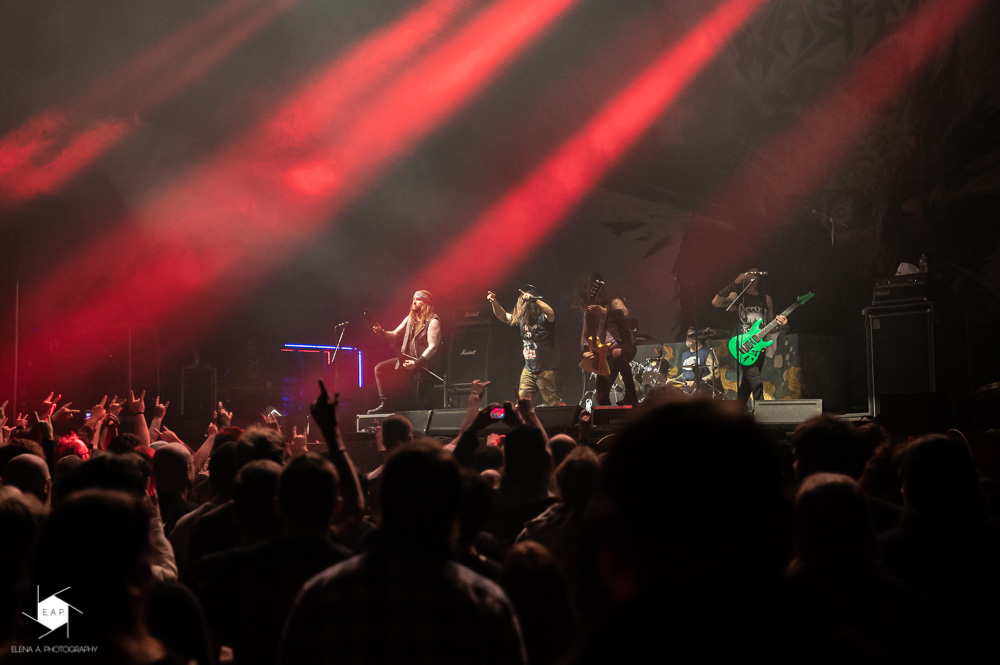 Music & Performance
At 7 pm, MUNICIPAL WASTE entered the stage of the E-Werk. Their hairstyles, outfits and bandanas were already remarkable. You could already guess that you'd get a good portion of 1980s Thrash Metal here. After a shy start (with a hall that was only one third full at the beginning), it becomes more dynamic when the audience gradually arrives, and the hall fills up. Still, it took a while until the energy of the band from Richmond, Virginia was transferred to the audience. After a while, the US-Americans felt visibly comfortable and thanked the audience for waiting for the tour. Singer Tony Foresta also declared that it was an honour for him to play in the country that has produced such great thrash metal bands as ASSASSIN, DESTRUCTION, SODOM and of course KREATOR. And he had the audience firmly in the palm of his hands at the end: many crowd surfers followed his request during 'Wave of Death'. After 14 songs and 35 minutes of playing time, it was time to leave the stage to the next band. The E-Werk was packed at this point.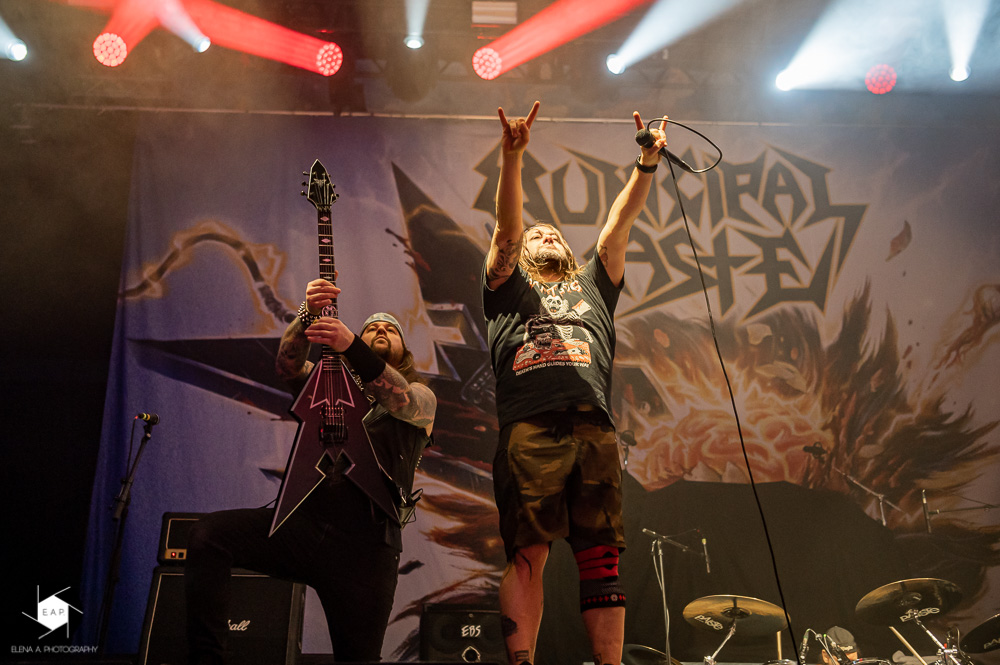 Setlist
01. Demoralizer
02. Breathe Grease
03. Mind Eraser
04. The Thrashin' of the Christ
05. Poison the Preacher
06. Grave Dive
07. You're Cut Off
08. Sadistic Magician
09. Slime and Punishment
10. Headbanger Face Rip
11. Blood Vessel
12. High Speed Steel
13. Wave of Death
14. Born to Party

Rating
Music: 7
Performance: 7
Sound: 7
Light: 8
Total: 7.3 / 10


Lamb of God

LAMB OF GOD is an American Heavy Metal band from Richmond, Virginia. Formed in 1994 as BURN THE PRIEST, the group consists of bassist John Campbell, vocalist Randy Blythe, guitarists Mark Morton and Willie Adler, and drummer Art Cruz. The band is considered a significant member of the new wave of American Heavy Metal movement. Since their formation, LAMB OF GOD has released eleven studio albums, including two under the name BURN THE PRIEST; their most recent album, 'Omens', was released in October 2022. The band has also released one live album, one compilation album, three DVDs, two EPs, and twenty-eight singles.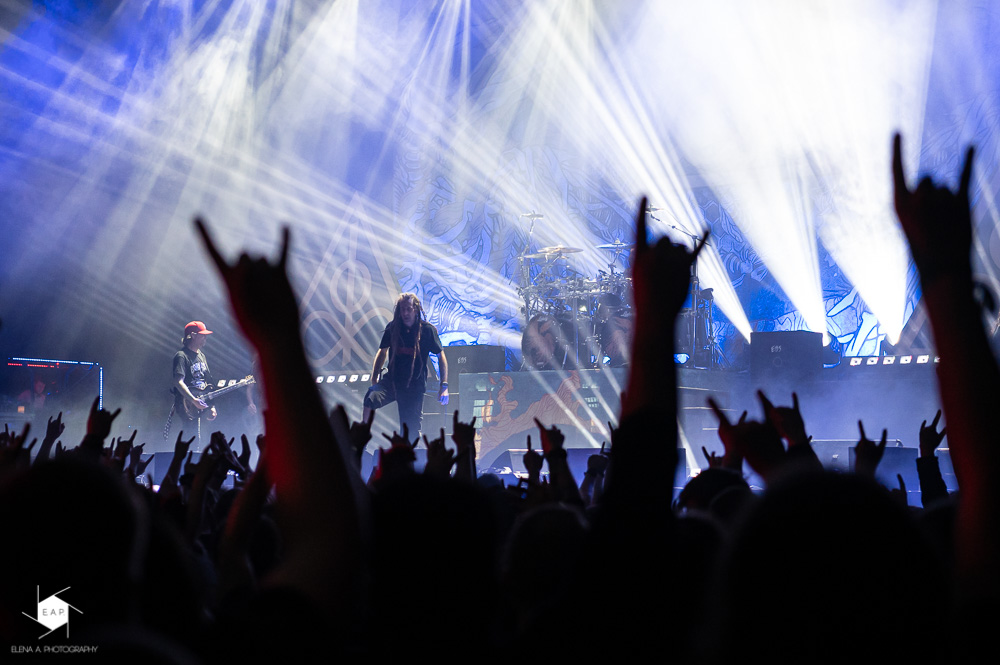 Music & Performance

The co-headliners also come from Richmond, Virginia, and with their elaborately decorated stage had definitely the eye-catcher of the evening on their side. And it was not only the eyes that were enriched this evening, but also the nose and ears. As soon as the quintet was on stage, it smelled like patchouli and the lights perfectly set the mood for the opener song 'Memento Mori'. This song was perfect as an opener song and the audience went wild from the first second on. But also, the people on stage could convince this evening. Drummer Art Cruz plays precisely like clockwork, the guitar group around Mark Morton and Willie Adler is tight and singer Randy Blythe impresses with his powerful voice and his charismatic presence (so the ears were also delighted). With his 52 years, the frontman is still in the best shape and sweeps across the stage like a whirlwind. His bandmates tend to hold back a bit, which is not a bad thing, after all, they are blasting massive riffs onto the stage. The light show was pretty cool.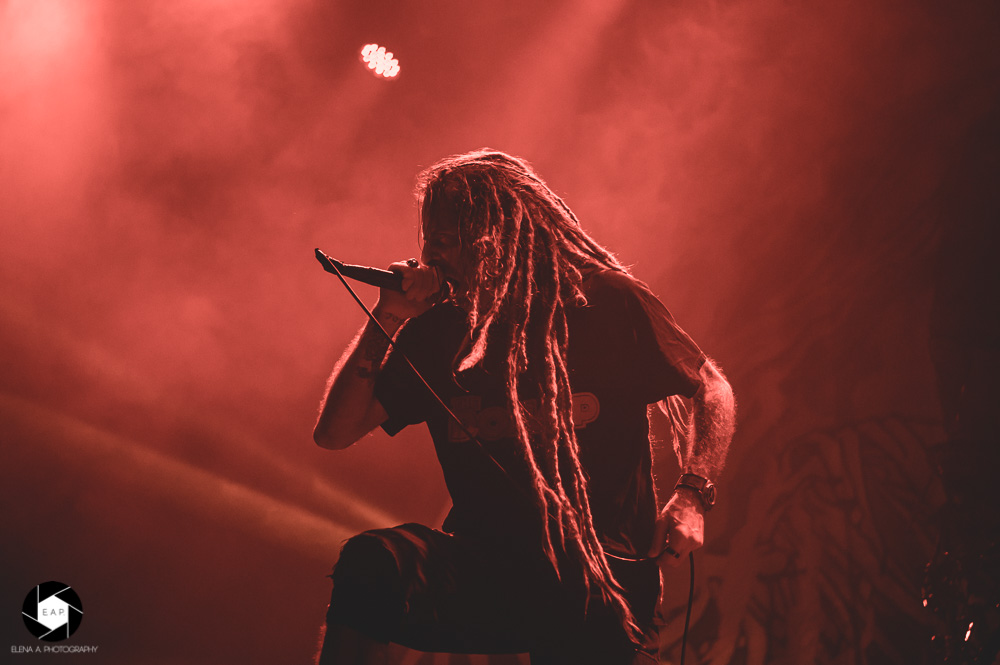 During the first songs 'Memento Mori', 'Ruin' and 'Walk With Me In Hell', the stage was illuminated in the primary colours blue, red and green - later everything mixed, again and again penetrated by glistening white beams of light. Quite simple, but also quite effective. With three songs each, older albums like 'As The Places Burn' (2003) and 'Ashes Of The Wake' (2004) are more represented than any other works. LAMB OF GOD kindly thank the fans for their patience, who had to wait three years for this tour. The fact that the band can still ignite the biggest circle pit of the evening with the closing hit 'Redneck' shows that LAMB OF GOD is one of the biggest acts in the Metal music industry.
Setlist

01. Memento Mori
02. Ruin
03. Walk With Me in Hell
04. Resurrection Man
05. Ditch
06. Now You've Got Something to Die For
07. Contractor
08. Omerta
09. Omens
10. 11th Hour
11. 512
12. Vigil
13. Laid to Rest
14. Redneck
Rating

Music: 9
Performance: 8
Sound: 8
Light: 8
Total: 8.3 / 10
Kreator

KREATOR is a German Thrash Metal band from Essen, formed in 1982. Their current line-up consists of lead vocalist and rhythm guitarist Miland "Mille" Petrozza, drummer Jürgen "Ventor" Reil, lead guitarist Sami Yli-Sirniö, and bassist Frédéric Leclercq. The band's line-up has changed multiple times over its 41-year career, most noticeably with their bassists and lead guitarists. To date, KREATOR has released fifteen studio albums, two EPs, two live albums and three compilation albums. They gained a large underground fanbase in the international Thrash Metal community, with their second studio album 'Pleasure to Kill' (1986) regarded as an influential album of the genre. Despite being an influential band, as well as one of the first European Thrash Metal acts to sign to a major label, KREATOR would not achieve mainstream popularity until later albums, including their thirteenth studio album 'Phantom Antichrist' (2012) and its follow-up 'Gods of Violence' (2017), both of which charted highly in many countries, with the latter reaching number one on the German charts. Their fifteenth and latest studio album, 'Hate Über Alles', was released on 10 June 2022.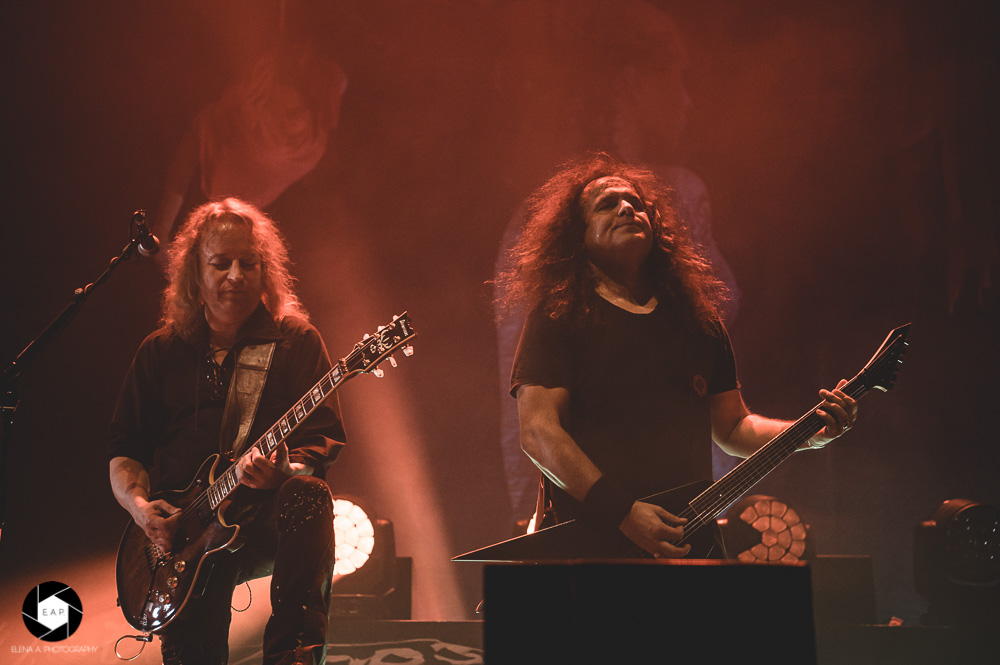 Music & Performance

Later, the stage is covered behind a black curtain with the familiar logo of the actual main act in large letters. Behind it, two puppets were staked, confetti cannons loaded, pyro effects placed and masks put on. The changeover break stretched to a long 35 minutes. Many people used this to quickly get another drink or to get some fresh air. But as IRON MAIDEN's 'Run to the Hills' blasted through the E-Werk, the hall gradually filled up again. Unsurprisingly, the setlist started with the title track of the current album 'Hate Über Alles'. Before the set continued with 'Enemy of God', the audience was given some paper streamers. But there was not only confetti that evening. There were also some pyro sets, dolls dangling from the ceiling, impressive backdrops that changed to the songs of the different albums and statists in troll costumes.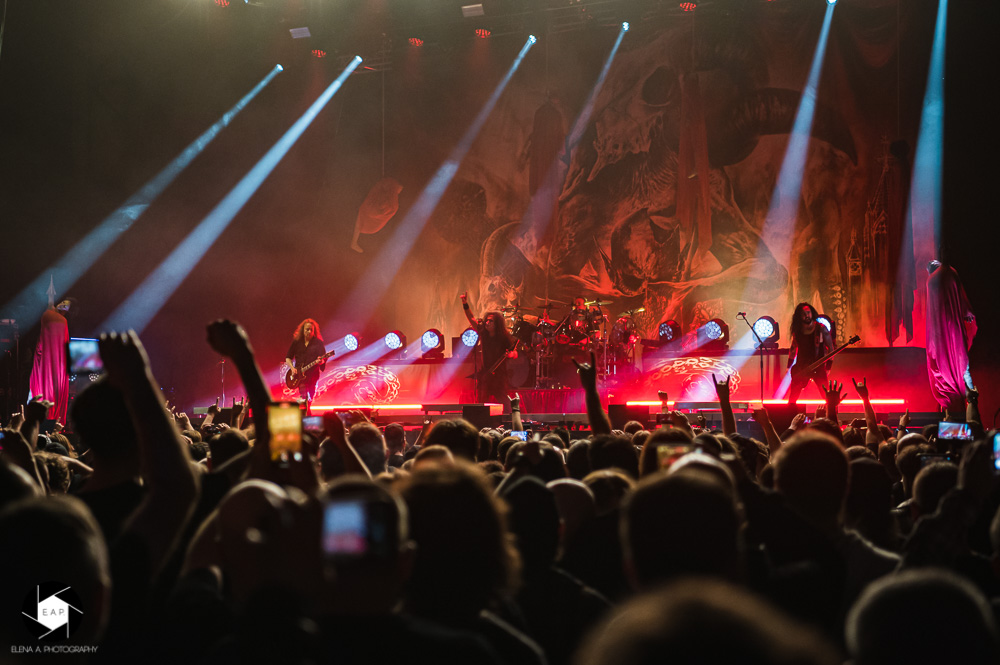 That a band with over 40 years of existence uses such means is justifiable. Especially when you take an energetic band like LAMB OF GOD on tour as co-headliners. From the younger phase of the band, almost all the sing-along classics were served up today, and while the hall was able to prove its certainty of the lyrics to 'Satan Is Real' and 'Phobia', older songs like 'Extreme Aggression' and 'People Of The Lie' were also not to be missed. The band from Essen ended their set with 'Pleasure to Kill' after 75 minutes and rewarded the audience that waited for an encore or took a little longer to find their way out of the hall with a country/western version of 'Satan Is Real'.
Setlist

01. Hate Über Alles
02. Hail to the Hordes
03. Awakening of the Gods (Intro only)
04. Enemy of God
05. Phobia
06. Betrayer
07. Satan Is Real
08. Hordes of Chaos (A Necrologue for the Elite)
09. 666 - World Divided
10. Phantom Antichrist
11. Strongest of the Strong
12. Flag of Hate
13. Violent Revolution
14. Pleasure to Kill
Rating

Music: 8
Performance: 7
Sound: 8
Light: 8
Total: 7.8 / 10
All Pictures by Elena Arens