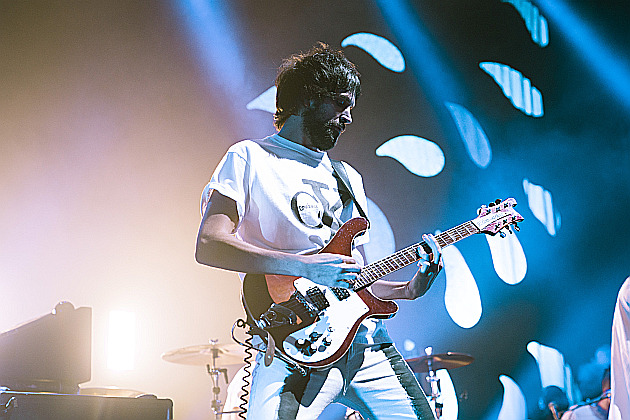 E-Werk, Cologne, Germany
7th November 2017
Kasabian & Slaves

The Times have changed. KASABIAN are probably not be celebrated as they once were. Originally, it was planned that they play at the opposite situated Palladium, which was almost twice as large. By contrast, the young, ambitious Wincent Weiß has become so popular that the intended E-Werk was too small for him. Simple solution: Both events simply exchange the locations. The advantages for the older concert group are obvious. They play at the more intimate venue and the sound is usually better in the E-Werk than in the Palladium. KASABIAN are bringing their new album 'Crying Out Loud' to Cologne, which does not provide as much enthusiasm on the island as its predecessors.
Slaves

Before KASABIAN could prove their live qualities, the support
SLAVES
appeared on stage already before 8 pm. SALVES are a British Punk duo consisting of Isaac Holman (vocals, drums) and Laurie Vincent (guitar, bass). Even their appearance knew how to cheer. Isaac played topless, Laurie was wearing a pinstripe suit. But also besides the duo did not seem to take itself so seriously, screamed and mobbed in a sympathetic way and thus won the Cologne audience for itself. Even though the support act did not match KASABIAN's music at all, people were entertained by SLAVES with flying colors. http://youareallslaves.com / https://www.facebook.com/slaves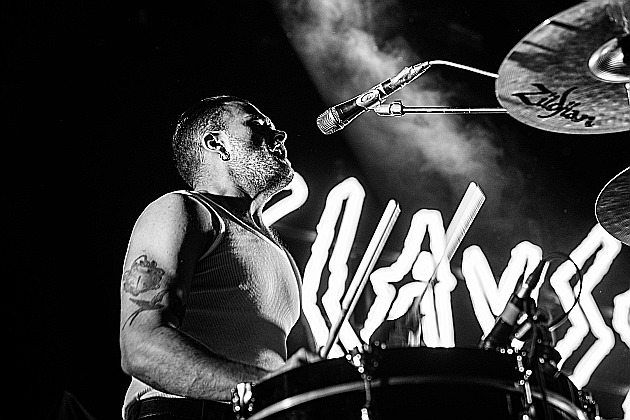 Setlist

01. Ninety Nine
02. Sockets
03. White Knuckle Ride
04. Fuck the Hi-Hat
05. Photo Opportunity
06. Cheer Up London
07. Sugar Coated Bitter Truth
08. Beauty Quest
09. The Hunter
Rating

Music: 7
Performance: 8.5
Sound: 7.5
Light: 7 / 10
Total: 7.5 / 10
Kasabian

After the usual change-over, it was finally time for
KASABIAN
. Now things were really moving and the E-Werk became colourful. The entire range of pastel colours was used to illuminate the stage and the hall. In addition to front man and singer Tom Meighan and the three-headed band, KASABIAN were supported in Cologne by another guitarist, a keyboardist and a trumpeter. It took a while for fans and band to get warm together and to be honest, only the older songs provide for a good mood. Fans rhythmically clapped along. Nevertheless, there was still room for improvement here although KASABIAN is not to blame for missing craftsmanship, but a spark could not always be created with the audience. Some songs like 'Treat' might have been a bit too long, the whole show seemed like rehearsed allover. Anecdotes or funny announcements were in short supply on this evening and also the playing time was only standard. After exactly 90 minutes and a block of three encores, the show at the Cologne E-Werk was finished.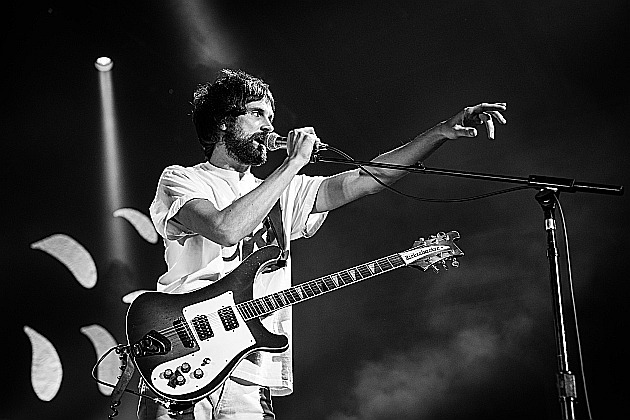 During the whole show, there was a light show that even blinded some and there was pure pop and bass. However, dedication and entertainment could have been presented more... http://www.kasabian.co.uk / https://www.facebook.com/kasabian
Setlist

01. Ill Ray (The King)
02. Bless This Acid House
03. Underdog
04. Eez-Eh (with Daft Punk - Around The World snipped)
05. Shoot the Runner
06. Days Are Forgotten
07. You're in Love With a Psycho
08. Wasted
09. Doberman / Take Aim
10. Club Foot
11. Re‐Wired
12. Treat
13. Empire
14. Stevie
15. L.S.F. (Lost Souls Forever)
---
16. Comeback Kid
17. Vlad the Impaler
18. Fire
Rating

Music: 7
Performance: 7
Sound: 8
Light: 10
Total: 8 / 10
All pictures by Maximilian K. Unuetzer