W2, Den Bosch, The Netherlands
3rd December 2004
Tanzwut and Nik Page
Nik Page
On his own website Nik page is called a Gothic guru and multitalent. Well.... Let's see (and hear).
Music
Dark beats with the low voice of Nik Page and some lines sung by the lady in red. The music was easy to listen to. But it didn't grab my attention, not all the time anyway.
When the band started it sounded like the music was coming from a distance. Luckily this was adjusted very quickly.
Performance
The first artist on stage this evening was Nik Page. On stage there were three show-window dummies. Two male dummies and a female one. They were painted with black light paint which gave them a stained look. The microphone was decorated with what seemed to be parts from hovers. It all had some sort of industrial look to it. In the middle of the stage the drummer almost disappeared between the drums of Tanzwut. Lucky for him he had a big Mohawk haircut. Otherwise no one might have noticed him. Nik Page wore leather pants and a leather jacket. He had big knee patches on and white spiky hair. It made me think of Terminator. I almost expected him to say 'I'll be back'.

After a few songs a lady joined them on stage. She was wearing a tight little red vinyl nurse's dress. All male eyes in the audience automatically followed all her moves but her moves weren't impressive enough to keep all those men staring. After a while they were looking at Nik Page again or chatting with their neighbour. He announced that their keyboard player was unfortunately ill this evening. Too bad, but to be honest I don't think he would have fitted on stage anyway. Nik Page had a special way of looking into the audience. I think he might have put some hours of practice in to that in front of his mirror. This look reminded me of the lead singer of Oomph! He has the same crazy look in his eyes. Right in front of the stage some die-hards were already dancing, but even though Nik asked for some response from the audience the rest of the audience didn't seem too interested. He also had one or two things to learn about light. When he addressed the audience he stepped óút of the spotlight..... pay attention Nik! But, al in all it was a nice warm-up for Tanzwut.
Rating
Music 6
Performance 7
Sound 7
Light 6
Total 7 (6.5)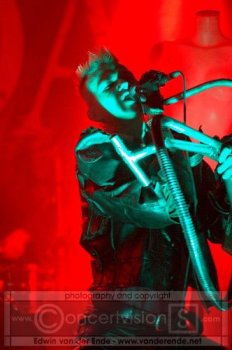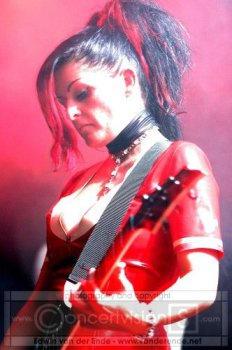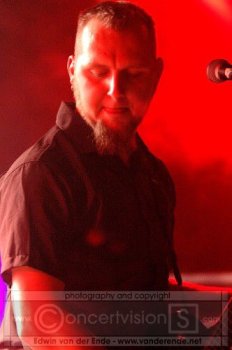 Tanzwut

I had already seen Tanzwut's alter ego Corvus Corax twice. I had expected Tanzwut to be quite similar. It was and it wasn't.
Music
Tanzwut uses more modern instruments; electric guitars, a keyboard and drums in addition to the bagpipes, flutes and other medieval instruments. The vocals in Tanzwut are more dominant than in Corvus Corax, a high amount of deep male vocals coming from their lead singer Teufel and the backing vocals provided by the rest of the band. All this combined resulted in a metal sound with great beats and medieval influences.
Performance
Their clothes are a mixture of the Middle Ages, Byzantium and the Roman era only now with a touch of space to it. Silver was a common colour and most of the men had used some sort of silver body paint which gave them a futuristic look. At some point in de show, black light was turned on which emphasized the orange stripes used by the band on their clothes and instruments. An old pick up was brought on stage and a record was put on. After this the pick up was taken off stage again and two of the band members returned with big hats on. One of them had two big scary orange eyes, the other orange strings. This gave a great effect on the almost totally darkened stage. The band was very enthusiastic and so was the audience. A girl next to me could sing along with every note that was sung. Always great to see someone get lost in the music. At times we were asked to clap and everybody was happy to do so. The atmosphere was great! Everyone was dancing, head banging and having a great time. It is hard to describe everything that happened on stage. My advice: go see the show yourself!
Rating
Music 8
Performance 8
Sound 7
Light 7
Total 8 (7.7)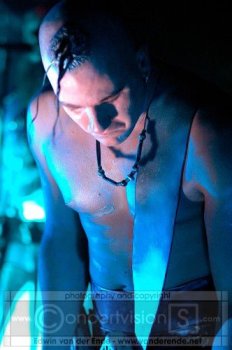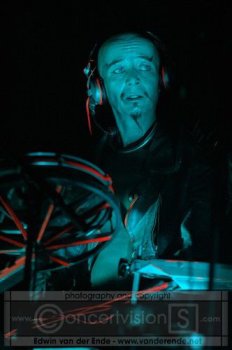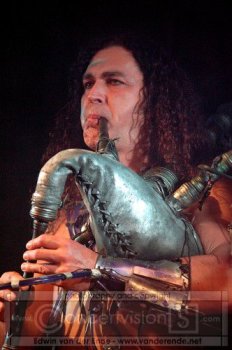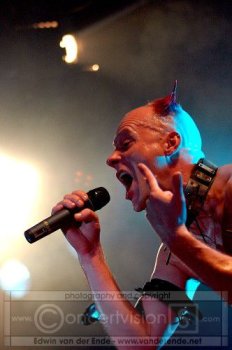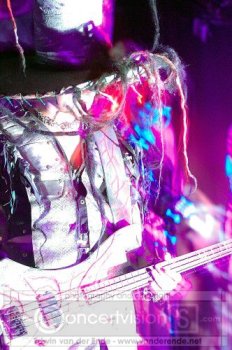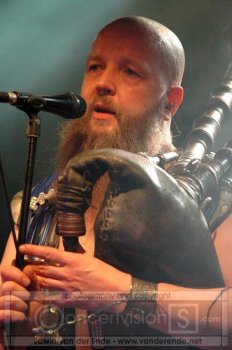 Venue: W2
Food and drinks
At the venue there are two bars where you can get drinks with coupons, this works faster than money and quick service is always a plus. You can buy these coupons at a small counter when entering the venue.
Stage
The stage is about 1,20m high, 10m wide and 4m deep. So there was enough space for all the members of Tanzwut.
Audience Area
The floor in this hall is flat in front of the stage and than goes up step by step. So even if you stand in the back of the venue you get a good view of the stage.
Staff
The staff at W2 is young and very friendly.
Rating
Facilities 7
Accommodation 7
Staff 7
Total 7