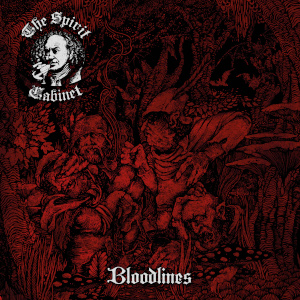 Artist: The Spirit Cabinet
Title: Bloodlines
Genre: Doom
Release Date: 24th April 2020
Label: Ván Records
Review Flash

As a writer every now and then you encounter bands that are a very special breed, THE SPIRIT CABINET is one of these. Formed in 2014 in Asten, Netherlands this 5-piece plays Black Metal infused Doom Metal that has a heavy occult feeling to it as the smell of sulphur hangs heavy in the lead heavy riffs. To cite the label's press text:
"THE SPIRIT CABINET consolidate their power and performing passion by invocating a host of visionary arts and classic recordings. Exhilarating countertenors of the modern era, having been painstakingly constructed by the companionship headed by musicologist Mr. Hällström and emphasizing the artist's interaction with his repertoire and the sheet music books. On "Bloodlines", Mr. Hällström presents his guitar works, Dr. Vilsmeier executes his haunting bass lines, Mr. Fleedwood mesmerizes on percussion, and the ensemble is complemented by Mr. McRuffkin on baritone voice."
I really dig the classic Doom these guys play but I loathe the Black Metal escalations McRuffkin does on vocals (I will never be a fan of anything that resembles Black Metal), musically and just based on the artistic execution this is pretty solid but every time the vocalist just growls and coughs and barks his lyrics into the microphone I lose interest in a matter of split-seconds… as the record proceeds the moments of vocal escalation seem to increase which totally fucks up my concentration and any motivation to further indulge in the music, sadly because I think every fan of blackened doom will appreciate this but me? I find it unbearable because I dig clean singing.
Conclusion: If you dig clean singing and cannot bear to listen to growls this is not for you, fans of extreme stuff will surely dig it.
Rating: 5 / 10