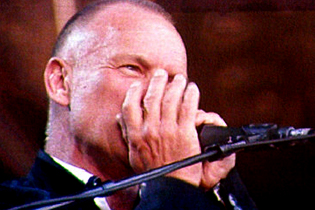 Palace Square, Saint Petersburg, Russia
16th June 2011
Sting

Finally I'm home, a bit tired but ready to present an informal review of an unforgettable concert that took place at Palace Square, St. Petersburg, on the 16th of June. Palace Square itself is a popular place attracting a lot of tourists but not every day there performs famous English musician STING accompanied by a whole symphony orchestra, moreover when it happens at a white night, at least particularly.


The combination of those already interesting components created a unique explosive mixture which had gathered an audience of over twenty thousand people. By 8pm, the square was overcrowded yet the show started a bit later while the doubted could leave and their places were immediately occupied by newcomers. When everyone got their place however the two-way stream of people flew during the whole performance, and the local symphony orchestra was on stage, there came another person who impressed me that day, conductor Sarah Hicks. Certainly conducting is hard work, but if we ponder over technical details, the enigmatic halo will disappear and the baton will stop being a magic wand, every wave of which arouses a splendid palette of sounds. So let song 'Every Little Thing She Does Is Magic' get one more meaning. Actually all the song played that day appeared in a new light and some of them were enriched with new interpretations thanks to the symphonic arrangements, the delivery of the compositions as well as the atmosphere of the event.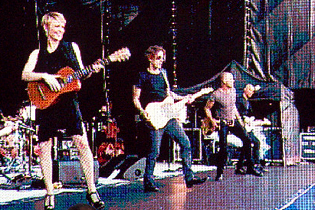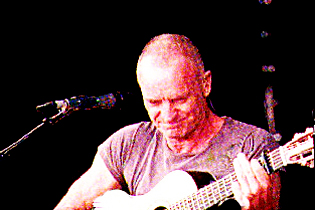 Besides hints were given to a couple of songs, 'Moon over Bourbon Street' or that time it became 'Moon over Nevsky Prospekt'. I used to think that this track is about a werewolf or heard a version about a lonely man hanging from one bar to another yet the song is devoted to a vampire. Not a big difference but still. The show could remind a good musical where the participants sing, dance, play different instruments and the main character of the evening was absorbed with his songs while singing that created a more dramatic effect which together with the rich voice and an amazing charisma captivated. That's why every composition allowed the audience escape from the reality at least for several minutes. The setlist included the well-known hits since the time of THE POLICE so for those who listened to the music for the first time it was a good introduction to STING's world. After the first two songs I decided that it would be easy to compose a setlist then, after the 7th song I forgot the first two and later forgot everything. Now I'm just sure that my favourite 'Mad About You' and 'Fragile' were at the beginning and somewhere at the end respectively. Except those mentioned above we also enjoyed 'Englishman in New York', 'Fields of Gold', 'She's Too Good for Me', 'The End of the Game', 'Russians', 'Shape of My Heart', 'Desert Rose', 'Every Breath You Take', 'I Hung My Head', 'Roxanne'…





For the first time I listened to 'Whenever I Say Your Name', 'Why Should I Cry for You' and 'If I Ever Lose My Faith in You', one of which was announced as tragic, and interesting 'Message in a Bottle' that attracts and irritates at the same time because of its irregular rhythm. In general the rhythm section was just great and I guess, everyone managed to appreciate the efforts of drummer Rhani Krija however all STING's band members charged the crowd with their energy. The concert lasted for about 2 hours but anyway everything good and even very good comes to an end sooner or later and the show did. Of course, we hoped that there would begin one more painfully familiar song, but after STING's "do svidan'ya" (good bye), the screens were switched off and the people started leaving the square, though the screams of the excited, maybe newly converted fans of the English musician, were heard along Nevsky Prospekt for long time.

Rating
Music: 10
Performance: 10
Sound: 10
Light: daylight
Total: 10 / 10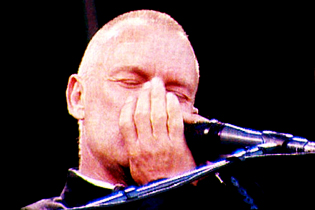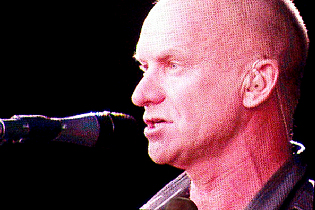 See also (all categories):