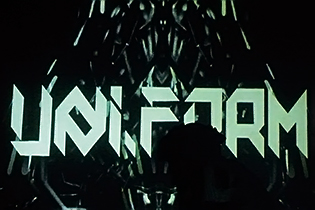 Area 51, Hilden, Germany
2nd and 3rd May 2014
Gotham Sounds Festival II Day 2: Sweet Ermengarde, Red Sun Revival, Winter Severity Index, The Last Cry, UNI_FORM

Refreshed and raring to go, the second day of the Gotham Sounds Festival got off to a rather slow start. A two hour delay could have put a real downer on things but actually it gave everyone more time to mingle and catch-up, and there was good-humour and a sense of casual "never mind" before the main doors finally opened and everyone poured in.
Sweet Ermengarde

With incense burning sweetly at the front of the stage, and a resurrected belief that indoor sunglasses are a good thing, it's like 1967 all over again as SWEET ERMENGARDE emerge from the foggy wings. With no introduction, the band get stuck into 'In The Time', an atmospheric mid-paced song, classically Goth Rock, portentous, nicely executed and allowing the rich, deep vocals of Kuba to strike out. He looks good too, with a mop of unruly black hair and the obligatory shades, his use of a vintage microphone only adding to the feeling of a time long-gone. If Lovecraft had been a singer, he'd have used one of these. 'Kisses' follows, brooding and noodling around the fringes of dark rock and psychedelia. It's very good. Things hot up with the NEPHILIM bass-led, tribal drumming whoosh of 'Raynham Hall', and the crowd really go for this one. With vocals cracked, and a war-cry chorus, the band also seem to really come alive now, and this kind of furious, driven rock really suits them.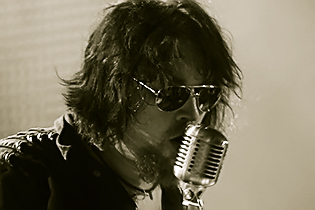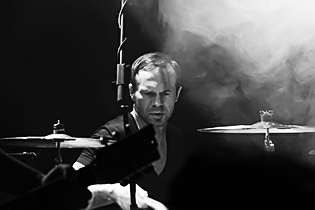 There's some truly wonderful drumming going on, but it's a complete band effort, and when it ends, it feels as though one of those rare 'stage moments' has just taken place. Something to remember, long after it's left you. 'A Promise To Fulfill' is equal in power, driving headlong and black as night, a thrilling ride. At times, it makes you realise that legends of dark-rock like THE SISTERS OF MERCY really were crap a lot of the time. This is how it should definitely be done, folks. 'Near Dark' is another standout, before the full throttle Western saloon bar waltz of 'Necropolitan Rest' rounds things off. It's huge, the vocals deliriously low, the menace in the steady build-up palpable and by the insane crescendo the audience are theirs completely. They arrived to the scent of Sandalwood, they left with the smell of success, a triumph for any opening band and all credit to them.
http://www.sweet-ermengarde.de
/
https://www.facebook.com/sweetermengarde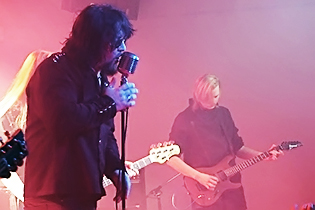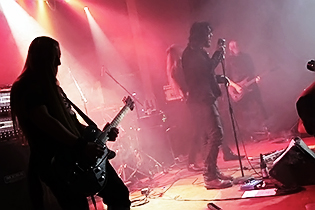 Red Sun Revival

Continuing with the festival's eclectic, international flavour, the UK's RED SUN REVIVAL are next, and 'Without You' is the perfect start. It easily illustrates the dark romanticism at the heart of the band, a sort of pastoral yearning, something unsettling and deeply sad about the almost painful sense of nostalgia. Their Gothic is classic, and classy, and singer Rob Leydon raises his eyes to heaven repeatedly during this opening song as if to say 'make this work, make this good'. It does, and it is, and there's an excellent response. The stunning, violin intro to 'Running From The Dawn' seems to take the uninitiated by surprise, and indeed the band's secret weapon is this use of classical elements. Christina Emery is a graceful and skilled violinist, and even when not playing, she's engaging and integral to the performance. There's also the steady and confident playing of Panos Theodoropoulos on bass, and the dashing highwayman elegance of guitarist Matt Helm, all under the watchful eye of Rob, who would not look out of place on a black stead, galloping off to a castle somewhere.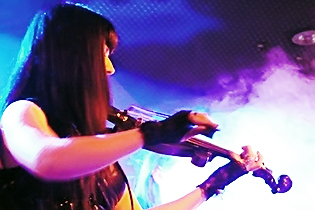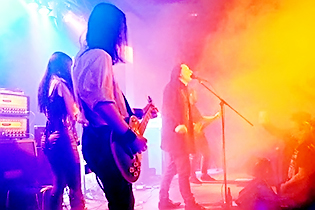 'Lost For Words' is all echo, chiming guitars and a killer chorus, held together by mournful strings, and new song 'Mistakes' shows the development in the RSR sound. The violin forms the backbone of this desperately melancholic song, but it has a maturity and patience to it, comfortably breaking out of the more traditional song structure and length and allowing itself to slowly unfold. A definite high point tonight, and an exciting glimpse into the band's future. There's a rapturous response to 'My Child', the bands best known song, and for a reason. Its urgent beat and instantly recognisable guitar sound lets it stamp and clatter along gloriously, the violin skipping seductively over Rob's passionate vocals. It's a perfectly self-contained gothic pop song, and they leave the stage on a high, the audience clamouring for more. Eager set-list thievery briefly causes confusion as the band return to perform one last song, but are clearly unsure which one. It adds a nice touch of humour to the proceedings, and it's a relaxed and confident RED SUN REVIVAL who end a completely successful set with the dramatic 'Nothing To Hide'. Excellent.
http://www.redsunrevival.com
/
https://www.facebook.com/RedSunRevival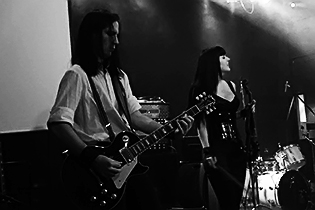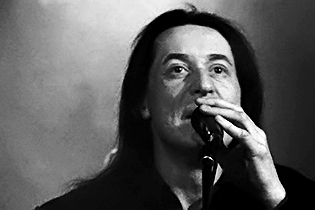 Winter Severity Index

And now for something completely different… if it's all been about guitar-driven gothic-rock thus far, then things soon change as the ice-maidens cometh. Italy's WINTER SEVERITY INDEX offer a cold, chilling mix of electronica and harsh guitar, with early THE CURE drum machine, and some on-stage bass help from Giovanni Stax. A long, instrumental opener forces the crowd to take a deep breath and calm down, the eerie blue lights and motionless pairing of Simona Ferruci and Alessandra Romeo making it clear this is an altogether different shade of darkness. The cold-wave textures of 'Fishblood' for example, hide a harshness akin to ESBEN AND THE WITCH or mid-period X-MAL DEUTSCHLAND, whereas 'The Brightest Days' recall the jittery angst and isolation of JOY DIVISION. The vocals seem to get lost at times, which is a pity as this is a fine song. The crowd have relaxed into the performance by now though, and some appear entranced. Since movement on the stage is clearly strictly forbidden, this is music to close your eyes too, and it's refreshing to see some of those whose fists were earlier pounding the air, now lost in a hazy revelry.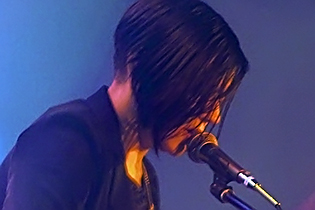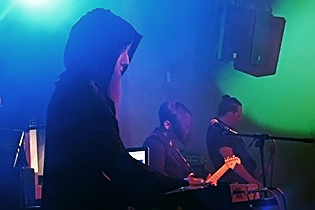 'No Will' has a dreamy guitar refrain, holding its dark heart together, and 'Embracing The Void' does just that, a chasm of emptiness always just a moment away, the awkward off-beat giving the feeling of being wrenched in two different directions at once. They almost seem to be enjoying themselves at this point, and for a band who look unlikely to adhere to anything as conventional as an encore, they surprise when they shuffle back on at the urging of the audience. Alas, technical problems, and all the mysteries that surround such gremlins, cause a long delay. As cool as ever though, our heroines merely tinker until it's fixed, there's no way they're going to leave now without a finale. And 'Severity' is worth the wait. There is much swirling around the nervy beat, and there's even a big, shouty chorus that's both shivery and seductive. Then they are gone, and the feeling that you have only been allowed a glimpse into their dark world adds to the intrigue and the sense of longing that much of their music evokes.
https://www.facebook.com/winterseverityindex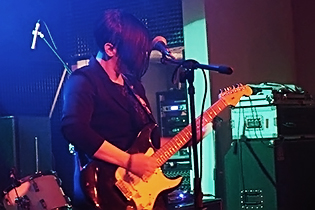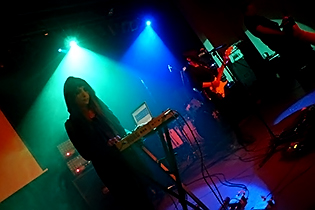 The Last Cry

The UK gets a second look-in when national treasures THE LAST CRY take to the stage. Anyone who has seen the band live will know how impossible it is to adequately describe a performance by frontman Andrew Birch. From the powerful opening bars of 'Devastate', he is in the zone, stamping and stomping, eyes closed, mouthing unheard words while building himself into a kind of measured frenzy. When he starts to sing, you know this is a man who lives and breathes his every lyric, that these songs aren't merely tunes, they are anguish, turmoil, desperation, and every overwhelming emotion is felt keenly throughout. And hard as it is to take your eyes from him as he stalks the stage, he is ably assisted by Tim Green, cool and solid on guitar, and Chris Carey, cowboy hat firmly in place and a bass playing style so low to the ground it makes you think the damn thing must be made of lead. And the songs are really something to behold in a live setting.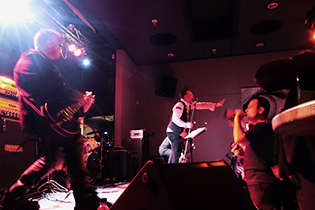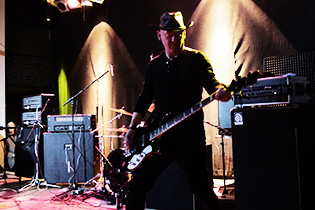 Cavernous and thrilling on 'Broken Hearts', the yearning vocal is carried along on waves of grandiose guitar, and on 'Punishment', where the crowd really spring to life and get seriously involved, cold synths and a throbbing bass back-bone make this danceable and epic at the same time. Mr Birch reaches new levels of intensity during 'To Dream Next To You' with the call and response holler of the chorus, "Give me a sign that I might follow, follow". And during 'Life Of Lies', one of two recent songs tonight, he seems so completely lost in the emotion that he appears to be crying, and there is absolutely no doubt this is for real, you can feel it, watching this highly personal performance and not knowing whether to join in and weep, or leap on the stage and give him a hug. It's an astonishing moment. The song itself is like the best ballad DEPECHE MODE never wrote and is a welcome change of pace before the hard blast of 'No Resistance'.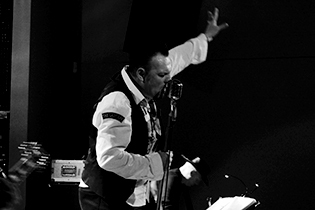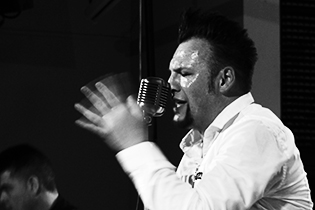 THE LAST CRY return for three encores, by which time there's a mini mosh-pit circle at the front of the stage, the vibe one of celebration through intensity. In fact that could be the band's mission statement, and one they easily achieve on recent single 'This Future Has No Face' and the furious 'Prison Of Dreams'. They close with 'Walking To The Edge', exhausted but ecstatic. And it's exhausting watching them. But for a band to give so much of themselves to this kind of all-consuming reality theatre, how could it be anything else? By all means buy the music, but get to a gig at the earliest opportunity and feel what it's like to be swept away by THE LAST CRY.
https://www.facebook.com/pages/The-Last-Cry/112348155471541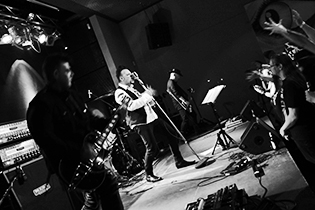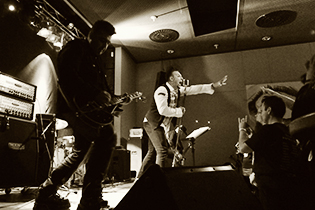 UNI_FORM

To have to play so late at night -it's after midnight already- must be a real struggle, but youthful headliners UNI-FORM, all the way from Portugal, show no signs of weariness. There's a slightly chaotic start but that could be down to the fierce reappearance of the thickest stage fog since Eldritch and the boys first ventured out of their bedsits. Or it could be the sunglasses. But no matter once they settle into the harsh clatter of 'Wrong Man', jagged guitars and sirens and a huge beat injecting the tired audience with a new vigour. It's loud too. Very loud. And things get nicely insane as the infectious 'Walking On A Fire Line' swaggers cockily into view. It's a fine song and only suffers slightly from the inevitable comparison to INTERPOL that just can't be ignored. Much of the cool-as-fuck New York loft-rock of UNI_FORM veers directly into that bands core sound. The sad-robot voice of Billy is a dead ringer for that of Paul Banks, but it's such a distinct and powerful sound that it's easy to just shrug that off and get on with enjoying it all.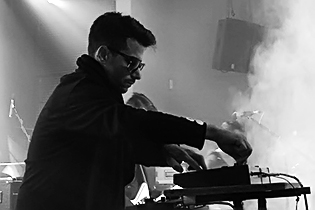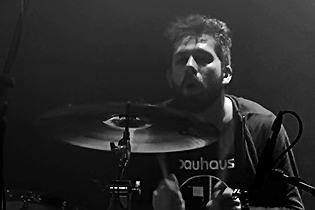 The band certainly look good, stripes of face paint on chiselled chops, Miguel Moreira swopping from guitar to keys, bass player David Francisco swinging his bass around like a weapon and drummer Nuno Francisco pounding out big, wall-of-sound beats with all the energy of a Redbull factory. And there's an effortless cool to Billy who seems neither over-thrilled nor over-awed to be here, which is the perfect combination really. The guitar assault on 'Solitude' is a thing of wonder, managing to both twinkle and sparkle yet sound dirty and heavy, and 'Stealer' is a sneaky little thing, one shimmering guitar cut across with a harsh, down-tuned stab by the other, a low-key vocal suddenly grabbing the song by the neck and making it go places you wouldn't expect.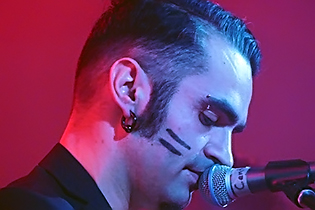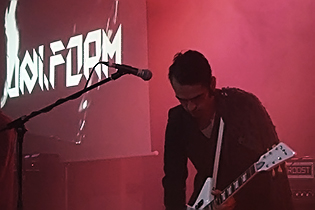 It's excellent. And minor chords are the order of the day on 'Fragile', a song that certainly isn't. It's a robust rock work-out with an "I'm going to kill you tonight" snarly vocal, and the crowd go mad for it. 'Don't fall' regrettably does fall, the song sounds tired and the singing is seriously off-key but no one seems to mind and '1984' rescues things with a hard-edged urgency and a last gasp of energy. Punky and punchy, it represents a hurtle for the finish line that to be fair to UNI_FORM should have been theirs nearly two hours earlier. Good to see so many people stayed to watch them, and hats off to a spirited performance against the odds.
http://www.uniformproject.com
/
https://www.facebook.com/uni4mproject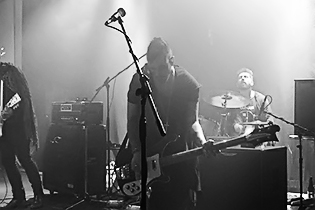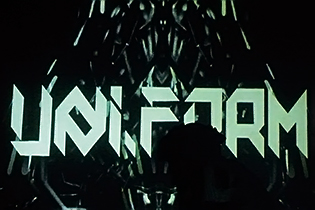 As a festival, and despite the problems with running late on both nights, this was a resounding success. Nine bands from a variety of countries, playing various styles and genres in an excellent venue – light and sound was superb throughout – and an atmosphere of real camaraderie. Old friends meeting up and new friendships forged, there was also a strong sense that every band played to their strengths and gave their all, which is not something that can always be said at similar events. Huge back-patting must be given to the whole team who made this such a joy to be a part of, and here's hoping this festival now becomes a regular fixture. My heartfelt thanks go to Ralf Djwahni for being a wonderful and gracious host, and allowing Reflections of Darkness to cover this event. Hope to see you next year.
All Pictures by Stephen Kennedy