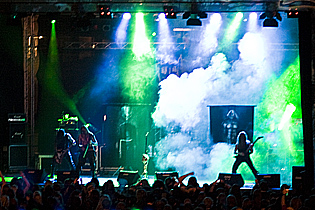 Ostbayernhalle Rieden/Kreuth (65km east of Nuremberg), Germany
29th April to 1st May 2010
Ragnarök Festival Day 1: Thormesis, Imperium Dekadenz, Grailknights, Arkona and Belphegor

Thanks to modern navigation technology, we arrived in Rieden/Kreuth at the right location after a drive of over five hours. Beforehand, the organization team announced that parking and camping would be at separate locations, which was well managed by the staff. The overall handling of the visitors improved very much compared to the last (and sadly next) year's Lichtenfels. Fortunately, the ways from one location to the other were short and we made our way to the camping ground to put up the tents. After the car had been unpacked, the next task was to get the wristband which turned out be one of many since we got extra wristbands for camping and showering.
After having that done, we saw some people having some discussions with the securities because everyone had to pay the trash deposit (and not only 1 person/car like usual) and nobody had announced that before. Then, we made our way to the entry and without any checking of our bags, we entered the festival area. It seemed like the securities were not instructed very well or they just didn't feel like checking anything or anyone. However, we looked for the metal market and didn't find it (except for some lonely booths in front of and in the hall) because it was hidden in the back of the area, which we found out the next day. After searching for some time, we decided to enter the hall and were surprised to see 2 stages, for a change. With that, they wanted to reduce the time for changeover. Speaking of time, there were only some minutes left until our first band for that day was about to begin: THORMESIS.
Thormesis

The band THORMESIS from Franconia was founded in summer of 2006 in the city of Rothenburg. After first demo recordings in 2007, the line-up manifested as it can be read today: Travos (guitar, vocals), Velsir (guitar, vocals), Keltor (drums, vocals), Berucas (bass). Soon after that, the debut output 'Gehet hin und kaempfet' was recorded and presented live at several festivals like the Pagana Pagana. 2008, they signed the label Düsterwald Produktionen to release their second full-length release 'Vergangene Asche' in 2010 which received mainly good ratings.
http://www.thormesis.de.vu/
/
http://www.myspace.com/paganthormesis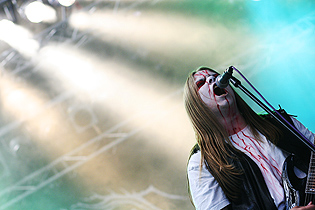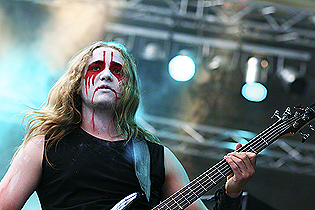 Music & Performance

Based on experiences, the first bands of a festival usually are expected to have a still unbalanced sound with major troubles, but the sound-technicians are mostly able to level these difficulties or even get rid of them. Since we missed RAVENLORE, I can't tell for them, but for THORMESIS. After all, the issue "sound" is one of the most discussable topics on a festival. You can ask 10 people and you'll get 11 opinions on things sounding not properly. Ironically the major issues of the festival turned out to be one lots of concerts have in opposite direction: the bass drum sound. Often barely listenable and dull, here the kick drum nearly blew you away, supported by the bass guitar. In addition to that, the rattling snare of THORMESIS bothered me quite a bit, but that's a matter of taste.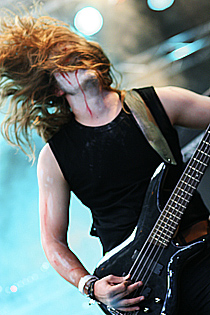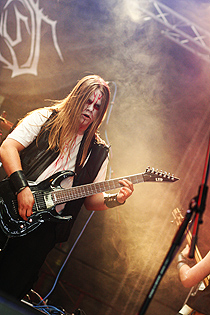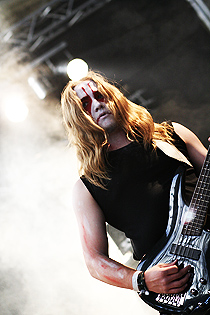 Anyhow, for such a young band, THORMESIS played a solid gig. Since I only was able to listen to album snippets on their MySpace page prior to the concert, I barely knew the music, but I was pleasantly surprised by the songs' quality. It was good to see that I was not the only one, since the audience had surprisingly much fun for a band this early. They surely were eager to get the festival started. The mood was supported by the typical Franconian way of entwining "LaLaLa" passages into the songs, which can be quite annoying after some time. Maybe this was also due to singer Travos' health condition, which was making him lose some of his vocal power. Anyway, I really enjoyed the newer tracks from their recent output, what made me consider buying it. I think that's quite a compliment.
Rating

Music: 7.5
Performance: 8
Sound: 6.5
Light: 6
Total: 7.3 / 10
Imperium Dekadenz

In the depths of the Black Forest, IMPERIUM DEKADENZ was brought into the world in mid 2004 by Vespasian (drums) and Horaz (vocals). The first two albums, '…und die Welt ward kalt und leer' (2006) as well as 'Dämmerung der Szenarien' (2007), were well received by fans and press alike. Far from reproducing the stereotypical political, religious or misanthropic themes of their genre, IMPERIUM DEKADENZ clad metaphors of human transience, ashes, dust and shadows into an antique attire with a penchant for the Roman Empire. IMPERIUM DEKADENZ has shaped their own sound, which is now captured on 'Procella Vadens' their third and recent output. In August 2010 they will play at the renowned Wacken Open Air.
http://imperium.zxq.net/
/
http://www.myspace.com/imperiumdekadenz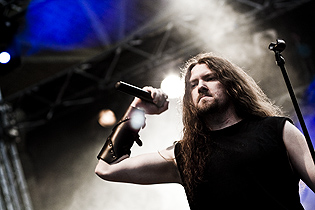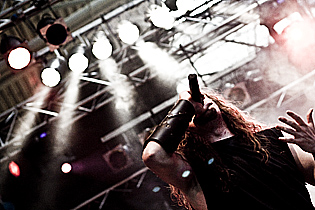 Music & Performance

A few minutes later the audience was dragged from the cheerful Franconian vocal lines into the atmospheric black metal IMPERIUM DEKANDENZ played. Since I enjoyed their releases a lot, I was looking forward to the gig. Sadly the bass drum was thronging over all, but the bass was more subtle, may be too subtle for the melodic, fast picked guitars, leaving the sound beneath that throne quite thin. But thin sound is black metal's best friend, so the crowd had much fun as well as I. The songs developed greatly leaving a chilling but soothing atmosphere. There was not much of a performance, but enough for that kind of music, since the action was going on beyond the photographer's pit.
Rating

Music: 8
Performance: 7
Sound: 6.5
Light: 7
Total: 7.3 / 10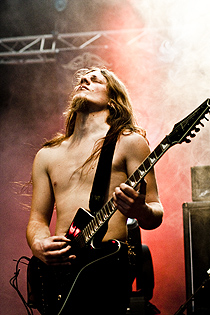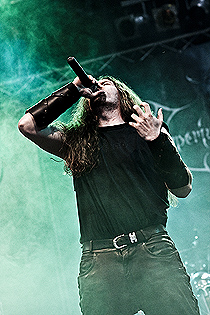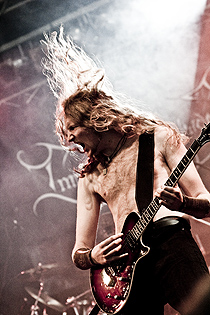 Grailknights

The GRAILKNIGHTS, who hail from the German city of Hanover, play a mixture of melodic death metal and power metal. The foundation dates back to 2002 when they were founded as the GALACTIC GRAILKNIGHTS. 2004 brought their self-produced debut output 'Across the galaxy' under their current name. Two albums and lots of local concerts later (as well as a European Tour with SABATON and headliner tour with ZANDELLE) they established their name as one of the finest in their genre, which also is strongly supported by their recognizable super hero outfits and unique show. In February 2010, the "Duke of Drummington" left the band and was replaced by "Baron van der Blast". Their recent release is 'Alliance' from 2008.
http://www.grailknights.de/
/
http://www.myspace.com/grailknights
Music & Performance

After we skipped CARACH ANGREN, we were eager to see the GRAILKNIGHTS enter the stage to tell us heroic tales of their adventures, but the curtains remained closed for nearly one hour, as we were about to experience. But we weren't told. After the clock was about 15 minutes off the schedule, the crowd started to worry, what may be the reason for that inconvenience, as the voice of Optimus Prime called the fans - ehm, excuse me - the battle choir for some more patience. The GRAILKNIGHTS were late and the obvious reason was the evil Dr. Skull messing around with them, preventing them from reaching the location in time - in other words: there had been a traffic jam on the autobahn due to an accident involving a truck. But instead of telling the crowd to go and grab a beer or some merchandise and come back after they have dressed, the audience was left waiting, expecting the gig to start in some moments. Alternatively, AKRONA, who already did their line check on the other stage and were pretty much ready to go, could have played first. Sadly nothing of that happened and after some sing-along-choirs to TENACIOUS D's first record to kill the time, the curtains opened.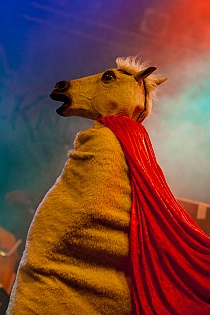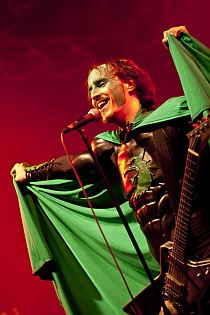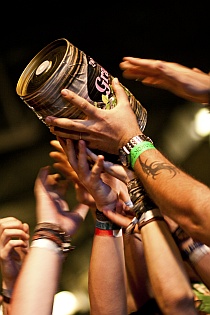 Not only that Dr. Skull, the arch villain of the GRAILKNIGHTS, made some cars crash, he even stole the Holy Grail again, so the audience was invited to follow them on their musical quest to retrieve it. I have to admit the entertainment factor of a metal concert can't be any higher. Is it the Knights claiming to have locked themselves two weeks in the basement to do some aerobics to grow some strength supported by beer or Dr. Skull escaping through the crowd and getting booed by the audience - you always have fun with this colourful quartet. And the battle choir is celebrating their heroes by responding "Yes, Sire" to their call or even dressing alike. In addition to that, everyone, who stayed in the first rows, surely was happy about a sip from the barrel provided by the band's own beer stud "Zapf Beauty". But of course there are musical aspects as well. With songs like 'When Good Turns Evil' or 'Nameless Grave', they made a solid choice for some head banging action. The songs were well performed with a quite good sound. Due to their show, they only had time for six "real" songs, of which one was a cover of Bonnie Tyler's 'Holding onto a Hero'. I don't know why, but I didn't like that cover very much. Maybe it's not very suitable for a metalized version or it is its obvious Knight-relating catch line. They should have switched it for one of their own songs, as the well known 'Across the Galaxy'.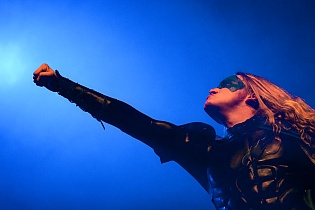 This is also true for the new 'Sea Song', which was supported by Optimus Prime playing the accordion instead of his usual guitar. First of all: WHY THE HELL do the GRAILKNIGHTS have to swim on the recent pirate metal wave as well like some other uninteresting bands these days? Due to the instrument change, the other guitar was barely audible. Anyway, they finished by retrieving the grail once more and playing the hymn 'Grailquest Gladiators', which was a great finish for a mediocre set, but a good and very entertaining concert.
Setlist

01. When Good Turns Evil
02. White Raven
03. Nameless Grave
04. Sea Song
- Grailrobic -
05. Holding onto a Hero
06. Grailquest Gladiators
Rating

Music: 8
Performance: 10
Sound: 8.5
Light: 6
Total: 8.4 / 10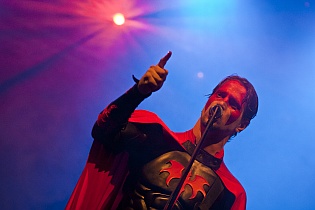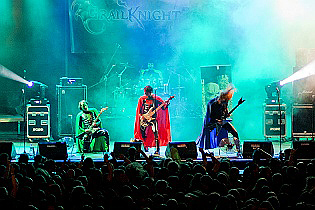 Arkona

The roots of ARKONA are to be searched for in the beginning of 2002, when the members of local pagan community "Vyatichi" - Maria and Alexander - decided to form a band according to their ideology and musical tastes. The musical materials of the band were pagan / folk metal based and the lyrics had an idea of ancient national beliefs and history of Slavonic Russia. In the end of the year it was decided to record several songs as a demo-record. Since the beginning of 2003, the band has started its concert activity. One of the highlights in their history definitely was the performance at the Ragnarök V in 2008. Till today, ARKONA released 5 full-length albums as well as a live CD. Their recent output 'Goi, Rode, Goi' took a great producing time with over 40 musicians participating and was well received in the press and by fans.
http://www.arkona-russia.com/en
/
http://www.myspace.com/arkonarussia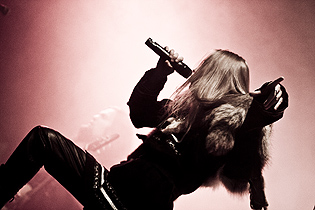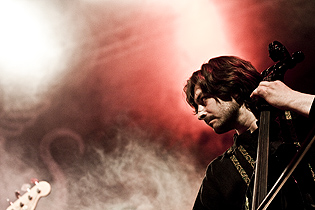 Music & Performance

I have to admit, I have never been a great fan of ARKONA, but I definitely can understand if someone is, since the music is actually quite good. It is mostly Mascha's vocals I can't really enjoy. So I could not do so that night. After the band had started to play, but was nowhere to be seen due to plenty of fog wafting over the stage, I had a strange listening experience. Of course the bass drum still was too present for my taste and once more, the bass guitar played a supporting role. The guitars appeared kind of thin and the cello could be seen through the fog but barely be heard. In addition to that, Mascha's voice kicked in and reminded me somehow of rapping; added to the music, the opening track somehow reminded me of BEASTIE BOYS. That is nothing positive to mention. To be fair, I have to say music-wise I enjoyed the following two songs more, but spent the whole track on the search for a spot near the sound engineer where the sound would improve. Because I did not succeed, I decided to take a short break for the upcoming BELPHEGOR. As I was told afterwards, the other folk instruments like bagpipes or different flutes sadly also didn't sound very convincing, but the audience and the band had fun performing once again at the Ragnarök Festival, which finally is something positive and matters most.
Rating

Music: 6.5
Performance: 8.5
Sound: 5
Light: 5
Total: 6.7 / 10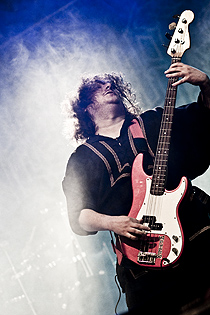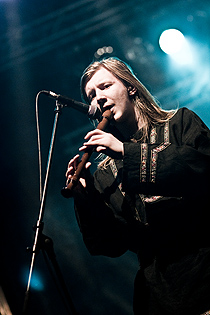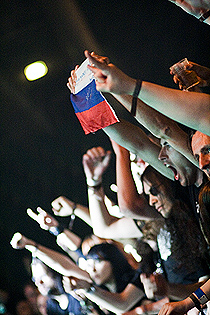 Belphegor

BELPHEGOR was formed back in 1992 in Salzburg, Austria, by the duo Helmuth (vocals, guitar) and Sigurd (guitar) calling their style Supreme Death / Black Metal-Art since. The first demo record proved themselves as an uncompromising extreme metal band and the following albums established a wide fan base. With their huge back catalogue they toured Europe and the USA several times. Since 2005, they nearly released one CD per year. Their upcoming yet untitled record will be produced by well-known musician and producer Peter Tätgren (PAIN, HYPOCRISY) and is scheduled for early 2011.
http://www.belphegor.at/
/
http://www.myspace.com/belphegor
Music & Performance

"RAGNAAAAAARÖÖÖÖK!", you could hear it clangourous in the hall and you knew this could only be Helmuth of BELPHEGOR who seemed to be very proud of knowing on which festival he's playing. BELPHEGOR were definitely one of the loudest bands of the festival, thus being one with the best sound, since the guitars were able to stand up to the bass drum. Maybe they were responsible for the fact, that they were also the last band with a good sound on the left stage, because they presumably damaged the right line array of that stage permanently, which now and then dropped out throughout the whole gig and the following days.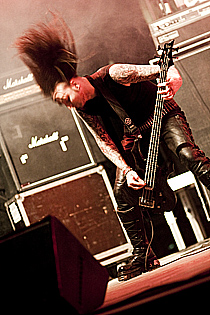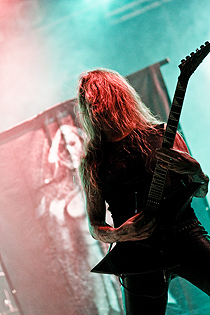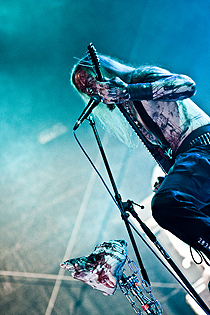 Anyhow, BELPHEGOR were fun to watch - or maybe not to watch, since the lighting had been rather... economical. So I asked myself for whom they put on the make-up respectively the blood (and why they messed up the backstage bathroom for that). The performance was good, even though BELPHEGOR didn't sound like anything they banned on CD, especially the vocals. Either Helmuth was drunk, pissed or bored or all of that. From speaking Austrian / Bavarian to pig-like oinking, you heard anything that night. The setlist was solid and contained songs like 'Seyn Todt in Schwartz', 'Belphegor - Hell's Ambassador' and 'Lucifer Incestus' from their rich back catalogue. In the end, Helmuth put on his obligatory fetish mask, which still looks quite ridiculous, and the band finished with 'Bondage Goat Zombie' a very good gig and this first day of the festival for us.
Rating

Music: 8
Performance: 7
Sound: 7.5
Light: 4.5
Total: 7.1 / 10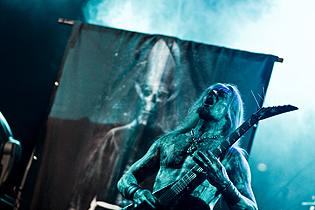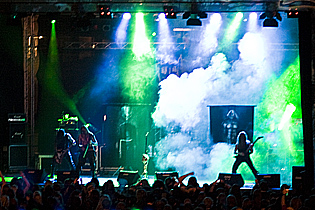 All pictures by Anne Kuhfuß
{jos_sb_discuss:18}