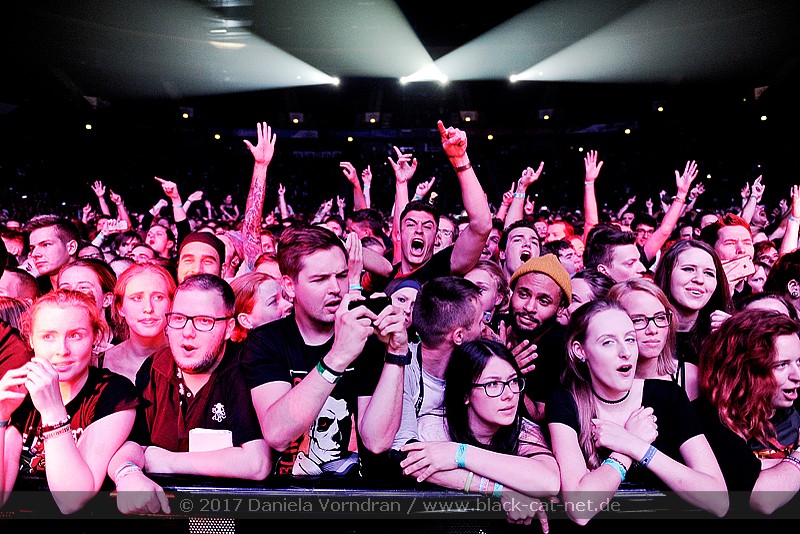 König-Pilsener-Arena, Oberhausen, Germany
13th June 2017
Blink-182 - Special Guests: A Day To Remember & Lower Than Atlantis

BLINK-182 are back for four headliner shows in Germany! The band, who started in a little garage, has by now sold more than 50 million records – worldwide receiving countless platinum, gold and silver awards. The band motto still is "Crappy Punk Rock Since 1992". No setback could stop them, not even the split from singer, guitarist and founding member Tom DeLonge.
With Matt Skiba from ALKLINE TRIO, they found a great replacement. With Skiba, BLINK-182 recorded the new album, wearing the programmatic title 'California' and going back to the roots: short, fast, rough and loud! For their tour, they brought A DAY TO REMEMBER and LOWER THAN ATLANTIS as special guests. Please enjoy our pics from the show!
Lower Than Atlantis

http://www.lowerthanatlantis.com / https://www.facebook.com/lowerthanatlantis
A Day To Remember

http://www.adtr.com / https://www.facebook.com/adtr
Setlist

01. All I Want
02. I'm Made of Wax, Larry, What Are You Made Of?
03. 2nd Sucks
04. Right Back at It Again
05. Have Faith in Me
06. Naivety
07. Paranoia
08. If It Means a Lot to You
09. The Downfall of Us All
Blink-182

http://www.blink182.com / https://www.facebook.com/blink182
Setlist

01. Feeling This
02. The Rock Show
03. Cynical
04. Anthem Part Two
05. What's My Age Again?
06. First Date
07. Bored to Death
08. Built This Pool
09. Down
10. I Miss You
11. Dumpweed
12. Reckless Abandon
13. She's Out of Her Mind
14. Always
15. Violence
16. Sober
17. Family Reunion
18. Dysentery Gary
19. Los Angeles
---
20. All the Small Things
21. Brohemian Rhapsody
22. Dammit
More on
Blink-182
,
A Day To Remember
and
Lower Than Atlantis
All pictures by Daniela Vorndran (
http://www.vorndranphotography.com
/
http://www.facebook.com/blackcatnet
)
See also (all categories):