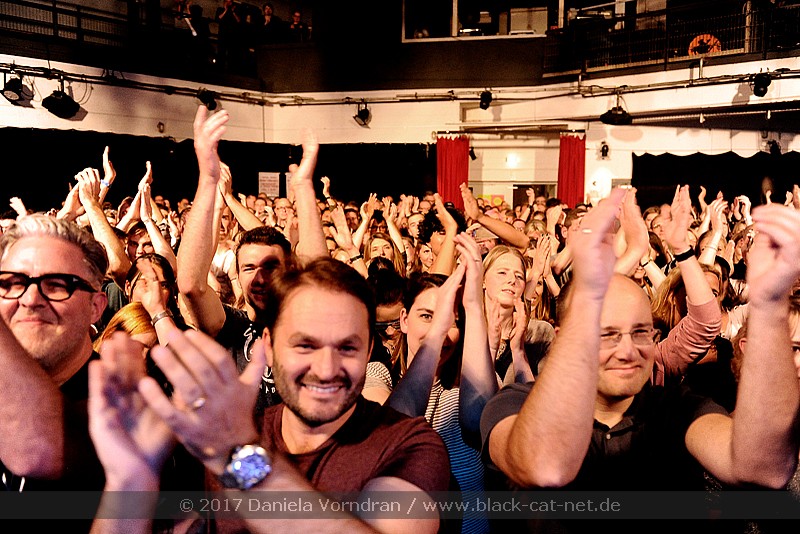 Zakk, Düsseldorf, Germany
8th October 2017
White Lies & I Heart Sharks

With the debut album 'To Lose My Life' from the year 2009, reaching directly top position of British charts, and the more conceptual follower 'Ritual' (2013), being more inspired from the darker side and bands like ARCADE FIRE, INTERPOL or EDITORS, the London based Post Punk trip opens an extended room of sounds on 'Big TV'.
The fourth studio album, 'Friends', is now already out for more than one year. Last October, Harry McVeigh, Charles Cave and Jack Lawrence-Brown were already touring Germany. But what now? They did go on doing things what musicians can do best:
WHITE LIES
were playing live also without a new release. And since it was so great last year, the band returns in autumn to impress with more fantastic live shows. We have been at the second-last German show in Düsseldorf for you, supported by
I HEART SHARKS
from Berlin. Enjoy our pictures!
I Heart Sharks
http://www.iheartsharks.net / https://www.facebook.com/iheartsharksmusic
White Lies
http://whitelies.com / https://www.facebook.com/WhiteLies
Setlist
01. Take It Out on Me
02. There Goes Our Love Again
03. To Lose My Life
04. Hold Back Your Love
05. The Price of Love
06. Farewell to the Fairground
07. Morning in LA
08. Is My Love Enough
09. Getting Even
10. Unfinished Business
11. E.S.T.
12. Streetlights
13. A Place to Hide
14. Swing
15. Don't Want to Feel It All
16. Death
---
17. Big TV
18. Bigger Than Us
All pictures by Daniela Vorndran (
http://www.vorndranphotography.com
/
http://www.facebook.com/blackcatnet
)