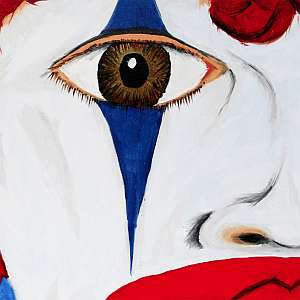 Francesca Corradini (vocals, acoustic, keys) and Ian Sumner (guitar, backing vocals) from The Cellophane Flowers about

Staring At The World

THE CELLOPHANE FLOWERS are the masters of female-fronted, driving, quirky pop, sometimes styling their sound as "psychopop" in interviews. The songs reflect an eclectic array of influences, from tribal drumming, to alt-rock, to dark tinged 80's pop and have name checked Siouxsie, Sonic Youth, The Stone Roses and Throwing Muses as influences. Time and again THE CELLOPHANE FLOWERS throw in hook after hook to support the sublime vocals of Francesca Corradini. The band have recently completed the recording of their debut album 'Staring At The World' which is being released digitally on December 3rd 2012. The ten tracks were recorded and produced by David M. Allen. Dave's extensive discography covers The Cure, Depeche Mode, Human League and The Charlatans. Mastering was by Barry Grint (David Bowie, I Blame Coco) at Alchemy Studios. Here's what the band says about the album:


Voices
Ian: "This one has become a real live favourite, starting off quite simple and poppy, then getting very very loud and raucous by the end. On the album, it's more of a steady builder, so we reckoned it was a good way to start the album. The lyrics are quite psychedelic and fantastical, it's probably the one we like playing live the most."

The Promise
Ian: "This is the only track we've ever taken into a recording studio incomplete. We had the song, but had no idea what to do with it. Dave's influence was biggest here – he added the sequencer keyboard part and the rest just fell in to place. There was a lot of space to play around with, so we had a lot of fun with it. It was originally going to be called Pokerhead until someone pointed out the Lady Gaga track."

Pendulum Eyes
Ian: "We went for something quite 60s here, a sound like 'Needles & Pins' is what I had in mind. It turned into something different but still has a bit of a 60s feel. I'm not sure if it's deliberate, but when we write a song the darker the lyrics the lighter the mood. This track is the diametric opposite of 'Rock'n'Roll'"

Forever Lost
Francesca: "This is the track we often use to epically end our live gigs. We love the way it builds and goes into a complete musical frenzy towards the end. The only song with Ian on slide too, which adds to the melancholic feeling of the track. I am particularly in love with the bass line; it's magical. One track to listen to over a whisky or two."

Tears Of A Clown
Ian: "With 'In a Hole', this is probably the most mellow track we've done. Of all our tracks, this is my favourite and it's the most personal lyrically. It's about covering up for the fact you're feeling down when the world is going mad around you."

Rock'n'Roll
Ian: "The drums were recorded in a massive, disused NHS hospital kitchen, not once but three times. The triple-tracked beats transformed what was originally meant to be a light hearted 50s-style tribute to innocent lust and fumblings, into a darker, angsty shoegaze-on-Red Bull tale of frustration."

Belinda
Francesca: "One of the most upbeat tracks in the album, but the story behind the track is not as happy. We love playing with contrast! When Belinda unexpectedly passes away she is highly missed amongst her friends. So they meet at her funeral and they share memories of the old days…"

Time
Ian: "Like Voices, this one has a slightly fantastical theme. We wanted an epic feel to match the theme and worked like buggers to get there, it was a hard song to get right. But as they say - if in doubt, go spaghetti western!"

Lucky Day
Francesca: "This track means a lot to us, it is the oldest (and longest) track in the album. I remember us playing this track at the very beginning of our journey! It's a real dreamy track, perfect for driving at night."

In A Hole
Francesca: "Initially written on a ukulele, this was always meant to be a sweet interlude track. It's just another song about a girl who is trying to find her place in this world. Who this girl is, I don't know."