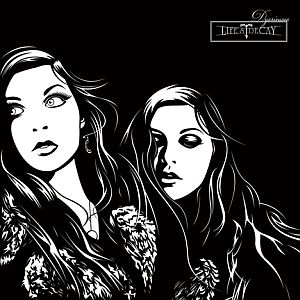 Lyktwasst (Life's Decay) about

Dysrieuses

At the end of the last year, LIFE'S DECAY, a French musical and visual project, made an issue of their seventh studio album, named 'Dysrieuses'. In our series of articles "In My Own Words", Lyktwasst, front man of the band, tells about the new album.


01. Etasthesie
Lyktwasst: 'Etasthesie' is the introduction of the album. It is quite calm and mysterious with its deep violins and piano. The text is about the construction of a time, a dream, a universe. Most of the lyrics are built like a narration, an abstract story made with poetic images and strange situations. Sometimes it is pretty surrealistic, based on the force of the imagination. A dark universe appears, animated by slow rhythmic and classical music instruments. All the lyrics of 'Dysrieuses' are in French.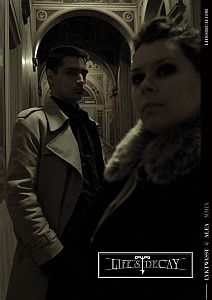 02. Emerance
Lyktwasst: Here is more power and dynamics. There is quite a lot of acoustic guitar which is more or less saturated. We still found classical music instruments but there is much more drums and metallic percussions. The atmosphere has some country folk inspiration. The lyrics are about an old and empty place in which the time has erased the corridor's colours. A deer appears like a dream in this strange landscape. In all the lyrics of 'Dysrieuses', the narrator is "I". In 'Emerance', the main character is with someone and they are lost in this universe. They arrange and pick out the lights together, like a metaphor.

03. Eabelia
Lyktwasst: The main character searches her way, she has some lead in her hands, iron in her mouth and she makes a cast of her eyes. Music is based on tiny metallic percussions and experimental sounds. The piano is sweet and very present. We also found some heavy drums like a bad presage and at the end of the track we hear a little piano, a little melody, very sweet and like a contrast.

04. Sulvisyan
Lyktwasst: Some metronome's noises open the track. The question of time is always present and the metronome reminds us it. It is about the finiteness (finitude in French), the fact that something is approaching to its end. The cello here is disturbing, insistent and is carried by the feminine voice. The guitar's melody is very dark and heavy. Then martial percussions appear and hold the guitar and bass. The track get more violent and powerful.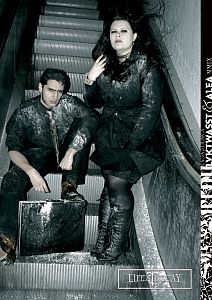 05. Viversie
Lyktwasst: 'Viversie' is a romantic, poetic love song. It is pretty dynamic with a lot of piano and tiny experimental sounds and percussions. It reminds us some tale's atmospheres.

06. Ambrause
Lyktwasst: 'Ambrause' is more "pop" than the other tracks even if it remains dark industrial. It's quite dynamic but not specially heavy. There is a lot of small metallic percussions mixed with more traditional drums. It is mainly made with bass and guitar but still a lot of voice and cello. A mysterious unknown character rumbles and traps the main character. She feels his hard bones under his skin but the lyrics are very abstract and poetic. In all the texts we don't write a real message or a real story. We prefer to suggest and let the liberty of understanding to everyone.

07. Iristhetique
Lyktwasst: This track is very experimental, dark and industrial with a lot of very heavy drums. The atmosphere is cold and metallic. The cellos here are deep and grating. The main character sows some glass in the wind. The matured piano makes a tiny and high-pitched melody between the powerful drums and cellos.

08. Etesse
Lyktwasst: Like all the other tracks of 'Dysrieuses', 'Etesse' is fully acoustic and brings together most of the instruments of LIFE'S DECAY : bass, guitar, cello, violin, piano, tiny and heavy percussions, experimental sounds etc. This track represents pretty well the album. It is rich, dynamic and varied. The voice makes some flights and goes sweet or turns into a more violent energy.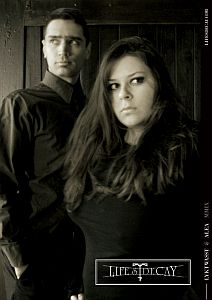 09. Elystea
Lyktwasst: The track is carried by an heavy piano and a cello melody on the powerful chorus. The drums are heavy and dark with metallic and experimental sounds. There little sounds here are like metallic chain's sounds which clink together. An harmonica resounds in the middle of the track. It is the transition to the last powerful chorus. That transition is pretty calm and atmospheric.

10. Exalyne
Lyktwasst: 'Exalyne' is one of the most brutal tracks with its saturated organ, crazy voice and powerful drums. "To bone some dreams in shreds". The second part of the track is more calm and the sweet voice is carried by a haunting guitar and martial percussions.

11. Evarestique
Lyktwasst: A tempest is going to start under the black water. The rain runs of her fingers and spills some crystals on her blood. The main character searches the letters she wrote. The sweet words that she wrote like nights and nights that she hided under paper's mountains. The music here is more atmospheric with some echo and original instruments like different sorts of cymbals and harmonica. There is also some atmospheric sounds that comes from old mechanisms.

12. Inkerosa
Lyktwasst: The last track is the craziest and most brutal title of 'Dysrieuses', made with artificial English spoken voices and a very saturated organ. The drums are very strong and martial.

This article was originally published at wiadomosci24.pl



See also (all categories):