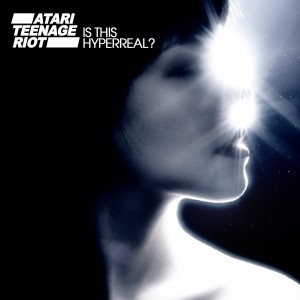 Alec Empire (Atari Teenage Riot) about

Is This Hyperreal

German digital hardcore pioneers ATARI TEENAGE RIOT has released long awaited fourth studio album entitled 'Is This Hyperreal?' by Digital Hardcore Recordings after twelve years of silence. Band leader Alec Empire exclusively for Reflections Of Darkness readers is speaking about the album. If you want to know what Alec Empire has to say about political activism, governments' control of the internet, human trafficking, check this out.


01. Activate
Alec: 'Activate' is about political activism in the internet age. We find that governments are using music piracy to have a reason to regulate and clamp down on internet freedom. It is important to keep the internet free from government control, so politics becomes more transparent and people form their own opinions when accessing alternative sources of information. Sounds logical, but it's sad to see that even in Western democracies governments move towards a less free internet.

02. Blood In My Eyes
Alec: 'Blood In My Eyes' features Nic Endo on lead vocal. She speaks out for the multitude of women who have become the victims of human trafficking, their sexuality exploited for financial gain right under the gaze of the ineffectual governments of the self-proclaimed civilised West. Nic, wholly in tune with her trademark Japanese face-paint depicting the symbol for resistance, makes her point in the inimitable ATARI way. 'Blood In My Eyes' is a riveting electronic punk rock diatribe, paying homage to the feminine retributive subtexts espoused by cult films like 'Kill Bill' and "heavily censored French art-house offering" 'Baise-Moi'.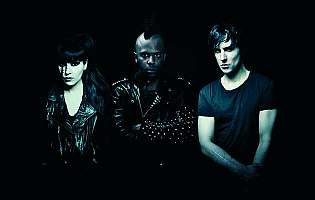 03. Black Flags
Alec: We seem to be moving more towards a society in which certain people are above the law and others are not. There is a class war going on and it's the rich who are waging it. This imbalance is causing more crime and more violence. The black flag stands historically for the anarchist flag, meaning having no government. If governments cosy up with corporate power like they do now, it's a threat to democracy, freedom and free speech. [Note: There is a single version coming with US rapper Boots Riley as a guest! ]

04. Is This Hyperreal?
Alec: The title track of the album seems perhaps unusual to some people out there. It is an atmospheric and cinematic track which paints a picture of violent protests leading to revolution and instead of ending up with more freedom, a dictatorship-like society in which everyone is against everyone. The song also includes ATR's first German lyrics since the legendary song 'Hunt Down The Nazis', this time ATR speaks directly to the German government and warns them that if they continue to be corrupt and act in the interest of a few, rather than the majority who elected them, we as a people can always march up to the Reichstag/Bundestag in Berlin, arrest them and start a new republic. (This has happened a in the last century in Germany: Right after World War I when the German people ended the monarchy, then the second time when East Germans brought down the socialist regime in 1989 and made the Wall fall.)

05. Codebreaker
Alec: This track features guest Steve Aoki from Dim Mak Records on vocals. It is our hacker activism track on the album. Information war and using computers as weapons. The whole album was programmed on an old Atari ST1040 computer with 2MB ram. When we started it was the tool to have, it is vital for the ATARI TEENAGE RIOT signature sound, so we still use it. It has become almost an Einstein-type maths riddle to squeeze so much energy out of that machine... but it's also a lot of fun. And it's not connected to any network, so it can't be hacked from the outside.

06. Shadow Identity
Alec: We wrote this song when we heard about the German police installing Trojan horse software on the computers of ordinary citizens. This reminded us of how the authorities spied on people in Nazi or Socialist Germany decades ago. Will we face a future where we all have to live two lives? One life which is polished for the internet and employers to see and then the real life where we can express freely our opinions to our friends. Nic Endo mentioned how Iranian women live this way. Are those who preach about the "end of privacy" in the internet age the same kind of people who want to disown us, claim our intellectual properties in order to exploit them financially? Authors like Jeff Jarvis keep asking why the Germans are so sensitive when it comes to these things. The answer is because we've been there twice in the last century....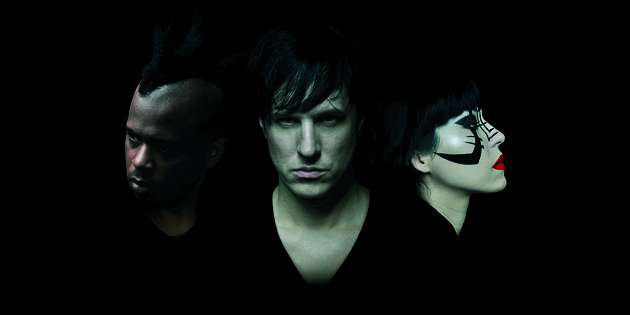 07. Re-arrange Your Synapses
Alec: Shadow identity leads us right into this song called 'Re-arrange Your Synapses'. Key lyrics are: "The internet.... Is it worth the creation of a black hole that sucks up our time, creativity and friendships? Some believe the every day mobile device is as powerful as a nuclear hand grenade when it comes to starting a revolution! Re-arrange your synapses! The ideologies behind that type of thinking aren't exactly solid, my friend! When the authorities catch up with us, and they will, not such a good idea to leave traces and expose your whole network at once." While ATR's legendary song 'Start The Riot' was the beginning a decade ago, 'Re-arrange Your Synapses' is an extension that explains that if there is no smart thinking behind political activism and it's purely controlled by hate and anger then it doesn't achieve much.
08. Digital Decay
Alec: This song was really inspired by Wikileaks. Digital Decay is a key concept which basically describes a future where people will not use the internet because it is too regulated and too controlled. This possibility has become quite "cool" over the past months, to not be a part of the information overload treadmill anymore. Nic Endo provides vocals which were inspired by Hal the computer on the spaceship in Kubrick's "2001 – Space Odyssey". This track combines the roots of ATR's early works which were very Detroit Techno inspired with Dubstep right at the end.

09. The Only Slight Glimmer of Hope
Alec: Mick Jagger said decades ago that "Anarchy is the slight glimmer of hope". We see ourselves as anarchist libertarians. In many cities the police are powerless when it comes to the increase in violence and crime. We don't want to handover responsibility to Big Brother so that they make all decisions for us. We believe that a society in which people treat each other with respect and share the profits is possible and logical.

10. Collapse of History
Alec: This is one of the key ideas when it comes to hyperrealism and our time... We live in an age where the sense of space and time is lost. Everything is instantly available. More young people discover music, for example, which was made in the 1950s. The sense of Pop is lost, mass culture is coming to an end. We wrote this anthem to celebrate diversity! Musically it is interesting to mention that the song starts with a recreation of the classic Atari video game 'Pong' and then in the refrain features Alec Empire doing 40 layers of vocal takes to create a choral sound which was inspired the old Russian military choirs.

Atari Teenage Riot Official website: http://www.atari-teenage-riot.com
Atari Teenage Riot Official MySpace profile: http://www.myspace.com/atr922000

Atari Teenage Riot will headlining Castle Party Festival this year!
Castle Party Festival Official website: http://www.castleparty.com



See also (all categories):