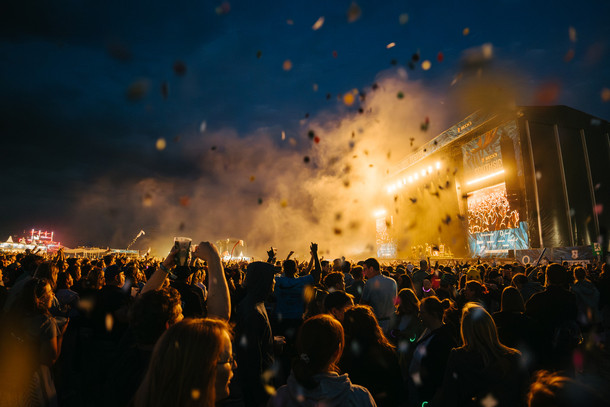 The twin festivals Hurricane and Southside ended successfully with acclaimed headliner shows in the best summer weather. The organizer FKP Scorpio draws a positive conclusion with almost 78,000 guests in Scheeßel and 62,000 guests in Neuhausen ob Eck. Advance sales for the coming year begin on Tuesday, June 20, 2023.
The music program offered an attractive mix of international headliners and exciting high-flyers. MUSE, DIE ÄRZTE, BILLY TALENT, KRAFTKLUB, PLACEBO, CASPER, PETER FOX, QUEENS OF THE STONE AGE and MARTERIA led the line-up, and many other acts such as TASH SULTANA, ASHNIKKO, RIN, BADMÓMZJAY, THE 1975 and NINA CHUBA prepared the line-up special concert moments for their fans. For the first time, the winners of the FLINTA* Newcomer Contest "Gamechanger" were on stage. With the competition, FKP Scorpio wants to contribute to a lively and diverse music culture. KARO LYNN and ATTIC STORIES prevailed from hundreds of applicants and after an online voting with thousands of votes cast also inspires your local audience.
Stephan Thanscheidt, CEO of FKP Scorpio and Head of Festival Booking, draws a positive conclusion for the Hurricane: "We have had a festival weekend with the best weather and great music, which our guests have turned into a euphoric and peaceful music festival. The fact that we were almost sold out in view of the current economic challenges makes us grateful and we consider it a vote of confidence from our guests. I'm also personally pleased at both festivals that the winning acts and their audiences have made 'Gamechanger' a success that we definitely want to build on in the future. Further innovations such as safe spaces and awareness teams for our proven Panama concept and the further development of the waste challenge 'Trasholution' make our twin festivals more socially and ecologically sustainable."
Benjamin Hetzer, festival director of the Southside, is also satisfied: "In addition to the fact that the festival went smoothly and our guests had a great time, I am very pleased that we are consistently developing further in the area of sustainability. We now cover more than 50 percent of our electricity needs from sustainable fixed electricity. In concrete terms, this means that we can operate the Green, Blue and Red Stages, as well as many other trades, with green electricity. Our investment in the local power grid has more than paid for itself."
Advance sales for both festivals begin on Tuesday, June 20th at 12pm (Hurricane) and 2pm (Southside) with a limited number of festival passes starting at EUR 199. For the first time there will also be a special fan package with exclusive merchandise. For more info and tickets, visit the Hurricane and Southside Festival websites.
Source: Press Release