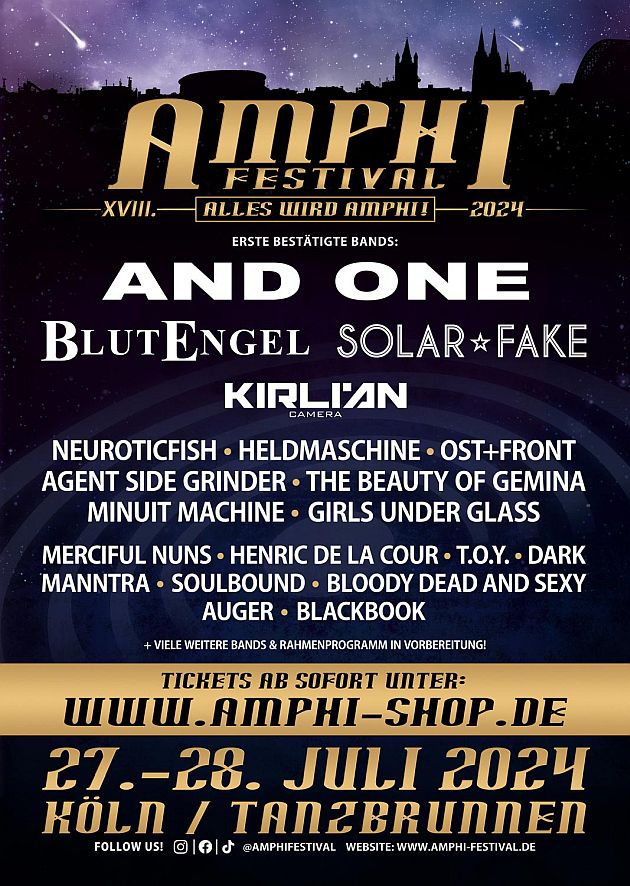 Amphi Festival 2023 was once again a phenomenal experience with 12,500 visitors from all around the world. We still find ourselves daydreaming about the impressions of the Amphi weekend. Oh, if only we could turn back time and experience it all again! The anticipation for the next Amphi Festival is even greater! On July 27th & 28th, 2024, we'll meet again at Tanzbrunnen Cologne, the Theater and on the MS RheinEnergie! Presale has begun at www.amphi-shop.de and is already in full swing.
In fact, the Early Bird Tickets were gone in less than 36 hours and the high demand continues in the second ticket pricing tier (out of three). The demand for CALL THE SHIP TO PORT is also enormous. More than half of the tickets are already gone. Thank you for this incredible support! You are truly amazing!
For AMPHI FESTIVAL 2024, the following first bands have already been announced:
AND ONE * BLUTENGEL * SOLAR FAKE * KIRLIAN CAMERA * NEUROTICFISH * HELDMASCHINE * OST+FRONT * AGENT SIDE GRINDER * THE BEAUTY OF GEMINA * MINUIT MACHINE * GIRLS UNDER GLASS * MERCIFUL NUNS * HENRIC DE LA COUR * T.O.Y. * DARK * MANNTRA * SOULBOUND * BLOODY DEAD AND SEXY * AUGER * BLACKBOOK
Many more bands are currently in preparation!
For CALL THE SHIP TO PORT on July 26th, 2024, aboard the MS RheinEnergie, COMBICHRIST and [X]-RX are already confirmed. One more band will be added! Furthermore, the big Amphi VISITOR SURVEY is now online. Participate, give your feedback, and let promoters know which additional bands you'd like to see at the upcoming Amphi Festival at www.amphi-festival.de/2023/umfrage.html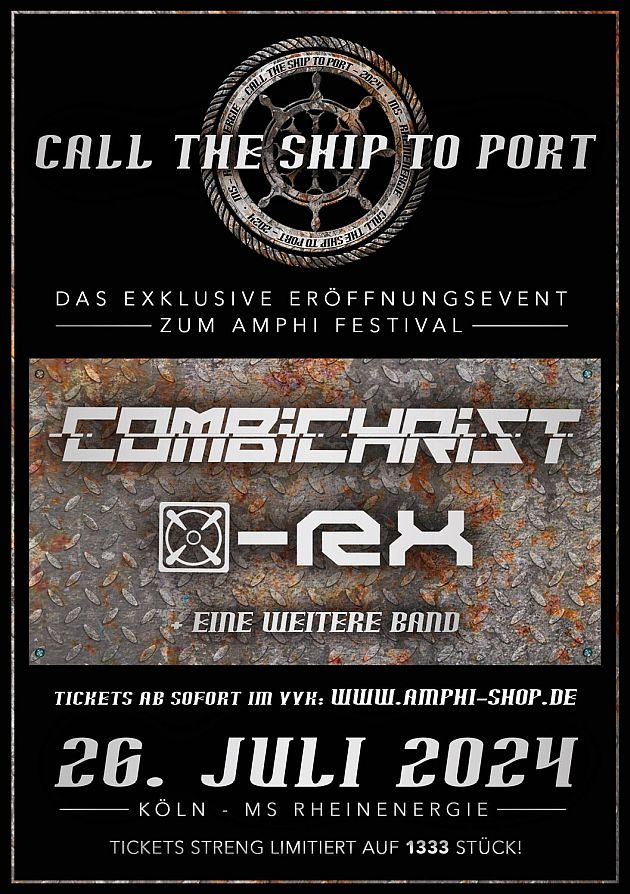 Source: Press Release