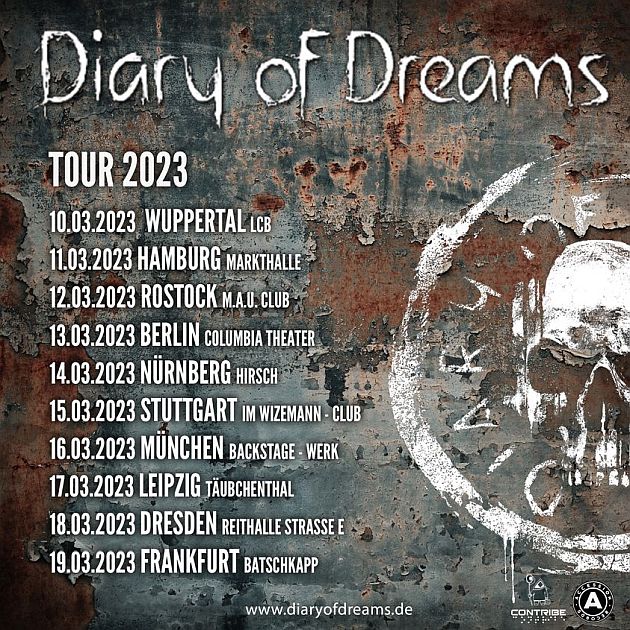 Great news for all DIARY OF DREAMS fans directly from the band's HQ:
"Almost five years have passed since we released our last album 'hell in Eden' in October 2017. Never before in the band's history was there such a long break between two albums. The reason for this is complex; the world seems to go crazy and turn everything upside down - too many global, but also private setbacks kept shifting the focus and made it impossible for us to finish the album with the usual loving dedication and attention to detail. Until now: In spring 2023, you can finally look forward to a new album and a corresponding tour! Of course, new songs will be presented, but also a new and varied overview of the previous musical history... The long concert hiatus has literally starved the band, the anticipation is huge and will be discharged in 2023 with concentrated live energy. You can expect the band playing at their frenetic best - and finally, a new chapter in the Diary of Dreams!
In times when more and more bands postpone or cancel their announced concerts and tours, we dare to announce new concert dates. At the same time, we count on your support, because of course we need you in front of the stage to make it a great experience for all of us... This means unfortunately that for the planning and realization of a tour, advance ticket sales are incredibly important, because no matter how much we love being on stage, none of us can afford to lose money in the end by going on tour. Therefore, we appeal to you:
If you want to come to our concerts, please show it to us by getting your ticket as early as possible. More and more tours are getting cancelled because weak presales are making planning the tour impossible. Of course, after Covid and the uncertainties of the current times, we fully understand if you want to wait until the last moment until you buy your ticket. But we would like to raise awareness for the fact that with the early purchase, you make an essential contribution that the concerts can take place... and as I said, this applies to all bands - not just to us.
Thank you so much.
Yours Diary of Dreams"
So, just get your tickets that the tour really can happen:
www.diaryofdreams.de/shop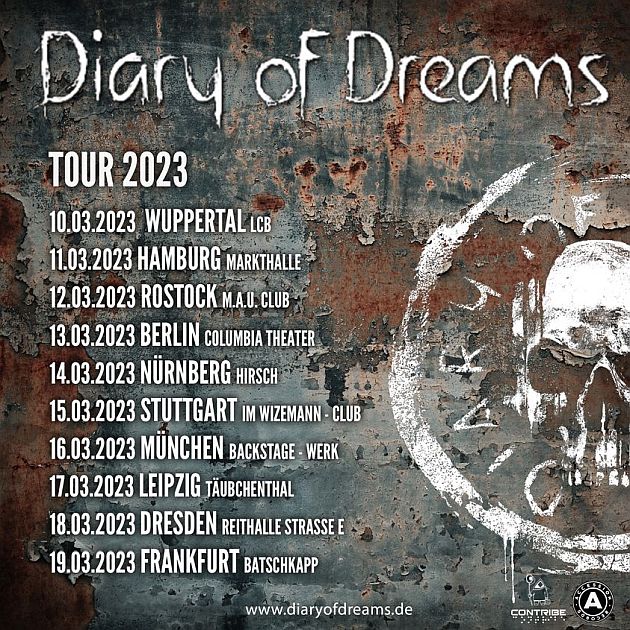 Source: Band