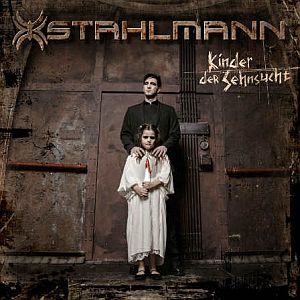 Hard German-language Rock music gets an update installed right at the beginning of the year. While Göttingen based artists STAHLMANN, with their spectacular stage look, have always been a guarantee for consistently developing uncompromising sounds, with their new album 'Kinder der Sehnsucht' ('Children of Longing') they present themselves as true steel tightrope walkers across deadlocked genre boundaries.
Stoic guitars, cold electronics and brutal lyrics mix skillfully with fleet-footed Punk Rock and German Rock elements. 'Kinder der Sehnsucht' breathes musical and lyrical depth and at the same time stands for a rousing spirit of optimism. It contains everything that makes up the harsher German music scene. The band, which once perfected the genre of NDH so confidently, presents itself in a completely new dimension of maturity and stylistically sets a completely new standard.
Playfully, confidently and ruthlessly, STAHLMANN paint a picture of society in word and sound that strives for fulfillment, longing for dreams; celebrating friendships, chasing sensations and drowning in sentimentality. Just like a painter, front man and STAHLMANN mastermind Mart Soer puts their portrait face to face with modern society. "Our society is more socially linked and flooded with information and events than ever," says singer Mart Soer, "and at the same time it is also lonelier, content-less and disoriented than ever."
However, there are also positive images of society that trace STAHLMANN with 'Kinder der Sehnsucht'. The song 'Die Besten' ('The Best') is a hymn to friendship. "Friendships are the most valuable thing there is," says Mart. "If you can rely on someone and always be honest with someone, you should really celebrate it a lot more often, and in that way you should honour it somewhere. Real friendships are worthy."
STAHLMANN has been working its way up the ladder step by step for years. Already with their debut, 'Stahlmann' in 2010, the band caused a stir. Already with their second album, 'Quecksilber', they jumped into the top 40 of the album charts. Since then, the band has booked the Media Control and Club Charts practically by subscription. When on 8 and 22 February 2019 the first single forerunners, 'Kinder der Sehnsucht' and 'Die Besten' will be released, this is more than a statement. In the eleventh year of their existence, STAHLMANN set new standards in every respect.
Live dates

21 Mar - Bochum, Matrix
22 Mar - Frankfurt, Nachtleben
23 Mar - Nuremberg, Cult
29 Mar - Berlin, Musik & Frieden
30 Mar - Hamburg, Logo
06 Apr - Munich, Backstage
12 Apr - Leipzig, Felsenkeller
Source: Press Release