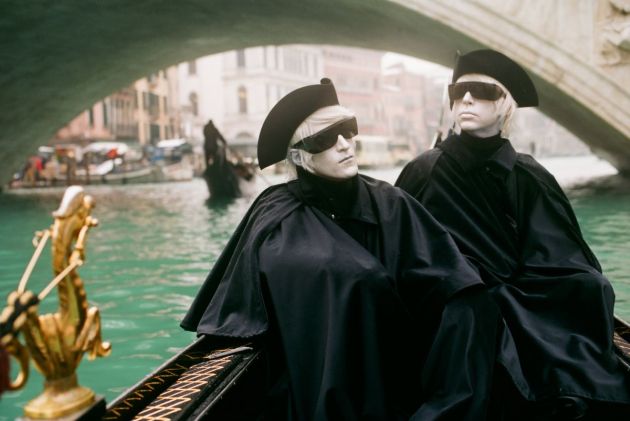 With 'Modern Mirror', the L.A. based duo DRAB MAJESTY will release a new album on July 12 via Dais Records. The album announcement comes along with 'Ellipsis', the first single of the album, and the disclosure of summer 2019 tour dates.
It only took two records for the project of Deb Demure and Mona D to establish a faithful fan base all around the world that loves the unique, hypnotic sound and the mysterious, permanently developing presence. After an intense tour to support the first two albums, e.g. in 2018 together with the SMASHING PUMPKINS and DEAFHEAVEN, Demure and D fled to the inspiring landscapes of Athens, Greece, to channel the songs of their most ambitious album so far, 'Modern Mirror'.
DRAB MAJESTY blow the dust out of the antiquarian myth of 'Narcissus and Echo' of the Roman writer Ovid and use his premise as basis for a modern reinterpretation. Each song of the album tells a part of the story, in which the listener's own identity is distorted and dissociated by rapidly developing technology and the contact to the origin of his own personality get lost.
In a romantic way, the single "Ellipsis" plays the distorted concept of courtship by use of modern technology in a world that is not adapted so far. Thomas McMahan was hired for creating a video to bring that message to life.
'Modern Mirror' merges the aesthetics of synth-pop-noir with the careful teaching of the Greek mythology and modern science fiction and thus creates a mixture of romantic, dreamy discomfort that was caught for a future moment. It is a journey of self-reflection, nostalgia, love, beauty and heartache narrated in eight addictive and emotional synth-pop hymns - a supposed story that is bluntly delivered through the frame of the modern world.
The album was produced by Josh Eustis (TELEFON TEL AVIV) and mastered by Dave Cooley. 'Modern Mirror' includes guest appearances of Jasamine White-Gluz (NO JOY) and Justin Meldal-Johnson (NIN, BECK, M83, AIR), and the packaging was designed by Juan Mendez of Ealous God / Silent Servant.
Tracklist

01. A Dialogue
02. The Other Side
03. Ellipsis
04. Noise of the Void
05. Dolls in the Dark
06. Oxytocin
07. Long Division
08. Out Of Sequence
DRAB MAJESTY on European festival tour

May 28 - TR-Istanbul, Zorlu PSM
June 1 - E-Barcelona, Primavera Sound
June 2 - IE-Dublin, Workman's Club
June 6 - UK-Birmingham, The Flapper
June 7 - UK-Nottingham, Rock City (Beta)
June 8 - UK-Glasgow, Audio
June 9 - I-Guastalla, Handmade Festival
June 11 - I-Rome, Wishlist Club
June 12 - I-Pomigliano D'Arco, Floor Club
June 14 - IS-Mosfellsbær, Oration Festival
Source: Press Release / Photo by Nedda Afsari