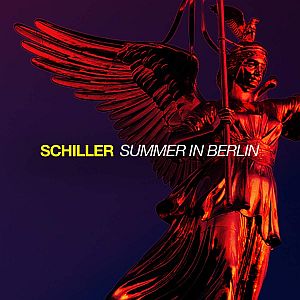 "Berlin - The greatest cultural extravaganza that one could imagine." - David Bowie
Summer of contrasts

"I like to do the opposite of what you usually do," says Christopher von Deylen. For over two decades the musician has been operating in his own parameters, which are often far apart, sometimes even completely buck the trend. An advocate of alternatives, new approaches and the idea of rethinking Electronic Pop music; one who does not want to surrender to the consensus at any price, but is always looking for new ways. And with all uncompromising attitude, if necessary. It has to, as von Deylen demonstrates with SCHILLER. A project of cultivated contrasts, aesthetic breaks and elegant contradictions.
Escapism charisma

In a hectic time in which the attention span in the virtual information drum fire is sinking every day, Christopher von Deylen is now releasing an opulent box set with over eight hours of playing time. While the globe seems to spin faster and faster, it celebrates the radiance of slowness and escapism. And it combines atmospheric chamber electronics with collage-like ambient sounds, driving club tracks and sprawling sound cascades to create an epic XXL road movie entitled 'Summer In Berlin'. And that in February.
Welcome to the new world of SCHILLER

With 'Summer In Berlin' SCHILLER is not just releasing a new album. In addition, 'Summer In Berlin' sees itself as a (live) retrospective and a preview of what we can expect from Christopher von Deylen in the future. His past is well known: with his ten long players, many of which have won precious metals, SCHILLER has shaped German Pop music like no other; the last four albums were able to enter the German charts in a row. It wasn't until the end of October that the sound researcher presented the number one disc 'Colors' under his own name. Almost ten weeks later he surprisingly reports back with SCHILLER: The 'Summer In Berlin' boxset contains the brand new studio album of the same name and four previously unreleased live concerts on a total of two CDs and two Blu-Rays with a total playing time of over eight hours. The epic work is completed by exclusive documentaries, video clips and an elaborate photo artbook.
Embrace opulence

SCHILLER loves the opulence, the extra length and the cinema in the head, to which he again opens the curtain. Von Deylen takes time, a lot of time. The album opener 'Der Klang der Stadt' alone defies every common radio or streaming format with its length of over twenty minutes. An impressive example of his consistent modus operandi, which fits seamlessly into SCHILLER's total work of art. Adaptation? No thanks.
Distance creates closeness

Christopher von Deylen has temporarily put his cosmopolitan existence as a musical tramp, lived with every fibre, on hold. After being inspired by albums such as 'Opus' (2013), 'Future' (2016) or 'Morgenstund' (2019), which have sold millions of times over the world, von Deylen returns musically to the city with 'Summer In Berlin' he left six years ago in favour of his creative homelessness. But as is well known, distance creates closeness; one of the few constants that can also be used in the SCHILLER universe. The focus of the live retrospective is the final concert of the great SCHILLER arena tour 'Let there be light'. In the sold-out Mercedes-Benz Arena in Berlin, Christopher von Deylen and a top-class band led by PINK FLOYD tour drummer Gary Wallis and bass legend Doug Wimbish (MICK JAGGER, MADONNA) set off audio-visual fireworks. The musical guests include the exceptional talent Schwarz (currently on Netflix with the long-term documentary 'Wie in Fremder') and the Persian-Kurdish artist Yalda Abbasi. With the lavishly produced live recordings 'Schiller x Quaeschning - Behind Closed Doors II: So Close to Heaven', 'Berlin Moscow: The Ultimate Experience - A Glowing Event By Schiller x Laserfabrik' and 'Lichtsommer Part I & II', three very different elementary parts are added. In particular, the artistic laser performance 'Berlin Moscow' shows where SCHILLER could go in the future.
SCHILLER x ALPHAVILLE

The title track for the studio album was created with the energetic remake of ALPHAVILLE's cult hit 'Summer In Berlin'. Von Deylen: "As a teenager I heard this song non-stop on vinyl and inhaled every note. Back then, 'Berlin' sounded like the ultimate wanderlust to me."
A cinematic road trip

This was the starting shot for a total of 14 new songs, which represent the core of the box set. SCHILLER creates widescreen pictures in a new perfection. 'Summer In Berlin' is a cinematic road trip through the German capital that reflects the inspiring tension that Christopher von Deylen feels about the metropolis on the Spree. The promise of a city that will never be kept. "I've been experiencing Berlin much more intensely since I left, soaking up every second and would like to capture everything. It seems to be true that you can simply see more from a distance." A realization that once drove Wim Wenders to set a cinematic monument in Berlin.
Great freedom

The nightlife goes to sleep, exhausted but happy to wake up in a few hours. "I love the escape from reality and the possibility of creating small films in the minds of the listener with my pieces," concluded Christopher von Deylen. "Just let your mind wander and let the pictures come. That is the great freedom that music should drive. And I'm very curious to see what's coming."
Watch the first song's video 'Der Goldene Engel'
SCHILLER releases his new studio album 'Summer in Berlin' as a complex box set and additionally, in various configurations. As always, SCHILLER put the focus on a digital and physical level, so there are special editions and contents. Let's see what that means:
SCHILLER - Summer In Berlin/ Super Deluxe Edition

2 Blu-ray discs/ 2CDs with approx. 8 hours playing time
Content:
CD1: new studio album - 14 new SCHILLER tracks featuring Alphaville, Tricia McTeague, Thorsten Quaeschning, and many more
CD2: Live album of the 'Es werde Licht' tour
Blu-ray 1: SCHILLER - LIVE IN BERLIN - concert movie - 120 minutes + BONUS
Blu-ray 2: SCHILLER & Thorsten Quaeschning (Tangerine Dream) - Live from the Lido/ Berlin (streaming concert) - 60 minutes
SCHILLERS BERLIN - Extra movie by Christopher - 30 - 45 minutes + Bonus
Limited edition of 7,500 items, hardback Pozzollli book + thick slipcase
Bonus: One individual Berlin photo taken and signed by the artist
Order the box here: https://schiller.lnk.to/SummerInBerlin
SCHILLER - Summer In Berlin/ Deluxe Edition

2CDs: CD1: new studio album / CD2: Live album
SCHILLER - Summer In Berlin / Vinyl Edition

2 vinyl albums - 180 grams coloured gatefold vinyl + limited edition
SCHILLER - Summer In Berlin / Digital Download & Streaming Edition

28 tracks in 2 components (more than 160 minutes)
SCHILLER online: schillermusic.com / facebook.com/schillermusic
Source: Press Release