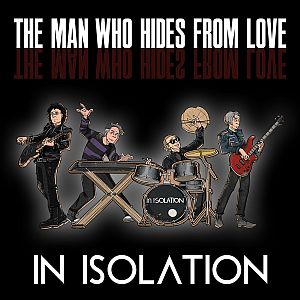 Artist: In Isolation
Title: The Man Who Hides From Love (Radio Edit)
Genre: Dark Pop
Release Date: 13th December 2021
Label: Aye Aye Records (self-release)
IN ISOLATION had two minor ambitions regarding their music video releases - one was to get some panning shots of the band filmed from a helicopter, and the second was to produce a fully animated video. The first ambition was pretty much achieved in 2020 with the release of 'Not Noticing' which incorporated some swooping drone shots imitating the sort of helicopter shots that were imagined years before. The second ambition took a little more complex organisation.
IN ISOLATION originally approached renowned illustrator and animator Morten Morland, whose work is regularly featured in The Times newspaper, to participate in producing an animated video for the future single 'The Man Who Hides From Love', taken from the recent album 'Shards'. Although Mr Morland was enthusiastic about the idea and proclaimed that, 'your music is terrific and I would absolutely love to work with you', his massive work schedule meant that he would not be able to get on board with the project. However, Mr Morland's wife is a lecturer at Kingston University where the Illustration and Animation course is arguably the best in the country, and this led to a number of the course students agreeing to join the project.
Numerous other conversations linked the band to further B.A. animation students and professional animators from around the world, and the work began discussing ideas based on a brief set by In Isolation. There would be featured performances from the band members but the main brief was "band members travelling from A to B at pace."
Once animation design and production was underway, it became clear that even producing 5 to 10 seconds per animator with a short song at just under three minutes, the band still didn't have a big enough team to produce the scenes required to fill a whole video. The solution seemed to come out of nowhere when professional animator Marcus Guio from Brazil, who worked for The Disney Channel, Nickelodeon and Cartoon Network, heard the song (claiming it to be "incredible"), had heard about the music video project and wanted to be part of it! He also happened to be a lecturer at Universidade Anhembi Morumbi in Sao Paulo and taught a team of talented animators there who were easily persuaded to be part of the project.
Much to-ing and fro-ing with animation ideas, taking in a number of Zoom calls, resulted in a masterpiece of animated tomfoolery, edited by the band themselves under the pseudonym "Aye Aye Records Productions".
Also part of the video project, professional Nottingham designer Jamie Burton from Bebu Creative submitted enough animation to plug the gaps and, in an act of kindness, donated his cut of the payment budget to the students on the project, remembering what a struggle it had been to get work when he was at University. The final animated video took in contributors from Brazil, Norway, Canada, The Philippines, Indonesia and the U.K.
The single 'The Man Who Hides From Love' is released on Monday 13th December and can be downloaded from the band's Bandcamp store: inisolation.bandcamp.com