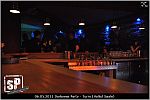 Event: Darkness Party
Club: Turm Moritzburg, Halle, Germany
Date: 6th May 2011
Genre: Electro, Gothic, Metal, 80s
Website: www.independent-dj.de


On 6th May, the well-known "Darkness Party" took place in Halle's location called "Turm" (Tower). The party takes place every first Friday in a month. But as it seems this would have been the last "Darkness Party" till summer. As I heard, there won't be a party like that every first Friday at the "Turm", because there are a few problems. Maybe this would have been the last "Darkness Party" for a while and if you see it as a Goodbye, it was a boring and lame one. I have been to a few "Darkness Parties", it's always been amusing when you've been drunk but a bit lame for spoiled Leipzig people.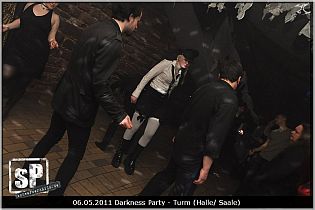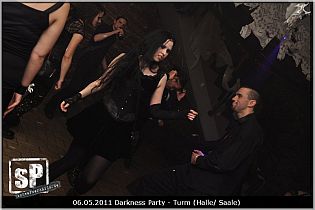 I mean, you were always able to dance and to talk to people, but I'm spoiled as well. I love the people in Leipzig because they have their own style in clothes and hair. If you go to Halle, you'll see people dressed in black jeans and a (band) shirt. Girls have straight black hair and if you're lucky they'll wear a corset bought at X-Tra-X. On the first floor, you got Batcave, Minimal and Gothic or 80s music. People had fun and were dancing or just talking at the bar. Some of them looked like Batcave people or the reincarnation of Robert Smith. It's not the music I prefer, but people there loved it and danced for hours. On the second floor, you had metal. In fact, I could get deaf I didn't visit this floor. But I never heard anything bad about this one. So I'd say: The Metal Floor was ok.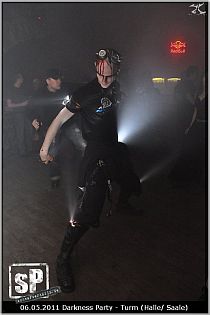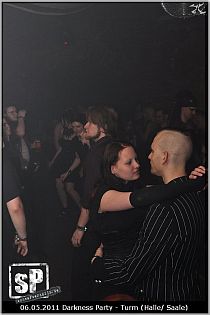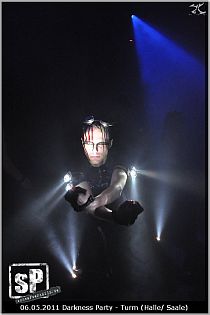 The third floor was the electro floor. It opened at 11pm. The DJs played the new COVENANT single, that's the best thing I can say about him. As I said, I'm spoiled. He played a live song by HOCICO. Not that bad, but it's every "Darkness Party" the same one taken from the 'Tora!Tora!Tora!' CD. As well he played songs from DEPECHE MODE's '101'. Also not bad, but boring if it's every party the same. The rest of his music were songs from 2006-2008. I just can't understand why all these DJ is only play old harsh electro songs. There are so many good new bands or older bands with new songs.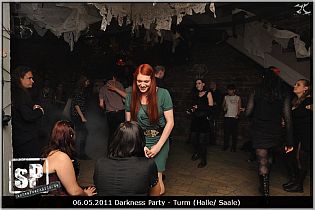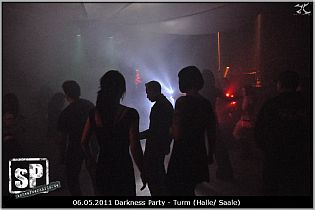 The TURM itself is a great location. It looks spooky and the sound is great. So for that it gets a big plus. But the DJs should better change their choice of music or the event will lose guests. In my eyes most people look not very extravagant, the music was old and heard too often but if Halle's party people like it like that, it's ok for me. It just fits: unstylish people dancing to songs heard a thousand times.

Pics by http://schwarzepresse.de