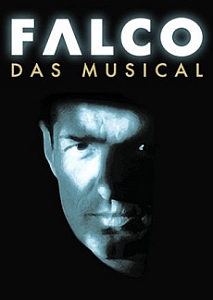 MCC Halle Münsterland, Münster, Germany
23rd February 2017
Falco - The Musical 2017

The hits of the music legend in a rousing show! FALCO – THE MUSICAL celebrates the Austrian pop legend in a crazy and visually stunning musical biography. For the 60th birthday of the icon, the musical tours through Germany for the first time.
Already in young years and at the beginning of his career, FALCO, the most successful Austrian musician of the last century, knew to excite and also to provoke. Until today, his song 'Rock me Amadeus' from 1985 is the only song in German language reaching position one in the US charts. With his single 'Der Kommissar' (1981), sold more than seven million times, he delivered the first Rap song of a white guy being successful worldwide. And also his provoking song 'Jeanny' from 1986 remained several weeks on top position in the charts. But this early fame and status as a world star became a problem for FALCO….
FALCO – THE MUSICAL is an affectionate homage to the biggest genius of the German speaking Pop / Rap history who died much too early with just forty. The touching, two hours lasting live show presents the biggest hits of the enigmatic and extroverted pop star, who enjoyed life to the max, and gives a deep insight into the thoughts and feelings of FALCO, enriched by shrill dance interludes and artistic projections and original video sequences. For the star role, Alexander Kerbst could be won who bears a striking resemblance to FALCO and additionally sings and moves like the icon of a whole generation.
Additional Concert Info

Doors: 6:30pm
Start: 8:00pm
Tickets: from 50.50 euros plus charges (pre-sale) at
http://www.myticket.de/falco-das-musical-tickets-4155.html
Info:
Handwerker Promotion
and
www.falcomusical.com