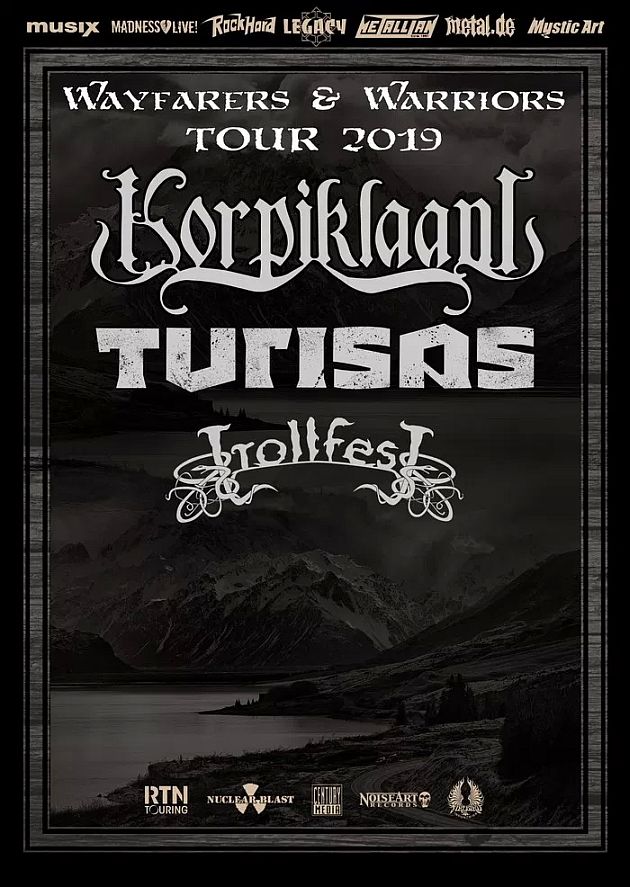 Kulturfabrik, Esch sur Alzette, Luxembourg
21st February 2019
Korpiklaani, Turisas, Trollfest

KORPIKLAANI, together with ELUVEITIE, is, without any doubt, the best European Folk Metal leader. When the band KORPIKLAANI came together in 2003 in Lahti, Finland, traditional Folk music was revived. No one could have imagined that such a wide audience would be so taken with the mythological lyrics in Finnish and English.
The Folk Metal band emerged from the remains of the band SHAMAN and released their debut, 'Sprit Of The Forest', in November 2003 on the label Napalm Records. Shortly afterwards KORPIKLAANI started to prepare the recordings for their upcoming album, 'Voice Of Wilderness', which was finally released in January 2005.
In May 2015, the band will be back from their refuge in the middle of Finland's forests to present their ninth studio album, 'Noita'. It is the first album on which newcomer Sami Perttula can be heard on accordion after Juho Kauppinen has decided to leave the band. Together with fiddler Tuomas Rounakari, Sami was heavily involved in the creation of the Folk arrangements. The album was recorded again at Petrax Studios together with producer Aksu Hanttu.
More than three years after the release of their last long-player they returned with their tenth studio album, 'Kulkija' ('Wanderer'), which was released in 2018. With 14 tracks, 'Kulkija' is not only her longest so far, but also her most natural sounding work so far. KORPIKLAANI will embark on an extensive co-headline run across the continent with no less than their fellow countrymen TURISAS in February & March 2019. Opening support will once again come from Norwegian True Balkan Metallers TROLLFEST.
Additional Concert Info

Doors: 18:00
Start: 18:30
Information & Tickets: http://kulturfabrik.lu/en/program/details/event/korpiklaani-turisas-trollfest/
Facebook Event: https://www.facebook.com/events/1780210925361474/
More on
Korpiklaani
,
Turisas
&
Trollfest