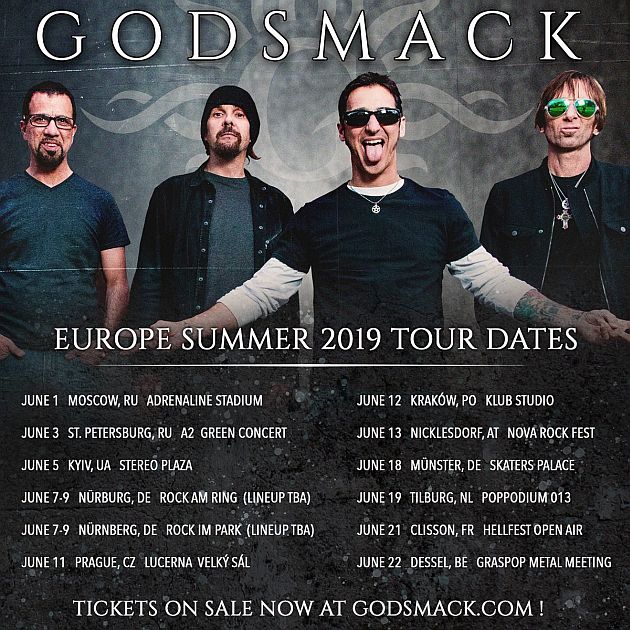 Skaters Palace, Münster, Germany
18th June 2019
Godsmack - "When Legends Rise" Tour

With three number-one albums, four Grammy nominations and countless top 10 radio hits in the US single charts, GODSMACK from Boston / Massachusetts can safely be counted among the great legends of Hard Rock and Metal. The band has been active since 1995 and has sold over 20 million albums worldwide. 2018 was a very special year for GODSMACK: Not only did their new seventh studio album appear with 'When Legends Rise' - their debut 'Godsmack' also celebrated its 20th anniversary - which was enough to celebrate the four on their US tour. After their concerts in Cologne, Munich, Hamburg and Berlin in March 2019, GODSMACK will come to Münster in the summer - on June 18 the band plays a show at the Skaters Palace.
When Sully Erna decided to start a new Rock band in 1995, he had already spent about 20 years in Rock biz - but until then as a drummer, now he wanted to switch to lead vocals. After some changes of position in the early phase GODSMACK 1997 recorded their self-titled debut, then still with Erna on drums, for lack of a drummer who wanted to stay longer than a few weeks. First, they sold their first record in self-distribution and at concerts on the US East Coast until a record company became aware of them and the debut once again officially published. The record rose immediately to # 22 on the US Billboard charts; almost overnight, GODSMACK became the hottest new band between Hard Rock, Heavy Metal and Post-Grunge.
Already with the successor, 'Awake', GODSMACK rose in 2000 to the hit guarantors of US Rock. The album landed in the top 5 of the US charts and was refined with double platinum. The following year, they received their first of four Grammy nominations, the world tour was a phenomenal success. Since then, GODSMACK have become an integral part of the Hard Rock map. The three following albums, 'Faceless' (2003), 'IV' (2006) and 'The Oracle' (2010), all reached the top position of the US charts, and the singles were consistently successful: Alone 17 songs made it in the US Rock Radio charts in the top 5.
With the current album, Sully Erna, guitarist Tony Rombola, bassist Robby Merrill and drummer Shannon Larkin have come to grips with their beginnings and original strengths. 'When Legends Rise' shows the band with a new producer and a sound that has developed from heavy metal towards hard rock. One thing is certain: GODSMACK's heavy guitar sounds are as uncompromising as ever.
Additional Concert Info

Doors: 19:00
Start: 20:00
Tickets: are available for 39.15 euros + charges (pre-sale) via
EVENTIM
Info: https://www.kingstar-music.com/portfolio-items/godsmack/ // https://www.skaters-palace.de/veranstaltungen/godsmack-presented-by-live-nation
More on
Godsmack