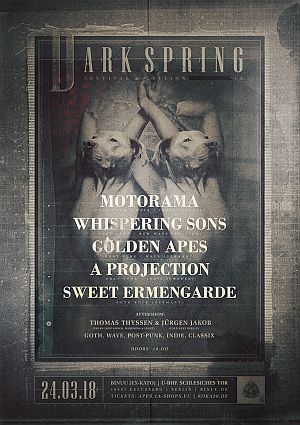 BiNuu, Berlin, Germany
24th March 2018
Dark Spring Festival 2018 with Motorama (RUS), Whispering Sons (BE), Golden Apes (GER), A Projection (SWE), Sweet Ermengarde (GER)

Friends and followers of dark, atmospheric guitar music should mark the 24 of March 2018 prominently, because on that day Golden Apes will invite once more into the holy halls of the Berlin-based BiNuu Club, to celebrate the ninth issue of the Dark Spring Festival.
In keeping with the spirit of the festival, the hosts have gone to great lengths and spared no expense to present a Lineup that, far away from commercial uniformity or staged Déjà-Vus, will place the hearts of lovers of Goth, Post Punk, Wave and Shoegaze onto blissfully wafting dry ice that night.
For sure, MOTORAMA are by far the best-known representatives of the Russian Post Punk/ New Wave scene. With their four full-length albums, seven EPs and numberless live shows, the ladies and gentlemen from Rostow at the River Don have cemented a huge following over the past 10 years, stretching from Ural Mountains to the Andes, helping to solidify their reputation as innovators of their musical genre.
No one, whose heart burns for haunting, intense and energetic-atmospheric Post Punk could miss the Belgium quintet WHISPERING SONS over the last months. The band, centered around vocalist Fenne Kuppens is known not only for the precision and the edgy reduction of temperature in their compositions, but also for very emotional and dynamic live performances.
Somewhere between claustrophobic wistfulness and warming, melodious melancholy, between monochrome Post Punk and kaleidoscopic Wave Rock unfolds the sound of A PROJECTION from Sweden in such a persuasive and rousing way that they earned the status to be a warrantor of powerful and atmospheric live shows in next to no time.
The Ruhr-based German Band SWEET ERMENGARD is living proof that Gothic Rock can be traditional and innovative at the same time. Recollecting and experimenting the five guys created a unique sound, the density and atmosphere of which easily vaulted them to the frontline of German Goth Rock Bands.
And in good tradition, the festival's hosts GOLDEN APES will take the stage to perform, among others, songs of their highly-praised recent album 'Malus' and to present their mélange of Wave, Goth and Post Punk in their own intense, atmospheric and distinctive way.
And for those, who are still hungry for sound after, the two Gentlemen Thomas Thyssen (Pagan Love Songs) and Jürgen Jakob (Cold Beat Berlin) will lead you to the early dawn with a menu of Goth, Wave, Post-Punk and Indie-Classics on the dancefloor.
Line Up 2017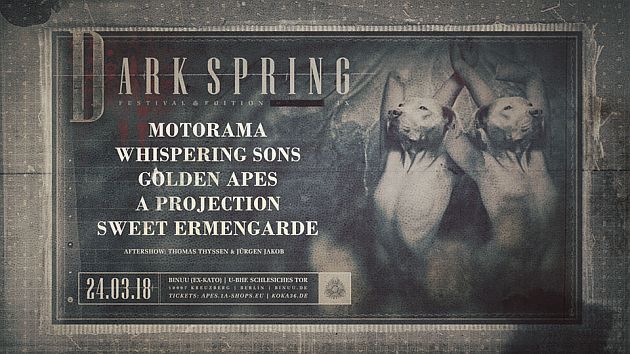 Tickets via www.apes.1a-shops.eu / www.koka36.de
Further Information via www.facebook.com/darkspringfestival / www.binuu.de
More on
Motorama
,
Whispering Sons
,
Golden Apes
,
A Projection
,
Sweet Ermengarde