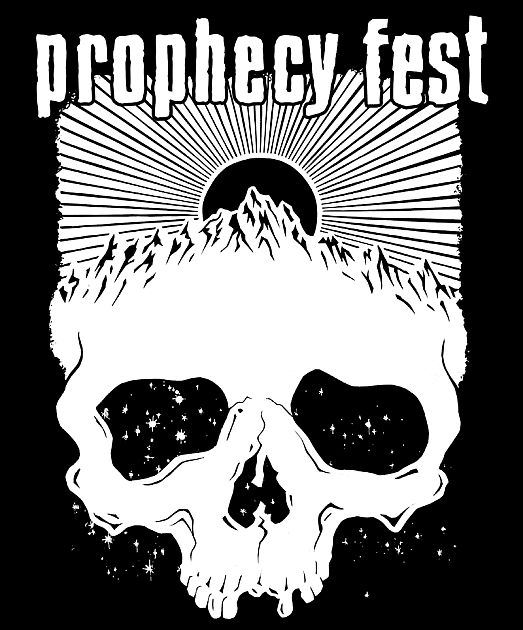 Cave of Balve, Balve, Germany
29th September to 1st October 2022
Prophecy Fest 2022 with The Vision Bleak, Empyrium, Of the Wand and the Moon, Arthur Brown, Darkher, Austere, Camerata Mediolanense, Saturnus, Arð and more

Prophecy Fest announce a 2022 edition of the festival in Germany. Following the massive success of the 25th anniversary festival last year, there will be darker, forward-thinking music with an attitude in one of the world's most fascinating cultural locations, the legendary, natural Cave of Balve ("Balver Höhle") this autumn. Prophecy Productions proudly present a three-day event starting on Thursday, September 29 and finishing on Saturday, October 1.
The following bands (in alphabetical order) have now been confirmed for Prophecy Fest 2022: ARTHUR BROWN, ARÐ, AUSTERE, CAMERATA MEDIOLANENSE, COVEN, DARKHER, DOLD VORDE ENS NAVN, EMPYRIUM (Songs of Moors & Misty Fields Show), A FOREST OF STARS, IMHA TARIKAT, OF THE WAND & THE MOON, SATURNUS, VALBORG, and THE VISION BLEAK. Please see below for more details.
Martin Koller comments: "We are thrilled to announce Prophecy Fest 2022!", writes the label's founder. "The massive success of last year's edition that put big smiles onto the faces of guests, bands, and crew alike basically left us no choice but to do another one. So here we go. Prophecy Fest has always been intended to showcase the bands on our label as a big, happy family gathering and we will continue this tradition in 2022. Please watch this space for more great bands joining the line-up very soon and more announcements regarding Prophecy Fest. See you all in Balve end of September!"
Tickets

3-day-passes incl. programme book are available for 99 Euro (same as last year) at the link below:
http://tickets.prophecy.de/titel/prophecy-fest-29-09-01-10-2022-balve-de/
Members of the Grand Supporter tiers of the PROPHECY CLUB will be able to attend the festival free of admission charge. Please check here for availability and conditions (subscribe button under each Grand Supporter paragraph): https://en.prophecy.de/en/Prophecy-Club-Membership
Location & Travel

Prophecy Fest was founded in 2015 and already sold out at the first edition. This singular event for dark and innovative music takes place in the Balver Kulturhöhle ("Balve culture cave") in the Hönnetal ("Valley of Hönne") near the town of Balve in the Sauerland region of the German state of North Rhine-Westphalia. The naturally formed karst cave has been used by humans already during the palaeolithic age. It is an important archaeological site that yielded remains from many periods up and until medieval times. According to legend and the old Icelandic Thidreksaga, the mythical blacksmith Wayland learned his magical trade from dwarven masters in this cave.
The gravity of its history and the special acoustics of the Balver Cave provide a unique atmosphere that fits the musical programme of the Prophecy Fest perfectly. For detailed information on accommodation, travel, and parking please consult the Prophecy Festival page: https://fest.prophecy.de The page will be updated regularly towards the festival.
For Prophecy Fest on Facebook: www.facebook.com/events/513700963663924.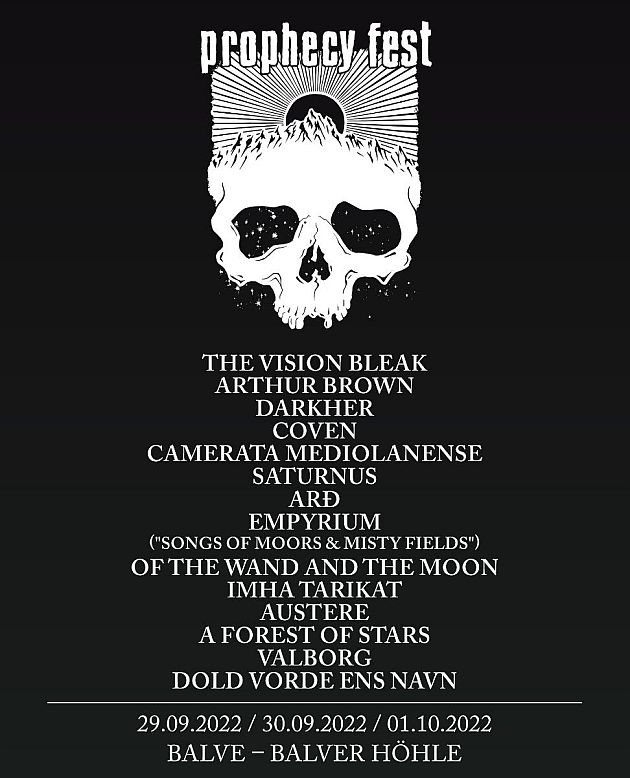 Confirmed bands

Horror metal stalwarts THE VISION BLEAK featuring EMPYRIUM mastermind Markus "Schwadorf" Stock and singer Tobias Schönemann aka Allen B. Konstanz already scored a hit with their 2003 album debut 'The Deathship Has a New Captain', and each following album was acclaimed by critics and fans alike. Not a band to play very often, the show of this unique outfit should not to be missed in Balve.
ARTHUR BROWN made eyes pop and jaws drop with his last appearance at the cave. Widely considered to be the wonderful surprise of last year's festival, this amazing voice of rock will now return with the brand-new album 'Long Long Road' in his bag that will be released on his 80th birthday on June 24. Expect an even more flamboyant performance from the legendary showman.
DARKHER just scored a 7/7 in the German edition of Metal Hammer and that is just the tip of a massive iceberg of glowing reviews for their latest album 'The Buried Storm'. Jayn Maiven's unique blend of Northern English doom metal, folk elements, and other influences creates an emotional roller-coaster ride through darkness, hope, and despair. This stunning lady is now bound to conquer Balve.
AUSTERE have previously announced to end their decade-long dormancy with the release of their third full-length this year. Coming in all the way from Wollongong, New South Wales, Australia the veteran depressive black metal duo will deliver their German stage debut in the most fitting environment for a band as mysterious and occult as they are: the ancient Cave of Balve.
CAMERATA MEDIOLANENSE are an ensemble of Italian musicians who gained recognition in the neoclassical scene by blending darkwave and post-punk with the musical spirit of the Renaissance and the Baroque period. Founded in the originally Celtic settlement, the city of Milan in 1994 by musicologist Elena Previdi, the name literally translates as "a group of chamber musicians from Milan".
Death doom veterans SATURNUS are determined to return in 2022 with the release their first full-length after their fourth album 'Saturn in Ascension' came out in 2012. The Danes are not putting all their cards on the table yet, but there are signs that they might consider a special show in Balve to herald their forthcoming 30th anniversary in 2023 at Prophecy Fest. Nothing will be promised, but watch this space for later announcements.
The story of the epic journey of St. Cuthbert's relics told on 'Take Up My Bones', the first full-length of Northumbrian monastic doom project ARÐ has created a massive buzz. The project of WINTERFYLLETH keyboard player and bestselling author Mark Deeks is sure earmarked for newcomer of the year and best debut album 2022 by many. Make sure to attend the first German or maybe even first live concert ever of ARÐ!
German dark romantics EMPYRIUM will return to the cave with a performance of their cult album 'Songs of Moors & Misty Fields'. This masterpiece from multi-instrumentalist, clean and extreme vocalist as well as producer Markus "Schwadorf" Stock pioneered a unique sound that grew out of black metal foundations with the addition of dark folk and other acoustic elements.
COVEN have been at the forefront of psychedelic occult rock and remarkable vocalist Jinx has been an inspiration for countless female singers to follow in her footsteps, pick up a mic and enter the stage. The Americans are still channelling the spirit of the late 60s and early 70s. Yet since Jinx' spectacular comeback in 2007, the legendary band has added a host young fans to their following.
IMHA TARIKAT combine an old school black metal approach that is based on the Norwegian second wave with dark melodic Swedish influences, vicious outbursts of speed, a dash of punk, and even a pinch of occult rock. The Germans will finally be able to bring their acclaimed sophomore full-length 'Sternenberster' to the stage, but as mastermind Ruhsuz Cellât is currently working hard on new material...
OF THE WAND & THE MOON were founded by Danish musician Kim Larsen. Coming from doom metal, the guitarist, keyboarder, and singer embraced the sound of neofolk, which he imbued with topics such as runes, pagan Norse myth, and magic. After 10 years of fine EPs and singles, the band returned with their sixth album 'Your Love Can't Hold this Wreath of Sorrow', which finally comes alive now.
A FOREST OF STARS are an imaginary Victorian club for English gentlemen. Although the band is sometimes categorised as post-black metal, their unique sound probably owes more to compatriots MY DYING BRIDE than ALCEST for that matter. With their latest full-length 'Grave Mounds and Grave Mistakes' dating from 2018, with a bit of luck the British might offer a glimpse into future glories.
VALBORG from the Beethoven city of Bonn are a band with an unusually clearly defined artistic vision that shows in their consistent artwork as well as in their constant need of musical experimentation. Although coming from a death doom angle, the highly productive trio regularly explores new alchemistic mixtures of sound on their already seven studio albums. Expect the unexpected in Balve.
The line-up of DOLD VORDE ENS NAVN reads like a who is who of Oslo's black metal nobility, featuring active and former members of DØDHEIMSGARD, ULVER, SATYRICON, VED BUENS ENDE, and STRID. Although the Norwegians' debut full-length 'Mørkere' is growing out of old school black metal roots, the much-praised, headstrong album also breaks new ground. There will be no compromise.
See also (all categories):