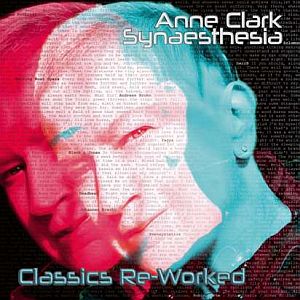 ANNE CLARK has had a unique place in contemporary music for more than 40 years. During this time, she created numerous extraordinary works with which the exceptional British artist was able to celebrate great success and recognition. With the new album 'Synaesthesia - Anne Clark Classics Re-Worked' (FDA / Anne Clark), which will be released on May 28, ANNE CLARK has once again succeeded in offering her audience something very special.
The idea for 'Synaesthesia - Anne Clark Classics Re-Worked' arose last year, which, in addition to the pandemic, was overshadowed by Anne's cancer diagnosis. This interruption meant looking for new ways to reach their audiences. "Live" shows and new studio recordings were not an option. So, the idea gradually arose to create an album with "revisions" of their material. It should be remakes and remixes as conceived and realized by some of the most interesting and creative musicians, DJs and producers of the present day working in the electronic music scene.
'Synaesthesia - Anne Clark Classics Re-Worked' offers a mixture of fascinating interpretations, both by long-time musical partners of Anne (herrB and Thomas Rückoldt) and by esteemed personalities of the current electro scene, such as Solomun (with whom she worked on his last album hat), Blank & Jones, Andreas Brecht and Yagya. The album underscores Anne's enduring and profound influence across generations. The album will be released as a double CD Digi and also as a double vinyl. The CD also contains exclusive new liner notes from Anne and the participating artists.
Tracklist

01. Entire World (Ballad Remix) - Thomas Rückoldt
02. Take Control (Solomun Tribute Remix) - Solomun feat. Anne Clark
03. Wallies (Kickin' Mix) - herrB
04. Orange Suns - Melting Rust Opera
05. Heaven - Andreas Bruhn
06. Sometimes - Sea Of Sin
07. Waiting - Yagya
08. The Hardest Heart (2021 Revisit) - Blank & Jones feat. Anne Clark
09. Hope Road - Deadbeat
10. Virtuality - Johannes Brecht
11. A Community Of The Spirit - Svensyntetics
12. Our Darkness (Marc Romboy Respect Mix) - Marc Romboy
13. Entire World Dance Remix - Thomas Rückoldt
14. Sleeper In Metropolis - Robin Hirte
Source: Press Release