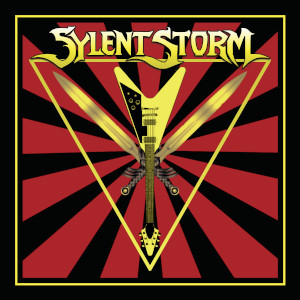 Artist: Sylent Storm
Title: Sylent Storm EP
Genre: Traditional Heavy Metal
Release Date: 4th November 2018
Label: Stormspell Records
Review Flash

Thanks to social-media and myself being a social dude asking bands outright if they want a review I did get to know Jym Harris, the vocalist of SYLENT STORM. We had a loooong chat and now I am sitting here listening to Traditional Metal inspired by the NWOBHM (which is perfectly fine). The Traditional Heavy Metal band SYLENT STORM was formed in early 2013 in Medford, Oregon. Two years of playing live around Southern Oregon with notable acts such as UNLEASH THE ARCHERS and RAVEN followed, then the band rearranged line-up wise. After a long hiatus their 2014 self-titled demo EP was released on CD by Stormspell Records in late 2018. A music video for the song 'Patriots Of Metal' came out the following year.
Most of 2019 SYLENT STORM spend gigging around the West Coast with acts such as LITA FORD and DOKKEN, while writing new material. SYLENT STORM will release their debut EP also on Cassette in February via Doomsday's Today Records. The band's overall musical approach is very classic so if you like bands like ANGELWITCH, IRON MAIDEN and their NWOBHM contemporaries you are in for a treat. My personal favourite among this six-song EP is 'Eye of the Storm' because I am a sucker for catchy songs and this is the epitome of catchiness. 'Patriot of Metal' is ear-candy too (if you have the lyrics it comes together even better). 'Witches Blood' even reminds me of SARACEN's style.
Conclusion: If you dig ANGEL WITCH you will most likely dig this, Jym's voice always reminds me of Heybourne's (rad).
Rating: 8 / 10