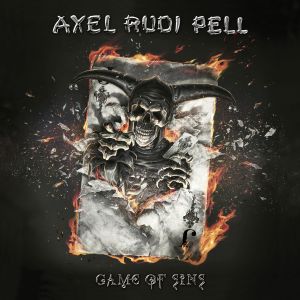 Artist: Axel Rudi Pell
Title: Game of Sins
Genre: Hard Rock / Melodic Metal
Release Date: 15th January 2016
Label: Steamhammer / SPV
Review Flash

in July 2014 AXEL RUDI PELL (ARP) celebrated his 25th anniversary as a solo artist with an amazing 3-hour-plus show and he still is not slowing down. 'Game of Sins' is focussing on guitars, drums and vocals and compared to 'Into the Storm' the keyboards stayed in the background, which is more to the purpose. Since Bobby Rondinelli (ex-RAINBOW / BLACK SABBATH / BLUE ÖYSTER CULT) joined the band back in 2013, the drums on the records are a real highlight and you will catch yourself soon, playing air-guitar or air-drums while listening to 'Game of Sins'. After you made it through the intro, you will find a firework drums that sound fuller and aggressive but perfectly in balance with Axel's guitars.
If you need a really heavy wake-up-call in the morning you should try 'Fire', the sirens in this metallic opener will get you out of bed faster than ever before. If you want to take it slow, try 'Lost In Love'. AXEL RUDI PELL is an Expert in writing excellent ballads and Johnny Gioeli has the perfect voice to deliver the vocals. The title track 'Game of Sins' shows ARP is still fond of Arabian scales and it's epic structures won't get you bored during the nine minute song. 'The King Of Fools' is Gioeli at his best and the chorus is a quite catchy one, a perfect song for a live performance, with Axel's guitars supporting the verses and an amazing guitar solo that supports an amazing combination of emotion, melody and steeliness.
My personal highlight on this album is 'Till The World Says Goodbye', ARP is always strong on ballads, but this one is a lot less catchy than the ones on the previous releases, it's epic and dark and has great guitar riffing. Once more shows, that ARP is an excellent songwriter and has gathered a band around him, that is able to deliver music and live performance on a high level. Try to get the digipack, for ARP added an amazing cover of BOB DYLAN's 'All Along The Watchtower'. ARP made the song his own and you can clearly hear his signature-sound and guitar play but ARP managed to cover this classic song without destroying DYLAN's legacy.
Conclusion: AXEL RUDI PELL never lets you down, if you like 80's style Rock and Heavy Metal, there is everything you expect of an ARP album.
Rating: 9 / 10
See also (all categories):