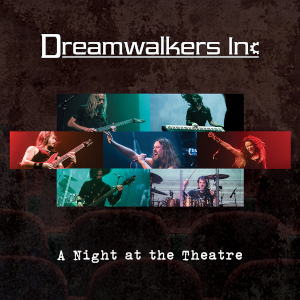 Artist: Dreamwalkers Inc
Title: A Night at the Theatre
Genre: Progressive Metal
Release Date: 22nd May 2020
Label: Layered Reality Productions
Review Flash

When we talk about DREAMWALKERS INC we talk about an odd mix of musical influences and styles but I will address this later of course after the press-text: "DREAMWALKERS INC is a Symphonic, Progressive Metal band from the Netherlands whose music can be described as a combination between 70s Prog Rock and Modern Metal glazed with a symphonic and theatrical sauce creating a sound that takes cues from other bands in these genres, yet creating a sound of its own. The band was originally based started as a live band based around the music of songwriter / singer Tom de Wit in 2016. In that year the live-band made its live debut with their acoustic performance at Prog Power Europe, delivering a diverse performance that spanned many emotions and atmospheres.
In the two years that followed, the band played shows that stood for energetic and diverse experiences. Not one show was the same and multiple setlists, ideas and creative endeavours were undertaken. Showing that this is not just a Metal band, but more like a mini orchestra that could show many musical faces. It was during these years, that DREAMWALKERS INC developed a musical identity of its own. Showcasing the influences of each individual band member, diversifying and evolving the music in the progress."
Well, yes this is an odd brew, sometimes it fits but sometimes it is pure stress clad in transitions, song in song structures and untraceable zig zag patterns (which is cool if you dig it). De Wit's voice is multifaceted and expertly used by its owner and the realization of the ideas and mindscapes of the involved musicians is really good but for me this is to hectic and I really miss the leitmotif.
Conclusion: If you are more resistant to musically induced stress this will be your cup of tea but I just get confused by DREAMWALKERS INC's music.
Rating: 7 / 10