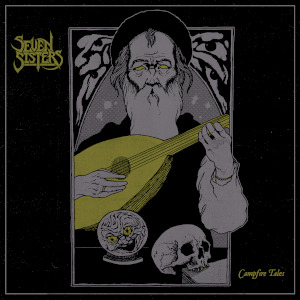 Artist: Seven Sisters
Title: Campfire Tales EP
Genre: Heavy Metal
Release Date: 1st May 2020
Label: Self-Released
Review Flash

Some did not take this as great as it is deserved so I thought I will give it a go and not only review this but also purchase it first during one of those BandCamp Fridays. So the lads of SEVEN SISTERS sat down and recorded an EP without amplification and it is utterly brilliant and bloody fucking beautiful! As many of you know I paused my work as a writer for a few years due to some shit that went down in my life and lots of technical problems. I got myself into SEVEN SISTERS music after reading about how great they are in a life setting a while ago. So when they advertised their 'Campfire Tales EP' a while ago I gave myself a minute to listen into it to know if I like the acoustic setting and the overall sound etc. and I was so hooked I bought the thing before the thought of a review crossed my mind.
But as I listened to this piece of music it became clear to me that I want people to check this out. SEVEN SISTERS is a UK band that was formed in 2013 they have two LPs under their belt and tonight we indulge in the new EP 'Campfire Tales'. If anyone ever doubted that acoustic is a good idea for this band he will stand corrected: The guitars and bass are a revelation and Kyle McNeill's vocals fit like a glove (congratulations on, in your very own humble way, doing Phil Lynott justice). This output makes me smile like a moron, fight me if you don't like it!
Conclusion: If you like acoustic music and guitar melodies full of heartfelt sadness and a feeling of isolation you normally would only find in heavy stuff like doom metal you should just buy this immediately it is more than the sum of its parts...
Rating: 9 / 10