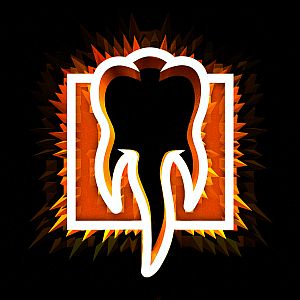 Artist: Stam1na
Title: Elokuutio
Genre: Metal
Release Date: 22nd April 2016
Label: Sakara Records
Review Flash

A new STAM1NA album is always a nice surprise as the band develops continuously since they released their first album. 'Elokuutio' is the band's 7th release within 10 years and this time they teamed up with Janne Joutsenniemi (STONE) as a producer and the album was mixed by Jens Bogren. Don't worry about the language barrier (lyrics are in Finnish). I saw the band touring in Germany several times and playing Wacken festival and the crowd was pretty impressed by the music and the performance. 'Ikoneklasmia' is the first of 10 tracks on the album, it starts rather slow until the band performs with full force and fronter Antti Hyyrynen shows all aspects of a superb voice, switching effortless between deep growls and clean vocals, that are rather deep in this song. A song that is worth your attention is 'Pala Palalta', it has not only a very catchy chorus but the keyboards support the melodic parts of the song in a way only few bands can achieve.
The first part of 'Mätä Hohtava Omena' is what you might call "classic STAM1NA" rather thrashy with a slight Punk attitude and of course very up-tempo in the beginning, to slow down a bit and the clean singing part is nearly emotional for a STAM1NA song. 'Marttyyri' is my favourite song on the album, it has a cool Black Metal attitude with drums that can be described a nearly groovy instead of pounding complex drum patterns in most of the other songs on this album. The guitars are incredibly dark and heavy while the keyboard parts nearly give you the impression you might be in a dark trance like dream. 'Kuudet Raamit' shows the bands excellent guitar work and somehow the sound of the solo reminds me a bit of the 80s while the main parts sound like solid Thrash. The vocals are brilliant some of the verses are performed in clean voice while others consist of deep growls, always underlined by matching guitar and bass lines and you will find yourself headbanging for sure.
Conclusion: This album shows STAM1NA on a more progressive side than previously and the excellent skills of the band members were melted into songs that are worth listening to.
Rating: 9 / 10