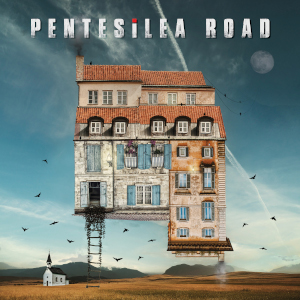 Artist: Pentesilea Road
Title: Pentesilea Road
Genre: Progressive Rock
Release Date: 29th January 2021
Label: self-released
Review Flash

Hell yes, I missed the stuff I feel when listening to progressive music! PENTESILEA ROAD start their debut full-length at full throttle with lots of keys. Starting with 'Memory Corner', a Prog instrumental with ex FATES WARNING member Mark Zonder on drums, showcases what these guys are capable of. Lorenzo Nocerino's timbre and phrasing makes you think of James LaBrie, but the man is a genius so fucking what? Style-wise this is on a very professional level and quite impressive and the special guests in the line-up are astonishing. Aside from Mark Zonder we have two songs that are interpreted by FATES WARNING's Ray Alder.
One of my faves is 'Stains' a beautiful ballad sung my Michele Guaitoli (TEMPERANCE, KALEDON, VISIONS OF ATLANTIS). The songs sung by Ray Alder ('Noble Art' and the alternate version of 'Shades of the Night') - of course - are my faves of this release because here the great songwriting and brilliant instrumental execution meets one of the biggest voices in Rock and Progressive Music (Lorenzo is really great but I am a fanboy first and foremost). I think it is a brilliant idea to get your idols on board for your debut while showing off what you manage to accomplish on the songs where you don't use their star-power and shine all on your own.
Conclusion: To all proggers - check this out, it is one of the prog records of the year! Check out the 'Shades of the Night'.
Rating: 8 / 10