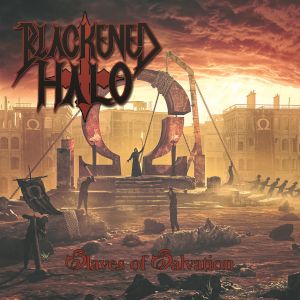 Artist: Blackened Halo
Title: Slaves Of Salvation
Genre: Heavy Metal / Thrash Metal / Groove Metal
Release Date: 15th November 2019
Label: self-released
Review Flash

And another proof that there is delicious steel to be tasted in Germany and it is given to us by BLACKENED HALO. At the moment I am witnessing their first full-length outing named 'Slaves Of Salvation' and I can tell you: this fucking rips! Rough yet melodic thrash with a US Bay Area feel to it every now and then (not feeling the typical Teutonic vibes), Luka Schwarzlose on vocals has a nice style of going on a vocal rampage here and there with a phrasing that is more than just a little rough around the edges, but hey it is worth mentioning that the dude can actually sing so there is a lot of potential to be examined in the future of BLACKENED HALO (the BLACK SABBATH cover fuckin' rules).
On top of all that Luka and Timo Rosenbergs riffs are a force to be reckoned with, the great guitar moments on this Polycarbonate Disc are a plenty and the overall guitar sound is pretty thick and smooth as fuck. The thunderous sound throughout all songs is made by Robin Ahles (shout-out to the dude) and the bass that thickens the guitar riffs from the background is played by Marvin Kraner, a song where you can hear the bass pretty good is the second half of 'Witch Hunt', 'Rivers of Solitude' and 'N.I.B' the BLACK SABBATH cover (which starts with a bass intro which is dope of course). So, all in all this is a more than decent debut LP and I highly recommend for everyone that likes to bang their head to listen to this and check out their Shop.
Conclusion: If you dig a bit of TESTAMENT and METALLICA in your SLAYER worshipping service you need some BLACKENED HALO in your life.
Rating: 8 / 10