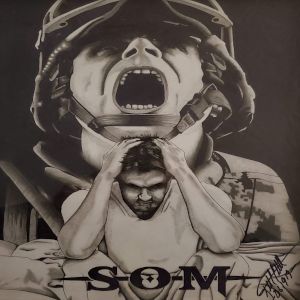 Artist: State of Mind
Title: State of Mind E.P.
Genre: Heavy Metal
Release Date: 7th February 2021
Label: self-released
Review Flash

Texas based heavy metal band STATE OF MIND have been around since 1994.These guys are clearly inspired by big names like METALLICA ('Wardance'), ALICE COOPER ('Nightmare') and DIO and if you listen closely I bet you can hear a bit of Seattle based 90s Grunge ('Burning Reflections'). Even though the band and its overall sound is really decent, the EPK is a catastrophe: no cover, no press text, no names and no links to an actual discography or whatsoever. The vocals are decent in the lover range and when it comes to melodies and compositions this is not a bad release but the fact that you can barely find any info about these dudes begs the question why the fuck do they bother with PR? I will add a link to this review so you guys can actually find them and check them out (even their Facebook page is hard to find...).
Conclusion: Here is the link, check them out! https://www.facebook.com/AstateofmindJohnFerris
Rating: 7 / 10