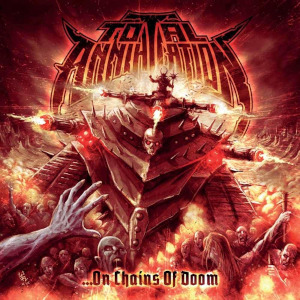 Artist: Total Annihilation
Title: ...On Chains Of Doom
Genre: Thrash Metal / Death Metal
Release Date: 7th February 2020
Label: Czar Of Crickets Productions
Review Flash

The story of how I met or how I was made aware of TOTAL ANNIHILATION is a bit hilarious to be honest. I was doing my weekly Instagram Live in which I review Spotify playlists of bands, friends and labels and I stumbled upon the song 'Tunnelratten'. I described (or mansplained) to my audience that it originally was a derogatory term used by US soldiers when talking about the Vietnamese soldiers (they did hide in tunnels that connected parts of the jungle, this was very efficient in slowly eliminating the American militancy). After the show I was contacted by the band, they said that the term is used differently in their lyrics and offered to send me their record which I could not decline. So here I am checking them out in their entirety.
The first thing I noticed is that the vocals of Daniel Altwegg remind me a lot of a mix between Lemmy Killmister (MOTÖRHEAD) and Tom Angelripper (SODOM); he sounds raw as fuck and drenched in booze and tobacco (mangy or the German term "räudig" would also suffice in describing it). The instrumental approach or overall sound is more or less just heavy, melodic Thrash Metal with bits and pieces of a Death Metal feel to it (or in short: lovely). Some tracks have passages that are rather slow and even heavier due to the lack of neck-breaking speed. All in all this is old-school as fuck and I really like it because of the German Big Four vibes I get from it. The 2020 album was recorded, mixed and mastered at Iguana Studios Freiburg according to the Metal Archives.
Conclusion: If you know the feeling of a bad hangover mixed with the dirty grin on your face remembering the night before... you will get what it feels like to listen to this.
Rating: 8 / 10