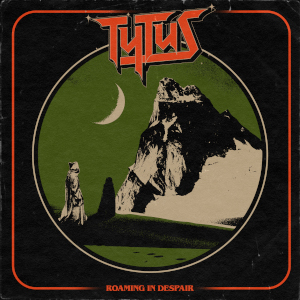 Artist: Tytus
Title: Roaming In Despair
Genre: Heavy Metal / Speed Metal
Release Date: 25th March 2023
Label: Boonsdale Records
Review Flash

TYTUS hail from Trieste in Italy and they are one of those young and hungry bands that still feel the fire and thirst for more no matter how. The last full-length 'Rain After Drought' came out right before the great plague and I had the opportunity and the luck to review it. In the meantime, there were a split EP and two singles that kept us in the loop but more is always better, isn't it? 'Roaming In Despair' however is not a new full-length but a new EP that is almost 24 minutes long, it is better than nothing right? We get three new song and three cover tracks to quench our thirst for more TYTUS. The new Tracks 'The March Of The Unwilling', 'Fistful Of Sand' and 'Roaming In Despair' are songs that sound like they are inspired by bands of the like of NIGHT DEMON, ENFORCER and old-school heroes like IRON MAIDEN (OK, less long and fiddly when it comes to the arrangements but they match the vibe of the first two outputs).
The four Italians grace us with cover versions of 'Gotta Keep Moving' (MC 5), 'Motori' (DIVLJE JAGODE) and the classic 'Out In The Fields' (Gary Moore & Phil Lynott). To be bluntly honest: I never heard 'Motori' before and it will not become a fave of mine but Rock and Roll ain't all sunshine and puppies, right? For the cover of 'Out in The Fields' they even managed to get NIGHT DEMON's mastermind, vocalist and bassist Jarvis Leatherby on guest vocals (yeah it is a very nice version). This is just a nice piece of music that is short of 30 minutes but it is a banger so don't be late and get your copy right now.
Conclusion: Pedal to the Metal, full-speed ahead music for people that leave boring parties to get into trouble.
Rating: 9 / 10
See also (all categories):