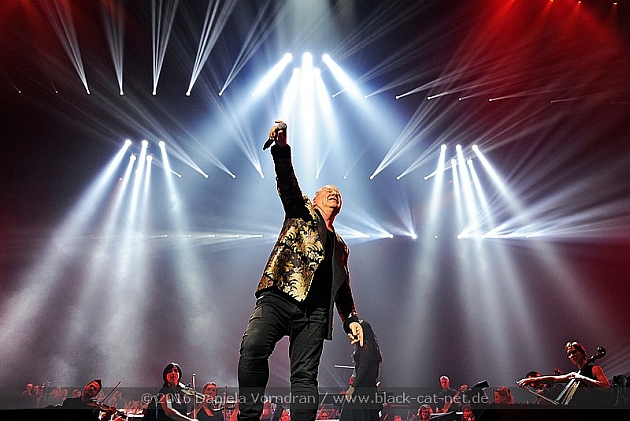 Lanxess Arena, Cologne, Germany
2nd December 2016
Night of the Proms 2016 with Simple Minds, Ronan Keating, Natasha Bedingfield, Stefanie Heinzmann, Time for Three, John Miles, Electric Band, Alexandra Arrieche and Orchestra Il Novecento

Once again this year, 'The Night of the Proms' took place at the Lanxess Arena and thousands of fans secured their tickets for this extraordinary event. "Pop meets classical music" is the motto every year, and every year the organizers bring together high-class guests.
For the 2016 edition, the legendary SIMPLE MINDS were at the top of the pop list, followed by RONAN KEATING, NATASHA BEDINGFIELD, STEFANIE HEINZMANN and Mr "Night of the Proms", JOHN MILES. The classical section was composed by the IL NOVECENTO orchestra under the direction of the Brazilian Alexandra Arrieche, FINE FLEUR choir and the string trio TIME FOR THREE. This mix gave the audience 160 minutes of finest entertainment. Every song played at NOTP is accompanied by the wonderful orchestra. Many of the songs are supported by the choir or by the backing vocals trio PRETTY VANILLAS. The backbone concept is completed by the band formed by Hans van der Hurk (drums), Arnold van Dongen (guitar), Patrick de Smet (percussions), Rogier van Wegberg (bass) and Geert Keysers (keyboards)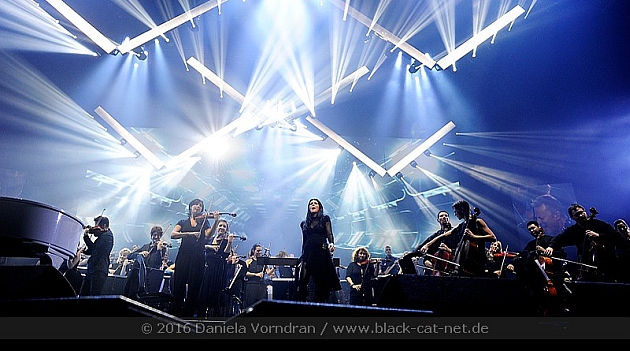 NOTP:
http://www.notp.com
/
https://www.facebook.com/nightoftheproms/
Time for Three:
http://www.tf3.com/
/
https://www.facebook.com/Timeforthree/
Stefanie Heinzmann:
http://www.stefanieheinzmann.de/
/
https://www.facebook.com/stefanieheinzmann/
Natasha Bedingfield:
https://www.facebook.com/natashabedingfield/
/
http://www.natashabedingfield.com/
Ronan Keating:
http://www.ronankeating.com/
/
https://www.facebook.com/ronankeatingofficial/
Simple Minds:
http://www.simpleminds.com/
/
https://www.facebook.com/simpleminds/
The Show

The show started with a piece of music that was revolutionary in the 20th century, Igor Stravinsky's ballet 'The Rite of Spring'. IL NOVECENTO shocked us to the core with an extraordinary orchestral violence. Immediately afterwards presenter Markus Othmer gave the opening greetings and IL NOVECENTO started playing 'Waltz' from the 'Masquerade suite' by Khachaturian, taking everyone to a funny swinging mood. There was an open invitation to dance and a few couples did it so. The whole stadium was swinging to the rhythm of waltz. TIME FOR THREE came up on stage. The charismatic string trio played 'Ogden' turning the formal nature of their instruments into a pop performance.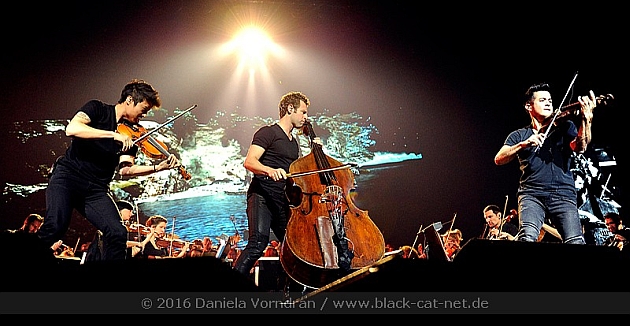 After a big applause, Othmer introduced STEFANIE HEINZMANN who started singing 'My man is a mean man' lighting up the soul spirit. She continued with two songs, 'On fire' and 'In the end', from her latest album 'Chance of Rain' (2015). The Swiss singer said "I'm the first singer coming on stage so I have the responsibility to lift you up. Are you ready?!" She expressed her love to the city of Cologne as she has relatives and many friends living there, and that she wasn't saying that in every city.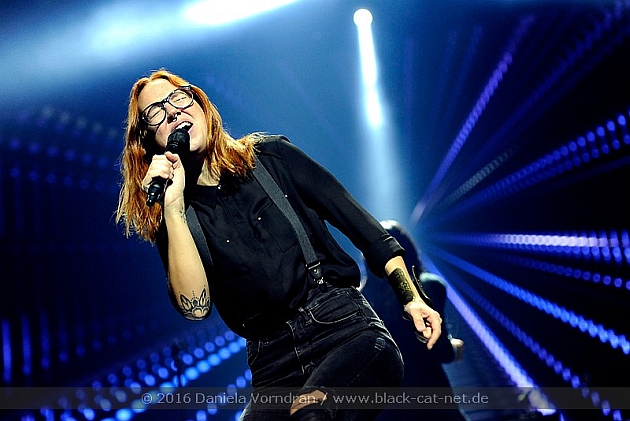 Suddenly the venue was invaded by singers. It was the choir Fine Fleur singing 'Faded', an electronic ballad by Norwegian record producer and DJ Alan Walker. When songs you know from the radio or even from the dance floor are performed in such an amazing and different way is when you understand what NOTP is about. The quietness was then broken by IL NOVECENTO playing 'Prelude' from 'Carmen', which is, in my opinion, one of the greatest pieces of popular classical music. It reminds me an episode of 'Tom & Jerry' cartoon where the cat chases the mouse while an orchestra plays Carmen (link to a fragment of Tom & Jerry's Carmen episode:
https://www.youtube.com/watch?v=TKlfkkldANo
). It was pure fun!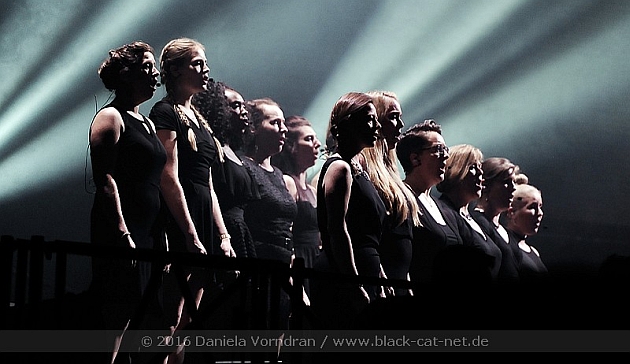 We were still applauding while JOHN MILES and his piano were brought up to the stage by a lifting platform. He started playing 'Summertime'. Pop singer NATASHA BEDINGFIELD took over, after a few introductory words by Markus Othmer. She sang 'Unwritten' and 'Soulmate' from her first two albums. I'm not really sure if this musical format with an orchestra brought up the best of her. I felt her performance lacking of glamour and her catchy songs didn't sound so.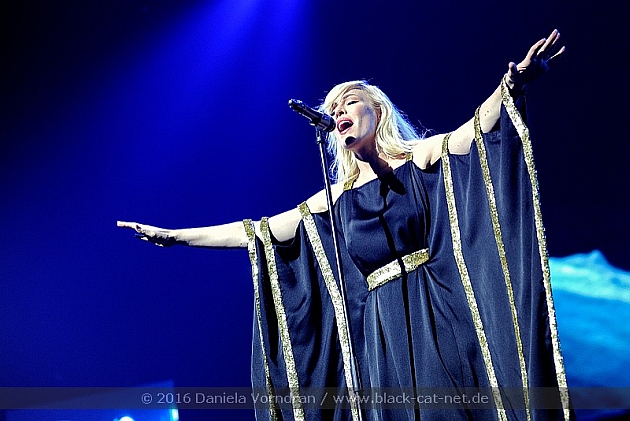 Then we were taken back to classical music with Tchaikovsky's graceful and festive 'Capriccio Italien' wonderfully performed by IL NOVECENTO. Another big applause followed by presenter Markus Othmer introducing the beautiful Brazilian orchestra directress Alexandra Arrieche ending his speech saying "Now something for the ladies…" RONAN KEATING entered the stage. He sang three songs: 'If tomorrow never comes' from his second solo album 'Destination' (2002) and from his debut solo album 'Ronan' (2000). 'When you say nothing at all' and 'Life is a rollercoaster'. The last one was sung by the whole stadium.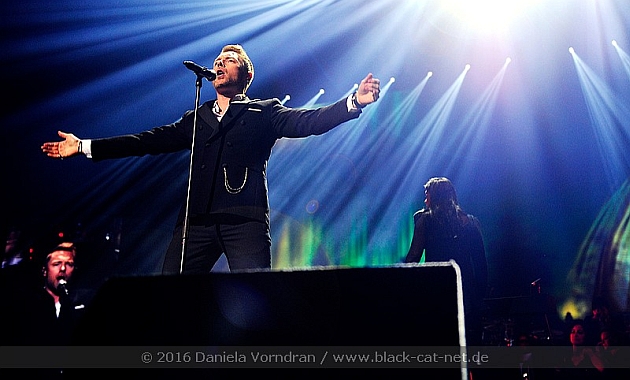 Presenter Markus Othmer returned to stage to express the appreciation to all NOTP followers who year after year buy their tickets in advance when the line-up is not yet announced. He said "We have a special message from an artist who will participate in the NOTP 2017". A video from Roger Hodgson was shown on the big screen. He was playing the first guitar accords from his mega-hit 'Give a Little Bit'. Hodgson invited the audience to join him in the next NOTP. The sale of the NOTP 2017 tickets was officially announced, which could be purchased during the 40 minutes pause.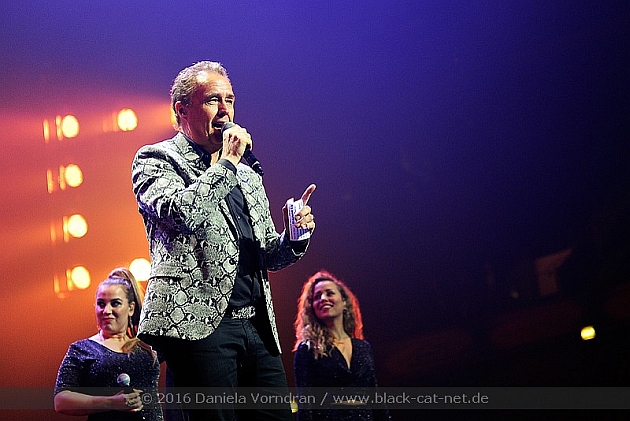 The opening of the second part of the show was again by IL NOVECENTO performing 'The Children' from TV series 'Game of Thrones' original soundtrack. When a classical ensemble gets so close to pop culture is when you realize about the power of an orchestra and their capabilities to provoke an emotional response. Just one word: Cool! Suddenly there were strings sounding. The classically-trained musicians from TIME FOR THREE were spread around the sitting area playing their instruments among the public. It took me awhile until I realized that they were playing 'Toxic', the hit single from BRITTNEY SPEARS. They were joined by IL NOVECENTO with great orchestral arrangements. STEFANIE HEINZMANN joined the jam to perform delicious version of the Jackson 5 single 'I want you back'.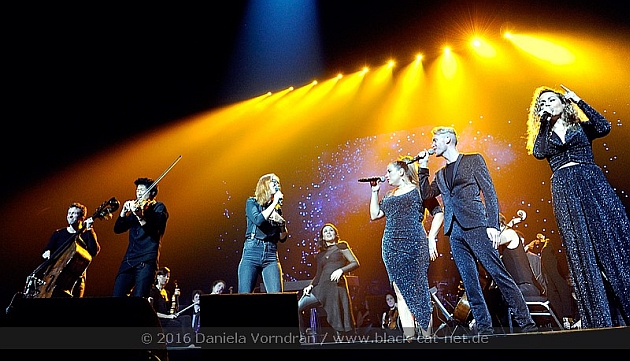 The NOTP aims not only to bring pop and classical music together but also people and emotions. Perhaps you may dislike a song or an artist but hardly not the whole show. Sooner or later your heart will be touched like mine with this song. "God, I miss Michael Jackson so much!". The next performance was by NATASHA BEDINGFIELD and her hit 'These words' followed by a poor version of PRINCE's 'Purple rain'. I can imagine how challenging it probably was. IL NOVECENTO played a piece from Mendelssohn followed by TIME FOR THREE playing 'Paradise of free souls' from their own composition. The next one was an epic version of 'Goin' Home' a song by Dvorak's Symphony 9 'From the New World' performed by singer ROB DE NIJS. While 'Goin' Home' was ending, JOHN MILES started playing 'Music'. The symphonic characteristics of this song makes it the perfect sample of what NOTP aims to. JOHN MILES, IL NOVECENTO and the NOTP backbone artists were one huge ensemble playing a great song. There was an emotional moment when JOHN MILES & RONAN KEATING sung together CAT STEVENS' song 'Father and son'.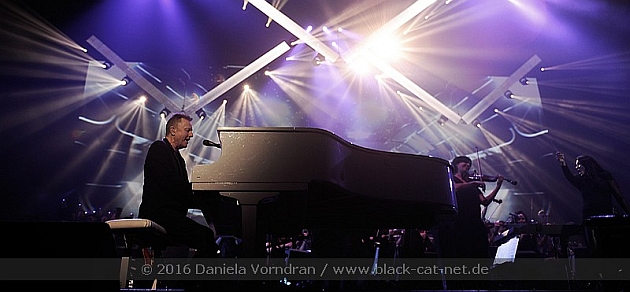 We were close to the end but still waiting for the main course. SIMPLE MINDS was announced. Actually it wasn't the complete band but legendary founding members, singer Jim Kerr and guitarist Charlie Burchill. Big ovation. They started with 'Waterfront', a song from their sixth studio album 'Sparkle in the Rain' (1984) followed by their mega hit 'Alive and kicking'. After the UK number 1 single 'Belfast child' they played the energetic 'Sanctify yourself'. I was a bit disappointed about Kim Kerr's interpretation of this song. He usually creates a high mood with the repeating and echoing chorus "Sanctify, sanctify yourself, sanctify" Kerr sounded as if he was catching his breath or saving energy. 'Don't you (forget about me)' was the next to come with great participation and singing from the public. The closing brought all artists on stage to performed DAVID BOWIE's 'Heroes'.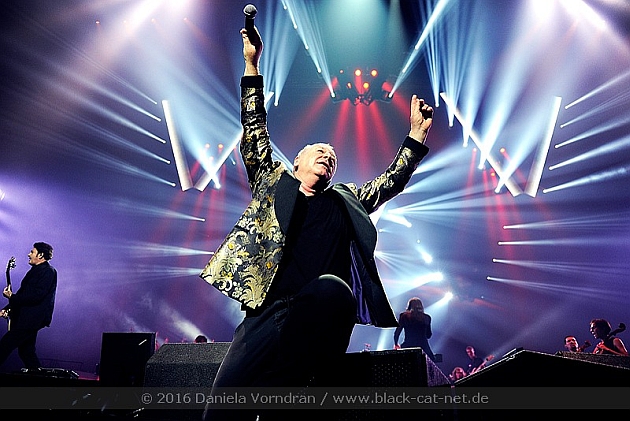 The Night of the Proms is a unique entertainment package to enjoy at least once in a lifetime, or perhaps more than once, as do many of the followers who secure their tickets for the next NOTP every year since 22 years.
The Setlist

01. Il Novecento - The rite of spring (Igor Stravinsky)
02. Il Novecento – Walz from Masquerade (Khachaturian)
03. Time for Three – Ogden
04. Stefanie Heinzmann – My man is a mean man
05. Stefanie Heinzmann – On fire
06. Stefanie Heinzmann – In the end
07. Fine Fleur – Faded (Alan Walker song)
08. Il Novecento – Prelude from Carmen (Georges Bizet)
09. John Miles – Summertime (Eddie Cochran)
10. Natasha Bedingfield – Unwritten
11. Natasha Bedingfield – Soulmate
12. Il Novecento – Capriccio Italien (Pyotr Ilyich Tchaikovsky)
13. Ronan Keating – If tomorrow never comes
14. Ronan Keating – When you say nothing at all
15. Ronan Keating – Life is a rollercoaster
--- Break ---
16. Il Novecento – The Children from Game of Thrones (Ramin Djawadi)
17. Time for Three – Toxic (Britney Spears single)
18. Time for Three & Stefanie Heinzmann – I want you back (The Jackson 5 single)
19. Natasha Bedingfield – These words
20. Natasha Bedingfield – Purple rain (Prince song)
21. Il Novecento – a piece from Mendelssohn
22. Time for Three – Paradise of free souls
23. Il Novecento & Rob de Nijs - "Goin' Home" (from Dvorak's Symphony No. 9 From the New World)
24. John Miles – Music
25. John Miles & Ronan Keating – Father and son (Cat Stevens song)
26. Simple Minds – Waterfront
27. Simple Minds – Alive and kicking
28. Simple Minds – Belfast child
29. Simple Minds – Sanctify yourself
30. Simple Minds – Don't you (forget about me)
31. All artist together – Heroes (David Bowie song)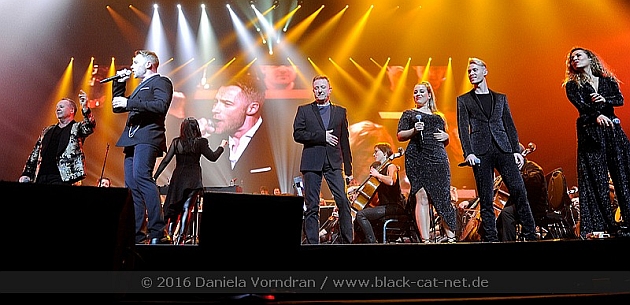 All pictures from the show in Oberhausen by Daniela Vorndran (
http://www.vorndranphotography.com
/
http://www.facebook.com/blackcatnet
)