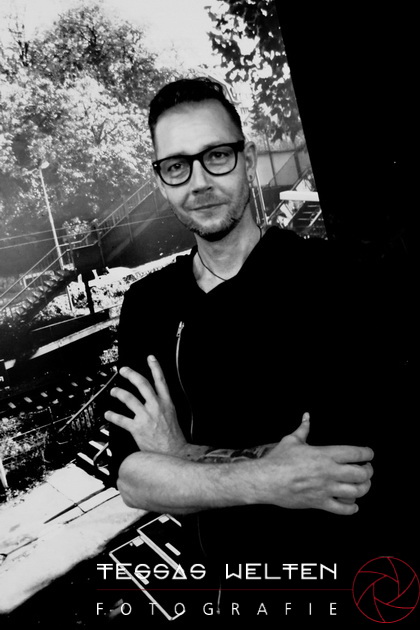 Last year,
BEYOND OBSESSION
released a new record 'Moments of Truth' and afterwards, the guys were travelling quite a lot during different tours… time enough to meet with André Wylar in Frankfurt and get him to be a part of our project. Today we would like to share the results of our cooperation with you.
Reflections of Darkness [RoD]
: When did you get your first tattoo and what was it? Did it take much time until you decided to get it done?
André
:
I got the first tattoo at the age of 19. It was demon's face on my right upper arm. The fact I wanted to have tattoos was already clear since I was 16. My friends had already their first colour under skin but my parents have allowed me to do it only when I became 18. However, after my 18th birthday I still had about one year left to find the right motive and the right artist.
RoD
: How many tattoos do you have? Could you please tell us their story?
André
:
So far, there are five tattoos of different sizes and of course each of them has its own story. The first reflects my overall setting of that time. I listened to deep black music, and it somehow attracted me to all gloomy and mystic. My second tattoo I made during German armed forces exercise in the USA in El Paso (NM) end of the 90s. I thought about ethics and religion at the time and found it just appropriate to wear an "antipole" (Ying and Yang or Good and Evil) to the gloomy under my skin. So, I decided for the motive "The Praying Hands of the Mother" by A. Dürer with a cross in the background. I liked the picture since I first saw it. However, it was risky... the guy drank at least five cans (American) beer during the session and smoked one cigarette after the other!!! The third tattoo is basically not finished yet. There are wings on my shoulders! Unfortunately, the tattoo artist did not understand at all what I had imagined and therefore I stopped this whole thing after the 3rd session! At some point, I will find the right tattoo artist who will complete the motive. The fourth is the most emotional motive for me... one day after my daughter's birth I had her name tattooed on my neck. After finishing my "suit career" and now celebrating the first successes with BEYOND OBSESSION, it was clear that the band logo and lyrics of our very first song 'On my Way' would complete my left arm. I like the Trash Polka Style, so this tattoo was designed accordingly to it.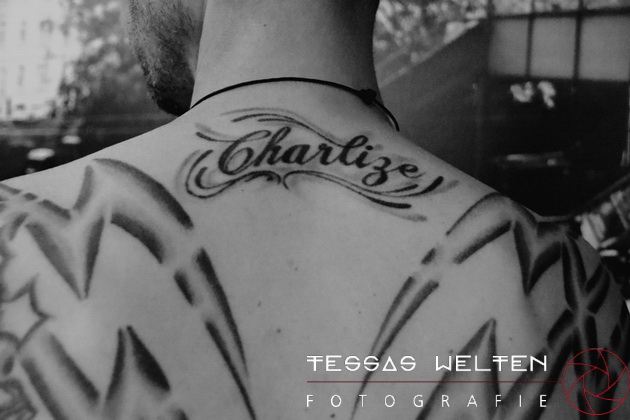 RoD
: Have you already got all the tattoos that you wanted or will you get some new ones in the future?
André
:
I dare to doubt that you have ever heard during one of your interviews as answer to this question: "Yes... that was now the last one!" Everyone knows that colour is getting stung under the skin, like an addiction and basically you never want to stop. Moreover, as it was already said, both the shoulder and the arm are not ready yet. And there is also certainly enough free space for more motives…
RoD
: Have all your tattoos been done by one tattoo artist or by different ones? How do you choose the tattoo artist? In addition, who draws your sketches?
André
:
All tattoos are made by different tattoo artists. Sometimes I chose artists according to their styles. There were also, as it was described above, "rash" decisions in the choice of the tattoo artists.
RoD
: Getting tattooed hurts, how do you cope with the pain during the sessions?
André
:
Sure it hurts at the moment but anyone who has ever been tattooed knows that it does not take a week to forget this "pain". The pride of the new motive prevails!
RoD
: Do you regret getting tattooed sometimes?
André
:
No! I like all my motives even if they are not yet completed.
RoD
: What is your taboo in terms of tattoos? What kind of tattoo would you never get done and don't like to see on other people?
André
:
Well... Classics such as tramp stamps etc. are, of course, "spoiled". Personally, I do not like any political or sexist motives or motives with partner's name, although I do not have a problem when someone decides to get something like this under the skin! Let's everyone do how he wants…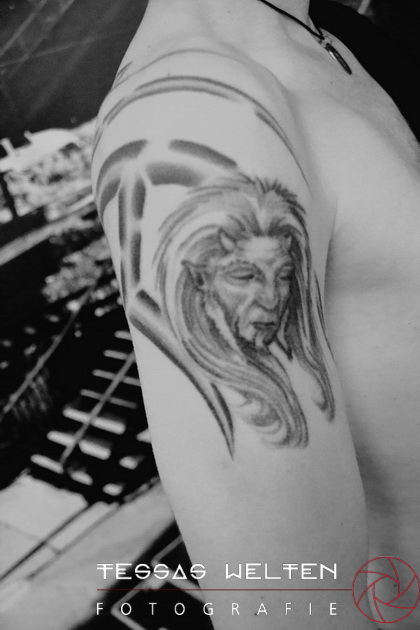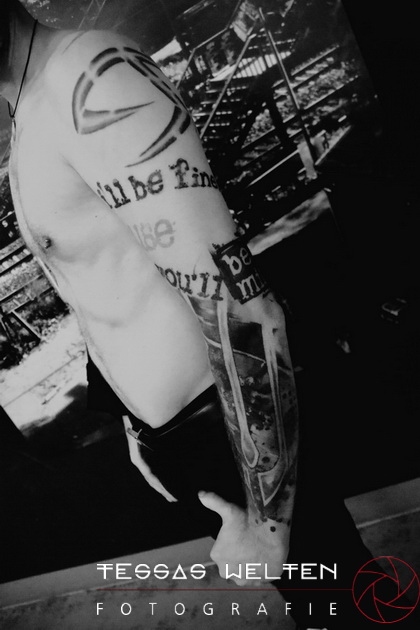 RoD
: Some people say that the drive to acquire body art is addictive while others say it fails to meet the true definition of an addiction, simply calling it a passion. Is it really impossible to stop?
André
:
Absolutely YES!
RoD
: Currently, tattoos are a new trend; many people do not care about the meaning, they just want to have something coloured on the skin, to be in trend. Those people often just go into a tattoo salon and ask which drafts they have. Tattoo artists are not artists any more, they produce consumer goods. Not all of them, of course. How do you feel about this situation?
André
:
Unfortunately this is currently the case. But there is nothing that you can change! If you consciously choose art on your body, you should also attach importance to the artist and his style. If not... then not! I like tattoo artists, who can reject a motive and talk about the design with me in advance.
RoD
: I would like to talk about the social aspect of tattoos, too. Previously, many people believed that if you have a tattoo, you will be never be successful and will not find a "good" job. Have this state of mind and people's perceptions changed or are these prejudices still alive?
André
:
There are certainly still such prejudices but it has decreased significantly and will surely have completely disappeared with the "new" generations in 15 - 20 years.
RoD
: Which advice would you give to people who are going to get their first tattoo? How to choose a tattoo artist? Colour or black and white? Any practical advice?
André
:
My advice for the first tattoo..: Be very conscious of what motive you want to wear under your skin all your life, and take time to find a tattoo artist who will do what you want! I cannot give advice regarding black or colour! This is a very subjective decision that everyone has to make for themselves. In the end it should decorate YOU!
Project by Daria Tessa and Daniela Vorndran, Interview by Daria Tessa
Pictures by Daria Tessa (https://www.facebook.com/tessaswelten)
See also (all categories):