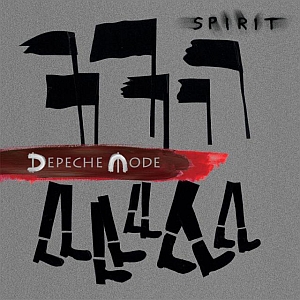 Artist: Depeche Mode
Title: Spirit
Genre: Electronic / Pop
Release Date: 17th March 2017
Label: Columbia / Sony Music
Album Review
'Spirit' is arguably one of the most anticipated releases of the year. And already one of the most controversial since the new DEPECHE MODE album leaked about two weeks prior its release. Sony tried their best to keep 'Spirit' under tight wraps, at first there were no promotional copies and journalists were invited to listening sessions with strict rules (no smartphones, no recording devices) and were supposed to base their reviews on just one listen. In the end Sony failed as somebody was apparently able to record a live stream of the album and the recording was allegedly distributed via a Polish fan forum. Only two days after this low quality mono bootleg another person got hold of a physical copy of the album and uploaded the songs as high quality FLAC files. It's up to the label's lawyers to find out who did what but it is clear that Sony failed with its strategy. Why being so overly strict in the beginning when you offer streams and hand out physical copies shortly before the release, anyway? It's a shame, and it seems half of the excellently cross-linked global fan base has already heard 'Spirit'. For the other half, and for anyone who's interested, here's our take on the real deal.
One thing is clear: 'Spirit' is already polarizing! The fans' reactions range from "Is this still DEPECHE MODE?" to "best album since 'Ultra' / 'Songs Of Faith & Devotion' / the invention of the wheel". And as with every new DEPECHE MODE album there are the usual suspects who cry out "bring Alan Wilder back", somewhat the Lord's Prayer for some long-time fans and the putative cure-all for everything they apparently miss in modern-day DEPECHE MODE. However, it's easy to see why some fans find it hard to get into the latest offering by Dave Gahan, Martin Gore and Andy Fletcher. Because 'Spirit' is not an easy album! Lyrically it is often straightforward and in-your-face, musically it isn't. If you are looking for epic Pop anthems in the vein of 'It's No Good', 'Precious' or even 'Enjoy The Silence', then 'Spirit' is clearly not for you. There's not much to sing along, at least not at first sight. There are also no straight rockers in the same line as 'I Feel You' nor up-tempo dance tracks a la 'A Question Of Time' or 'Behind The Wheel'. There is the much-quoted sole up-tempo song 'So Much Love' on 'Spirit' but despite its Pop appeal it is a crooked little song, subliminally reminiscent of German Kraut Rock band NEU! and like the big brother of 'Soft Touch / Raw Nerve' from DEPECHE MODE's 'Delta Machine' album, while being a lot better than this direful little ditty from 2013. At least in my book, 'Soft Touch / Raw Nerve' is one of the worst songs the band has ever done and I wonder why they even put it on the album.
'Spirit' on the other hand often reminds on the songs which DEPECHE MODE abandoned to single B-sides or used as bonus tracks for limited editions. This might sound derogatory but it actually isn't, as for some strange reason DEPECHE MODE used some of their best material as non-album tracks in the Hillier era. Think of 'Newborn' from the 'A Pain That I'm Used To' single, 'Ghost' and 'Light' from the 'Sounds Of The Universe' era or 'Always' and 'Long Time Lie' on the limited edition of 'Delta Machine'. Truly great stuff, and if you cherish those songs chances are that you will fall deeply in love with 'Spirit'!
Speaking of Ben Hillier: After three albums with him in the producer's chair it was time for a change and some fresh blood and James Ford of SIMIAN MOBILE DISCO took over the reign. So far, so well-known. What you probably do not know yet, in case you didn't listen to 'Spirit' so far, is that James Ford delivered one hell of a job! The production and the sound of 'Spirit' is simply fabulous, even people who aren't fond of the songs as such have to admit that. The album sounds brilliant, the songs have enough space to breathe and are not overloaded. Every effect, beat, buzz and synth line has a function and is in its place. This wasn't always the case under Hillier's rule, even though I'm not one of those who would disdain DEPECHE MODE's "Hillier era". I actually like a lot of stuff DM produced with Ben Hillier but the production of 'Sounds Of The Universe' was rather sparse and flat, while 'Delta Machine' and especially 'Playing the Angel' sounded muddy, over-compressed with not enough headroom. The mastering of 'Playing The Angel'? Total disaster! Sad.
'Spirit' on other hand sounds crystal clear and has a lot of dynamic range, it's pure bliss! Just check out the waveforms of 'Suffer Well' and 'Cover Me' to see what I mean: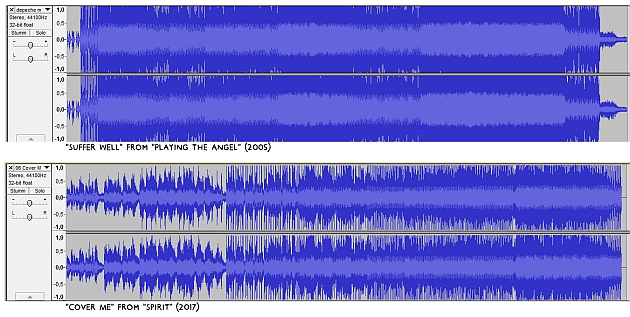 The difference should also be clear to people who are not so much audiophiles or technology enthusiasts. 'Suffer Well', as an example from 'Playing The Angel', is clipped and suffers from digital distortion. The new song has a much better dynamic range and allows single elements of the music to stand out.
But what about the songs on 'Spirit' in itself? In the end all production finesse doesn't help much when the songs are rather dull. The first song we all got to hear from the new album was of course 'Where's The Revolution', the lead single of 'Spirit'. We got a little sneak preview of it during DEPECHE MODE's press conference in Milan last October, where they announced the new album and the forthcoming world tour. What we got to hear back then was the chorus of 'Where's The Revolution', as we know now, and I have to admit that I didn't like the song when I listened to the full version. A clear case of wrong expectations! The snippet from the press conference stirred the hope for an epic up-tempo single, eventually. Well, 'Where's The Revolution' is anything but up-tempo, as we know now. But in the album context it works and it becomes clear why it was picked for the single release. There's not much else on 'Spirit' which would offer itself for a commercial single release although that doesn't say anything about the musical quality. Quite the contrary! 'Spirit' is a diverse yet very coherent album and shows DEPECHE MODE stepping out of their comfort zone to try something different. Finally! It is not radically different but a pretty brave album for stadium-filling band. And 'Spirit' is certainly a grower, so please give the album some time to let it sink in and to fully unfurl its glory.
The band mentioned in interviews that 'Spirit' would be less bluesy and much more electronic than 'Delta machine', their previous offering. Well, to be honest I have to disagree to some extent! 'Spirit' is a very organic album and still has the Blues at times. And just for the record, I never saw 'Delta Machine' as the excessively bluesy album as which it was ballyhooed sometimes. As a tell-tale sign, Gahan sings "poor man still got the blues" in 'Poorman', track number 10 on 'Spirit'. And songs as 'Poison Heart', 'The Worst Crime' and the lead single still have the Electro Blues touch which has become a DEPECHE MODE trademark long ago. And while 'Where's The Revolution' links back to 'Delta Machine', songs like 'My Little Universe', 'Secret To The End' or 'Happens All The Time' from the latter album seem to point in the direction of 'Spirit' in hindsight. There are some SOULSAVERS moments on 'Spirit', and if you disliked Dave Gahan's collaboration with Rich Machin's and Ian Glover's project you might have trouble to get into one or the other song on 'Spirit'. The airy and scanty ballad 'The Worst Crime' is such a moment. Just guitars, live drums, organ sounds and Dave Gahan's singing. Could be off the last SOULSAVERS album bit it might surprise you that this song is actually written by Martin Gore.
Of course there are also the very synthy, not-so-bluesy songs, as well. 'You Move', for example, a song which was interestingly co-written by Gore and Gahan and whose buzzing, menacing synth bass reminds me on the slower songs by NITZER EBB. Check 'My Heart' or 'Rope' from their 'Showtime' album or 'Never Known' from their last album 'Industrial Complex' to see what I mean. Definitely one of my faves, just as the aggressive 'Scum' which is like a lurking tiger who never attacks. I guess Martin Gore had a field day on his cabinet-sized modular synths when creating these songs!
I haven't mentioned the "new" lyrical direction of DEPECHE MODE on 'Spirit' yet but on the other hand you may check every other review and all recent interviews for this. Yes, Martin Gore is looking more outwards instead of inwards now but let's not forget that about half of the lyrics are still about personal struggles, love, sex, relationships and their end, and the search for comfort and emotional security. And most of the time it's the songs penned by Dave Gahan which cover such subjects. The apocalyptic ballad 'Eternal', written and sung by Martin Gore, is somewhat the anchor point between the inward and the outward. Gore sings about his "little one", supposedly his new-born daughter, and how he wishes to protect her and be there for her. And then doom breaks in with the lines "And when the black cloud rises and the radiation pours, I will look you in the eye and ki..." Kill you? Gore stretches the "I" to no end to finally sing "... kiss you" - a very small detail but pure genius! In fact 'Eternal' was one of the few songs on the album I couldn't get my head around at first. It's just harmonium and droning noise, a bit reminiscent of the original version of 'Enjoy The Silence' before it was turned into a dancy Pop anthem, and after two minutes and twenty-four seconds it just stops. A rather simple track, like a dystopian torch song time travelling from the cold war days to the 21st century, and it quite rightly sits in the middle of the track listing as it connects many aspects of 'Spirit'. The least striking and intrusive at first on an album which has little intrusive moments, anyway, but it seems to be the secret key song and by now I just love it!
'Spirit' is a weird, intimate, curious and courageous album, especially coming from a million-selling band like DEPECHE MODE. It makes you wonder how the band is going to present the new material when they play big stadiums and arena, especially in continental Europe where crowds of 40,000 or more are rather the norm than the exception. 'Where's The Revolution', 'Scum' and the glorious album opener 'Going Backwards' will work fine in a stadium-setting but the rest of the new songs may seem to be too intimate and outlandish for big audiences. Okay, there's still the best-of set DEPECHE MODE have been doing with little variation (and some new songs thrown in each time) for two decades now. After stepping out of the comfort zone in the studio it would be about time to do the same as a live act. I'm sure their audience would be up for it and is probably much more open-minded than the band probably thinks. There are 'Construction Time Again' and 'Some Great Reward' to re-visit, finally, and some of their tracks would not just lyrically blend well with the songs from 'Spirit'.
We will see. Until the 'Global Spirit' tour starts in May you have some time to spend with 'Spirit'. And in case you have trouble to get into the new DEPECHE MODE album I'd like to offer the following (and yeah, cheesy!) analogy: Do you know this feeling when you meet a person who is a bit weird, confusing and arcane but somehow all the more fascinating, and when you get to know this person better you realize that he or she is not what you expected at first, and although this person doesn't meet your usual preferences and likings you fall helplessly in love with this person? Well, 'Spirit' is like such a person.
Tracklist (Deluxe Edition)
CD1

01. Going Backwards
02. Where's the Revolution
03. The Worst Crime
04. Scum
05. You Move
06. Cover Me
07. Eternal
08. Poison Heart
09. So Much Love
10. Poorman
11. No More (This Is the Last Time)
12. Fail
CD2 - Jungle Spirit Mixes (deluxe edition only)

01. Cover Me (Alt Out)
02. Scum (Frenetic Mix)
03. Poison Heart (Tripped Mix)
04. Fail (Cinematic Cut)
05. So Much Love (Machine Mix)
Line-up

Depeche Mode: Martin L. Gore, Dave Gahan, Andrew 'Fletch' Fletcher and no Alan Wilder whatsoever - get over it!
Producer: James Ford (also drums on all tracks except 'Eternal' and pedal steel guitar on 'Cover Me')
Programmer: Charles M. Duff aka Matrixxman
Electric bass: Kurt Uenala (on 'Poison Heart' & 'No More')
Mastering: Brian Lucey (Magic Garden Mastering)
Artwork: Anton Corbijn
Website

www.depechemode.com
Cover Picture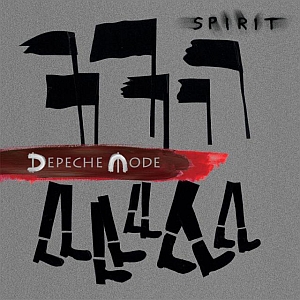 Rating
Music: 9.5
Sound: 10
Extras: 8
Total: 9.2 / 10