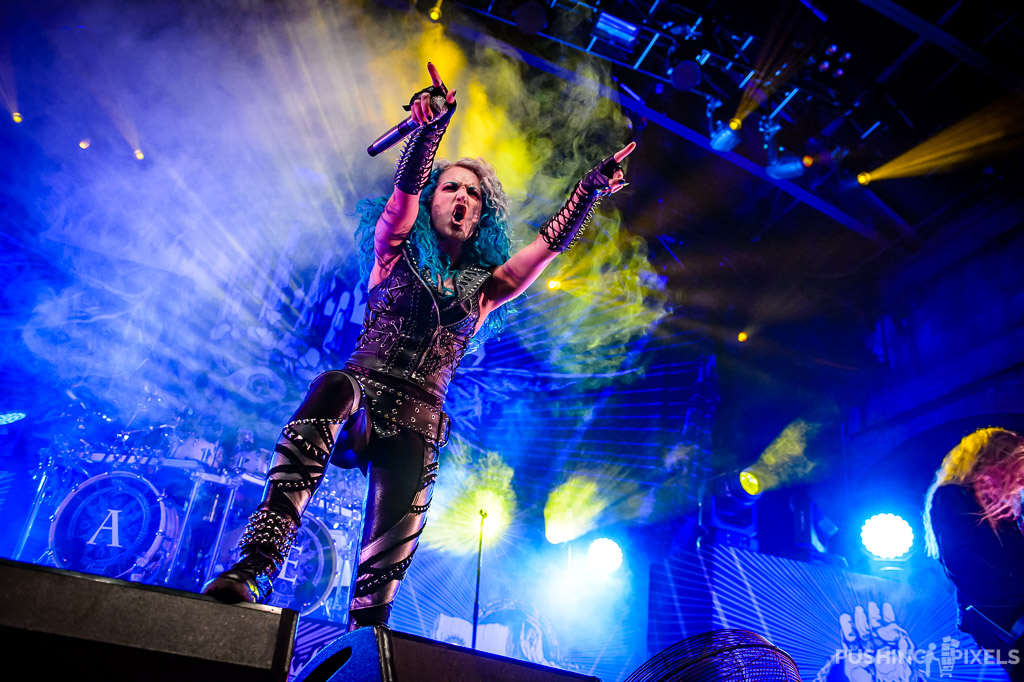 E-Werk, Cologne, Germany
9th July 2018
Arch Enemy - "Will To Power Tour 2018" - Support: Dawn of Disease & The Charm The Fury

During their current European Summer tour, the well-known box office success ARCH ENEMY and their iconic lead woman Alissa White-Gluz paid a visit to several cities besides their festival dates for some club concerts as well. Whereas the Melodic Death Metal band, which was founded in the Swedish city of Halmstad, will perform at diverse big festivals such as Wacken Open Air, Summer Breeze and Elb-Riot Festival in Germany, only Western Germany was blessed with an exclusive live gig in Cologne on Monday, July 9th at the E-Werk. Accompanied by the also female-fronted Dutch Metal band THE CHARM THE FURY there was another band that presented itself at that evening as a special gig: Napalm Records' boarding pupils of DAWN OF DISEASE from Osnabrück, Germany, who launched the evening.
Dawn of Disease

As
DAWN OF DISEASE
entered the stage, many people in the crowd seemed to be surprised, as not everyone knew that there would be a second support band at this concert at all - neither did the tickets read the name by the German newcomers, nor did all the internet pages for the event list them. To be honest, on top of it: The Melodic Death Metal band of five can't really be called newcomers any more, since their last highly acclaimed effort 'Ascension Gate', which was released in 2017, was not only their fourth album, but also led to tour dates with huge bands like Behemoth or festival shows like German Black/ Death/ Pagan-stomping ground Ragnarök in Lichtenfels, Bavaria. http://www.dawnofdisease.com / https://www.facebook.com/DawnOfDisease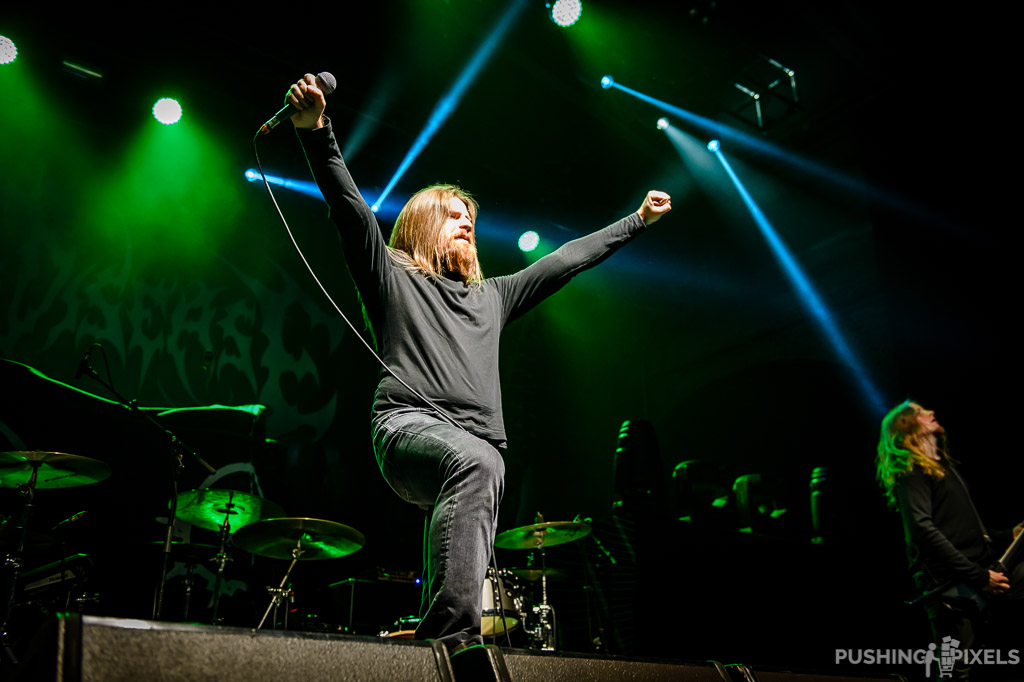 Music & Performance

Though definitely not everyone at the venue was being familiar with the energetic band, DAWN OF DISEASE with lead singer Tomasz Wisniewski presented themselves as a powerful, auspicious squad, not only because of their stimulating announcements, but also because of their stirring sounds. Defying the briefness of only half an hour the band took some in the crowd by storm with their five song show, giving a short overview on their discography with a solid performance. Maybe - just maybe - there were some people who disliked Wisniewski's vocals because of his way of delivering the lyrics, harder to understand compared to the main act of that night, but all in all one must admit that especially the final two pieces, 'Knife Vs. Flesh' and 'Ashes' rose the temperature in the room by not only several degrees.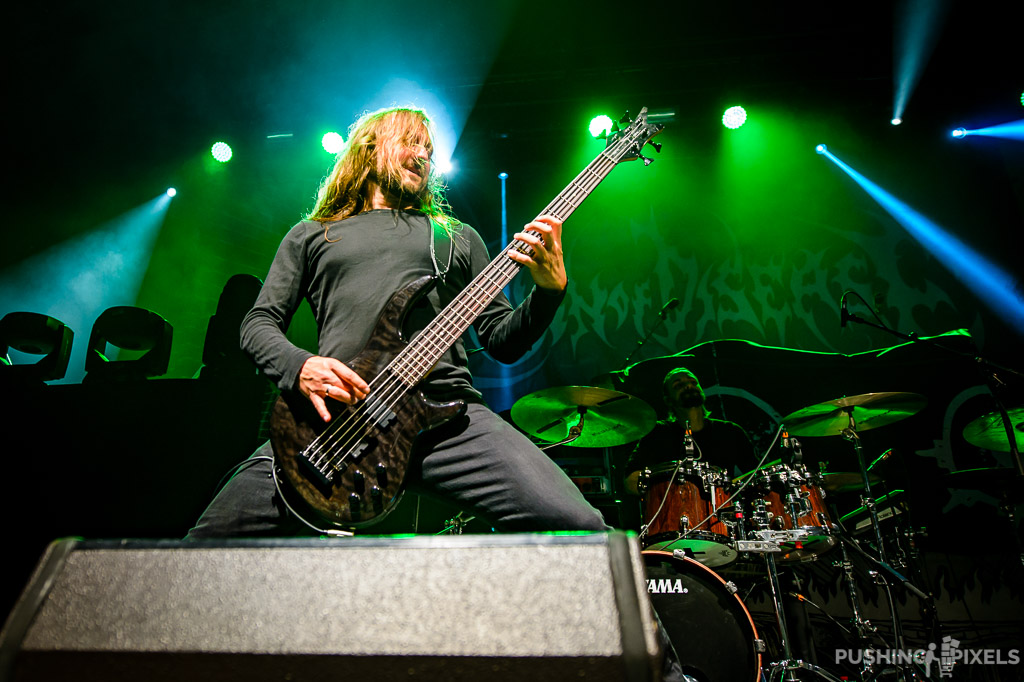 Still the band let their music speak for itself, not setting course on special outfits or other show elements - and that went pretty well.
Setlist

01. Ascension Gate
02. Worship the Grave
03. Wrapped in Guts
04. Knife Vs. Flesh
05. Ashes
Rating

Music: 8
Performance: 6
Sound: 8
Light: 7
Total: 7.3 / 10
The Charm The Fury

When
THE CHARM THE FURY
unveiled their giant psychedelic backdrop and the lights got dark, more people cheered in the crowd - apparently more guests knew the second and main support band to ARCH ENEMY at this tour. Founded in 2010 the band embodies one of major label Nuclear Blast's latest new entries and also toured with ELUVEITIE and AMARANTHE last year, thus being no unknowns in the equation at all. Their wild style, ever-changing, genre-hopping music makes them a fascinating support to an overall sureshot like ARCH ENEMY. http://www.thecharmthefury.com / https://www.facebook.com/thecharmthefury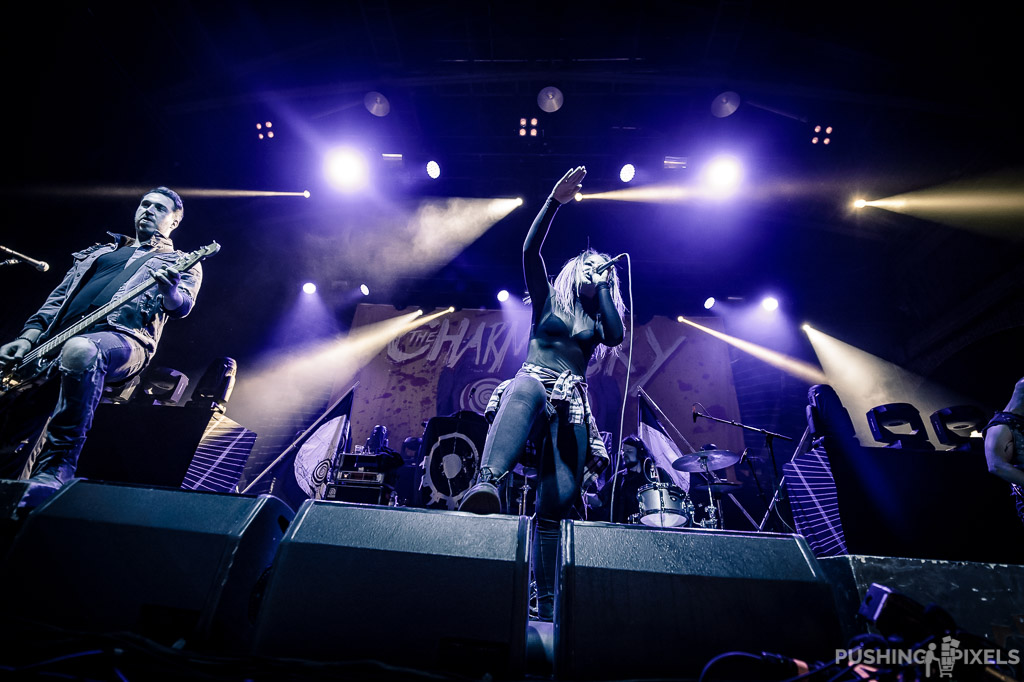 Music & Performance

Lead singer Caroline Westendorp and her band presented songs of their latest full-length album 'The Sick, Dumb & Happy', whose title already dictates the three main facets of their songs: The Post-Hardcore/ Melodic Death Metal blend in their sound swings between aggressive, moshpit-invoking emotional pieces, happier feel-good-songs and party vibes - Westendorp also changes her vocal style often, for once she and ARCH ENEMY's Alissa White-Gluz resemble each other in their performance a little bit, but she also uses higher frequencies and also clean vocals, hinting at their love for Screamo-, Emo- and Metalcore sounds. In contrast to their predecessors the band provoked more movement, more dancing, more head-banging and sweat-inducing moshpits and a wall of death during their short performance, granted a METALLICA instrumental of 'For Whom The Bell Tolls' and made an overall good impression.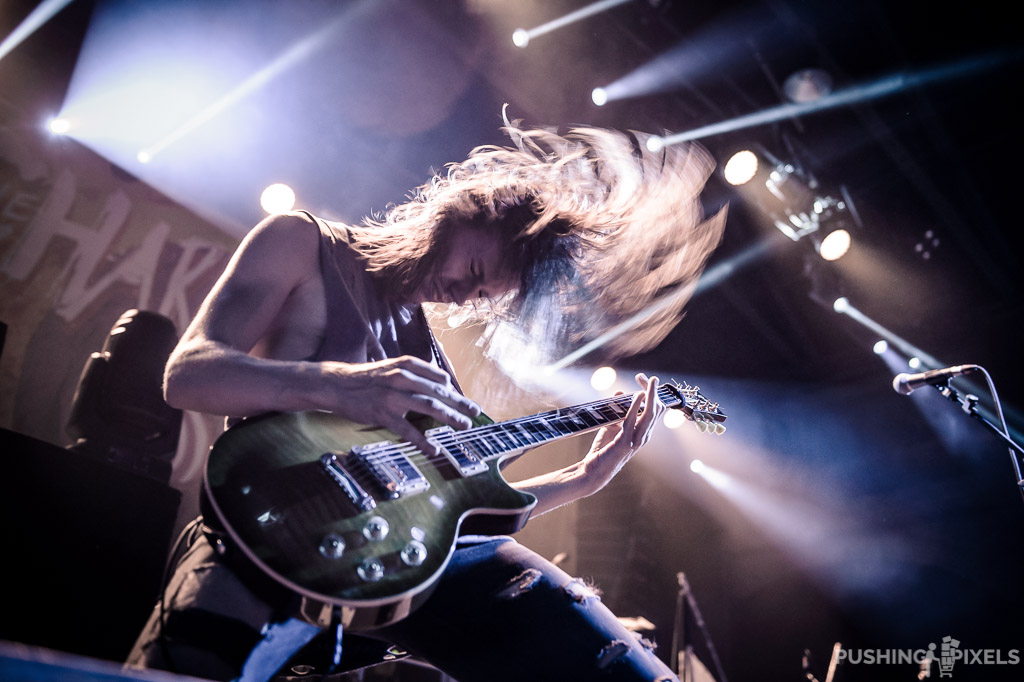 Especially the first and the last song, namely 'The Future Needs Us Not' and 'Carte Blanche', made an impact, perfectly fulfilling their mission to warm the people in the E-Werk up for ARCH ENEMY.
Setlist

01. The Future Needs Us Not
02. Colorblind
03. Down of the Ropes
04. Songs of Obscenity
05. Metallica instrumental 'For Whom The Bell Tolls'
06. Echoes
07. Carte Blanche
Rating

Music: 7
Performance: 8
Sound: 8
Light: 9
Total: 8 / 10
Arch Enemy

ARCH ENEMY
became somewhat of a guaranteed live success, not only in the past years and since lead singer Alissa White-Gluz took over for long-time front lady Angela Gossow in 2014. Having released ten studio albums, three live efforts and looking back at way over 20 years of expertise of lead guitarist Michael Amott, Drummer Daniel Erlandsson and bassist Sharlee D'Angelo the band besides both iconic voices have come a long way and led the brand ARCH ENEMY to world success. Their latest release, 'Will To Power', came out in last year's fall and conquered the metal scene easily, getting their fans crazy about the new material, albeit criticizing it heavily. Still ARCH ENEMY always pull off a great live show, as they don't play every major festival in Europe every year for nothing. http://www.archenemy.net / https://www.facebook.com/archenemyofficial
Music & Performance

Heralding the show with MOTÖRHEAD's 'Ace of Spaces' (probably a band's favourite, paying tribute to Mr. Lemmy Kilmister, RIP), ARCH ENEMY kicked off the night's show with the two last album's first singles 'The World Is Yours' and 'War Eternal', setting the stakes high for the top-class show that was to come. As always Alissa White-Gluz had her crowd firmly in control, animated everyone to bang their heads and celebrate the songs with her. If there were people in the venue who did not yet see ARCH ENEMY with their new singer, who as of now can't even be called "new" anymore, and only knew the old songs with Angela Gossow's voice, they surely found Alissa's interpretation as good as the old one, if not better. Of course her voice is a little higher, especially becoming apparent in songs like 'My Apocalypse', 'Bloodstained Cross' or 'Dead Eyes See No Future' - but she made them their own in a way, perfectly mixing with the two new albums' songs.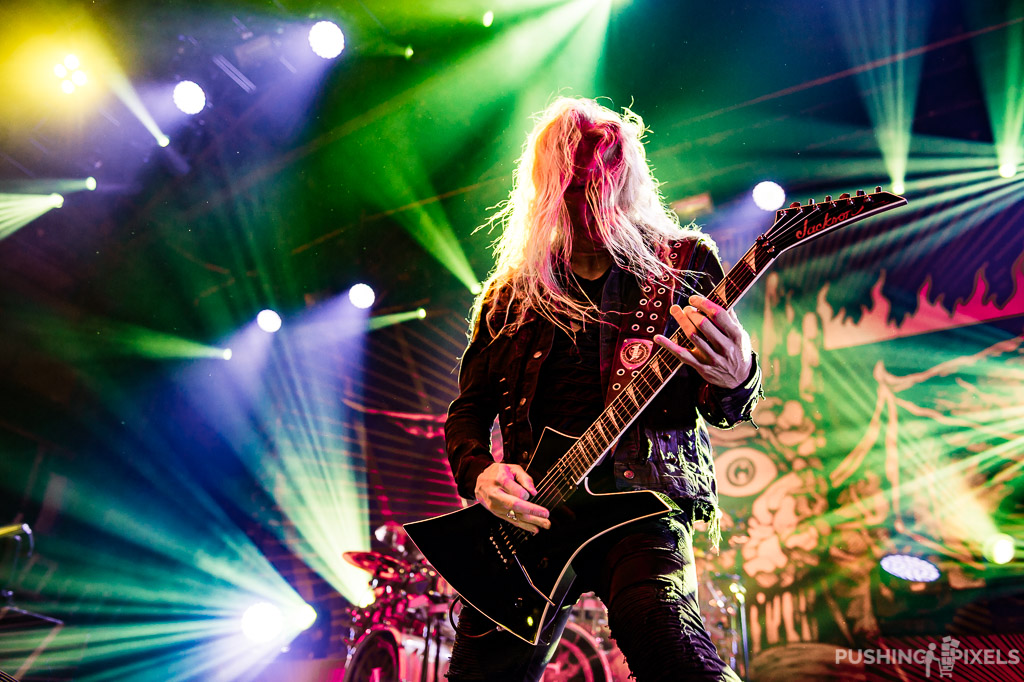 Unfortunately 'Reason To Believe', which was played at several gigs of the Europe tour, was kicked out of the setlist, maybe because of the additional support band. Also the encore only consisted of two songs this time: 'Avalanche' and the glorious 'Nemesis', perfectly punctuating ARCH ENEMY's show in the year 2018.
Setlist

01. The World Is Yours
02. War Eternal
03. My Apocalypse
04. The Race
05. Blood on Your Hands
06. You Will Know My Name
07. Bloodstained Cross
08. Intermezzo Liberté
09. Dead Eyes See No Future
10. The Eagle Flies Alone
11. First Day in Hell
12. As the Pages Burn
13. Dead Bury Their Dead
14. We Will Rise
---
15. Avalanche
16. Guitar Solo by Jeff Loomis
17. Nemesis
Rating

Music: 9
Performance: 7
Sound: 8
Light: 9
Total: 8.3 / 10
All Pictures by Markus Felix