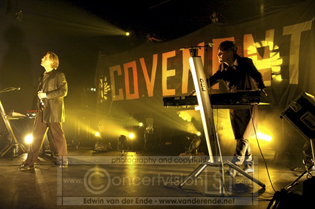 P60, Amstelveen, the Netherlands
February 4th 2006
Rotersand, Client and Covenant

When we enter P60, the first thing we receive is and inquiry about the venue. Because we, and with us a lot of people, have never been there since they do not regularly book bands as Covenant, it's kind of strange to make us fill in the form. But since we get a free drink for it, we simply make up some answers. Not exactly the way you'd want your market research done, I guess?

P60 is a typical concert venue: large, dark rooms with an industrial look to them. The room is filling up rather slowly at first, because of the spacious look it seems even more empty. Rotersand is to kick off, luckily for them the audience moves to the stage so the usual gap between the first band and the audience isn't present today. To me it was surprising that Rotersand was to play first, they definitely play louder and more danceable music than Client. Before and after their show I heard others in the audience wonder about this as well.
Rotersand
It might be hard for a band to live up to expectations with a second album when your first album gets excellent reviews, but not for Rotersand. Their first album, "Truth is fanatic", received those greedy reviews and got voted album of the year on Sonic Seducer. But with "Welcome to goodbye" Rotersand have again delivered a very decent dark electronic record, undenyingly making them the promise for EBM future. Or as Sonic Seducer puts it: They celebrate the perfect mixture between popsong and technocrashing noice, Futurepop always wanted to be.
http://www.rotersand.net/
Music
Lead singer Rasc enters the stage in a long black leather coat, his bold head and marquant face reminding of Billy Corgan for a second. His charism en overwhelming energy immediately take me in. The first song, Merging Oceans, is still a softer, trance-like one, but the second song "?Passenger waiting for departure?" kicks in with strong and heavy beats. Part of the audience is swept away and dances along from the start, but the other part is not warmed up yet and probably a bit overthrown by this outburst of electronic energy.
The sound in P60 is very decent, everything in order there. Rotersand continue to crash right over the audience with excellently played and sung electro-songs. Rasc referres to Exterminate, Annihilate, Destroy as the male, because harder, version of Merging Oceans, but hey, I'm female and I strongly like this song! ;) Unfortunately when they play the calm but catching intro of "Undone", a wonderful dark song, the audience is very noisy. Maybe it would be a good song to play second?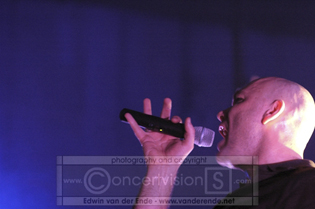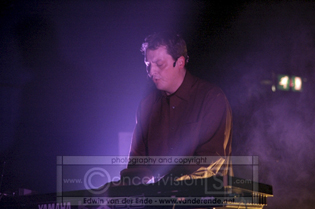 Performance
Gun and Krischan, the other two band members, do a very decent job, but Rasc is the one who makes a true performance out of the show. He is throwing around his black-furred microphone standard and throwing in every bit adrenaline he's got in very good interaction with the audience. The lighting is good, never distracting and very supportive for the set and the show. During Electronic World Transmission, Rasc even jumps into the crowd and has some people sing into the microphone.
A more gentle build-up might work better though, and this is off course even more the case when lining first. Some smoke effects could be helpful here as well, creating a more intimate atmophere inviting people to dance right away. But all in all Rotersand present a pulsing, beating, very convincing set. Pity that due to lack of time they can not do an encore. A band to keep in sight!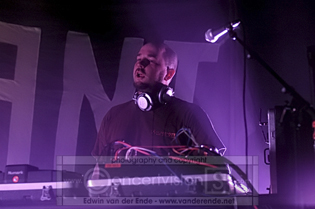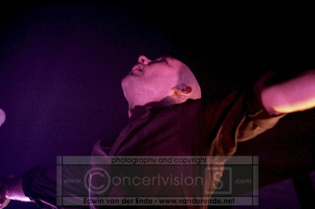 Setlist
01. Merging Oceans
02. Passenger waiting for departure?
03. Life line
04. Electronic World Transmission
05. Exterminate, Annihilate, Destroy
06. Undone
07. Last Ship

Rating
Music: 8
Performance: 8
Sound: 8
Light: 7
Total: 8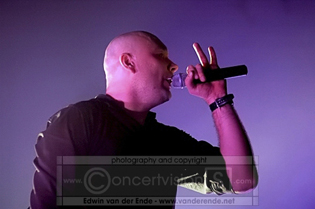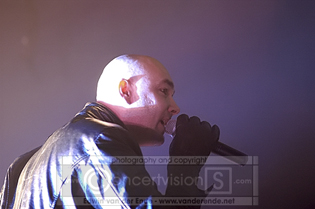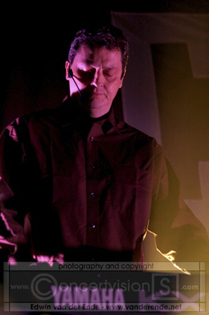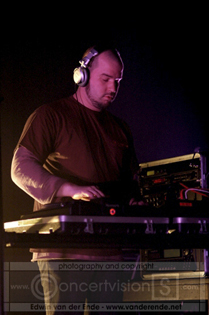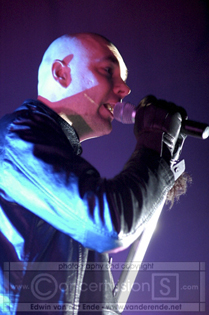 Client
Client came to life in a rather chaotic way. The band Technique, supporting Depeche Mode in their previous tour, broke up and Kate Holmes in the last instance found a new singer in Sarah Blackwood, former lead singer for Dubstar. While supporting Depeche Mode, Andy Fletcher became so thrilled by Client, he founded his own record company, Toast Hawaii, to sign them up. As members of Client Kate and Sarah just refer to themselves as Client A and Client B. Andy as the man behind the scenes is Client F. Client E joined them in the end of 2005.
http://www.client-online.net/
/
http://www.client-online.de/
Music
The music of Client is fresh synth-pop, reminding strongly of the Human League and Yazoo. The singing is often more speaking and makes me think of Anne Clark as well. A bit of Pet Shop Boys juice completes the dish. Although not always the most original, they serve the dish very well, bringing simple, danceable, sprakling synth-pop songs.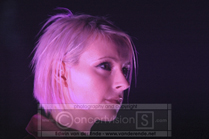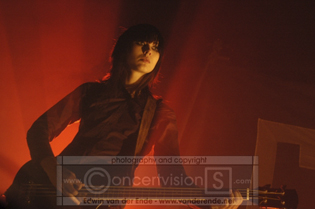 Performance
Client are just as much or even more their style as they are their music. The ladies dress in uniforms in an attempt to evoke an atmophere of repressed sexuality. Succesfully combining this atmophere in style and music calls into mind Vive la Fete. Although their style is flawless and convincing, their performance isn't. Movements are too slow, action on stage is lacking. The lights, rather boring and too bright, don't really help. Client A, B and E look like fashion dolls, hardly moving at all. Maybe the ones with a fashion doll fetish get aroused by these ladies, but in my opinion their show could definitely do with a more flirtatious attitude towards the audience and a femme fatale makeover. Think Famke Janssen in Goldeneye, that kind of stuff.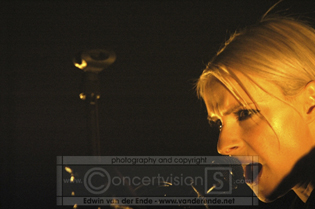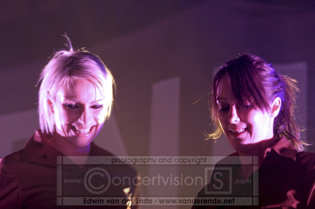 Setlist
01. Diary of an 18 year old boy
02. Radio
03. In it for the money
04. Down to the underground
06. Price of love
07. Here and now
08. This troubled mind
09. Overdrive
10. Client (theme)
11. Pornography

Rating
Music: 7
Performance: 7
Sound: 8
Light: 6
Total: 7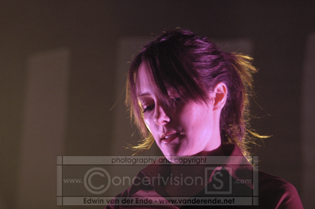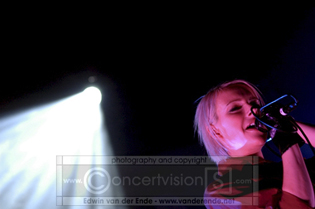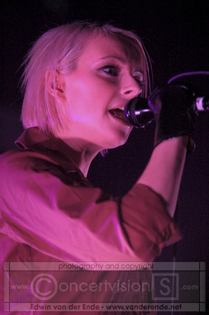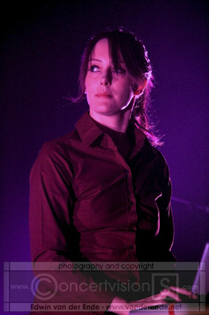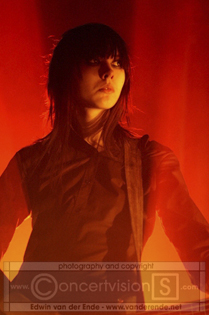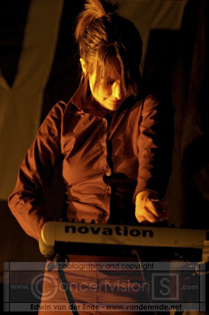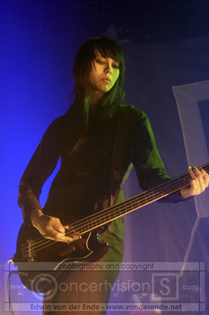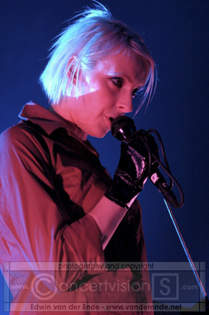 Covenant
At the moment of the concert, Eskil Simonsson (lead vocals), Joakim Montelius and Clas Nachmanson are only a month away from the release of their third album "Skyshaper". After an unfortunate preceding process, since some early recordings found their way to the internet, they are presenting an album with a more experimental sound than the previous ones, "United States of Mind" and "Northern Light." Maybe because Covenant have not yet discovered the exact direction of this experimenting, "Skyshaper" is less coherent. But it's also a progression to a new innovated sound, and has some true floorfillers on it This makes one very curious about the live presentation of their new CD.
www.covenant.se
Music
Although on "Skyshaper" are some calmer songs, the show is filled with energy. Covenant play an excellent mix of new songs and the very best of their older work. Some of the new ones, like "Brave New World" and off course "Ritual Noise" are instant hits. Others need a bit more attention and openmindedness, but that does not seem to be a problem for this audience. And although Eskil considers "Happy Man" to be rather daring, it takes a lot more for Covenant to be shocking. With their delightfully presented, wonderful electronic music Covenant build a city of sound in P60. And not one person in the audience succeeds in standing still.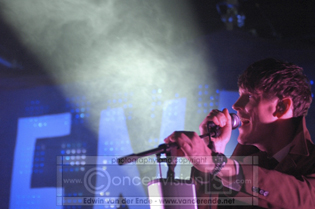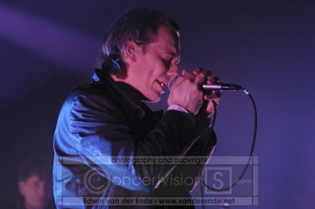 Performance
First you have off course the members of Covenant filled with the vibrant spirit they always have during a live performance. In particular Eskils charm and gently Swedish accent. Second you take the enchanting electronic, extremely dancable music. And as icing on the cake a light show consisting of a wall of little light bulbs with some kind of sophisticated computer program managing it, that starts with simple patterns but becomes more complex and breathtaking every second the show progresses. Including superb retro images and jetfighters flying by. The guaranteed recipe for probably one of the best shows this year.
Rating
Music: 8
Performance: 9
Sound: 8
Light: 9
Total: 9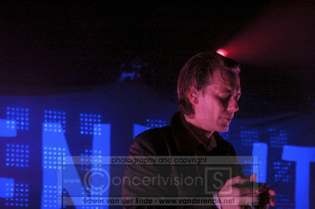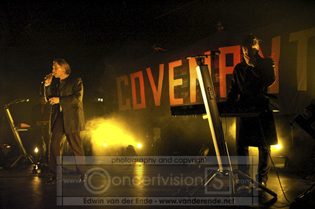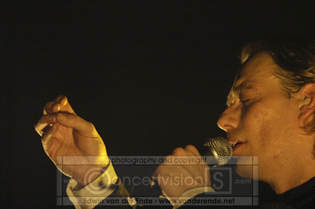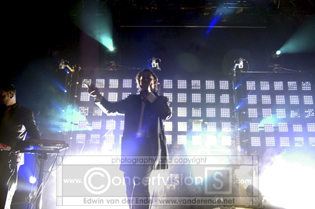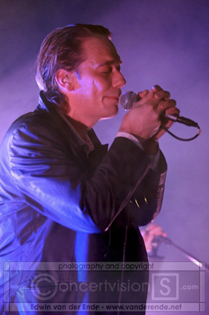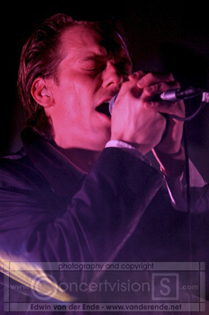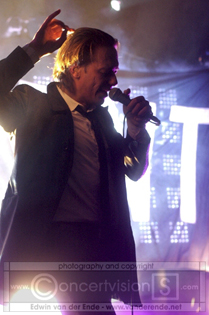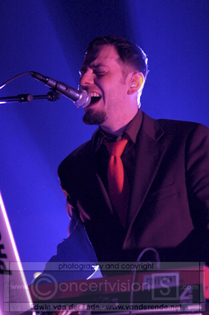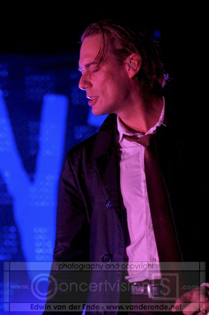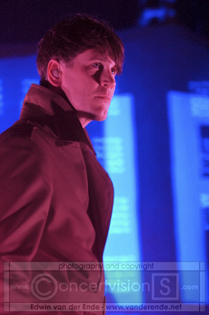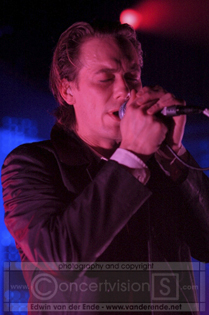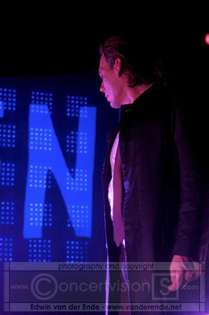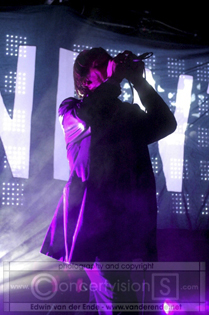 More photos on page 2
Rotersand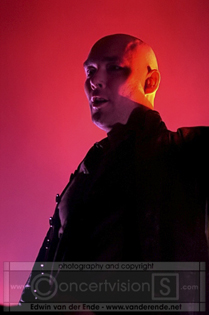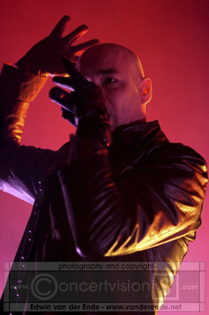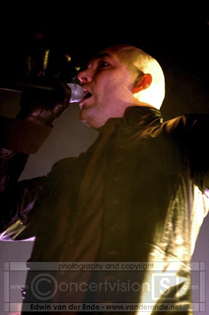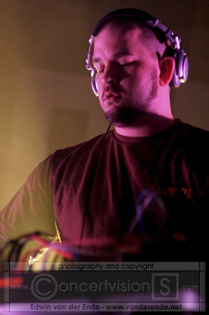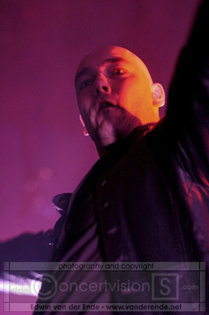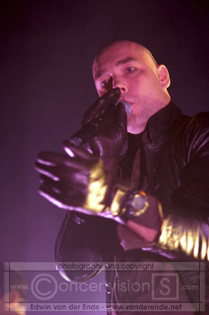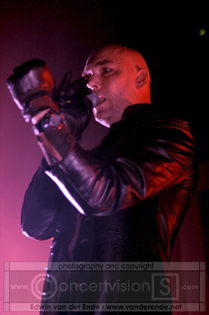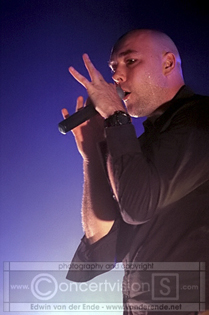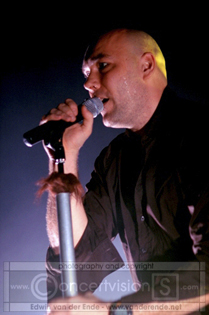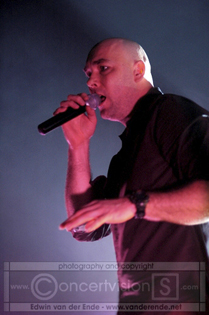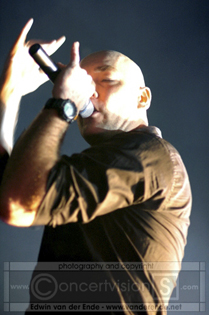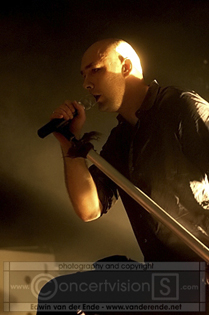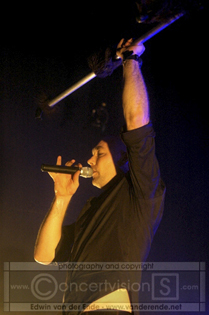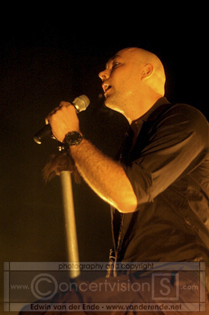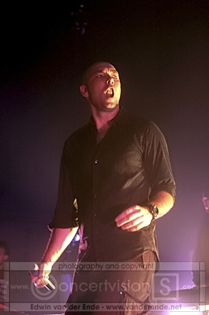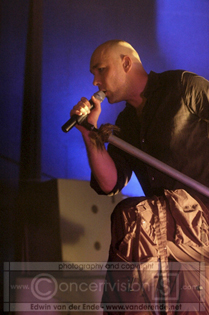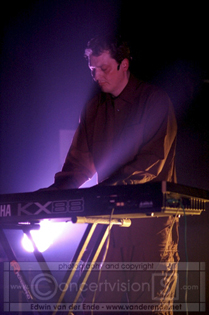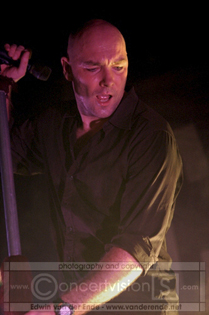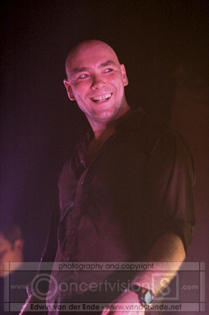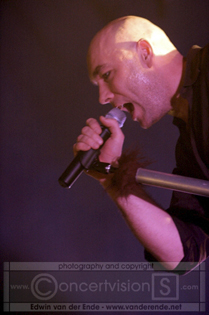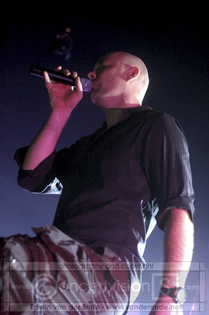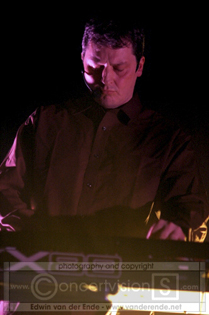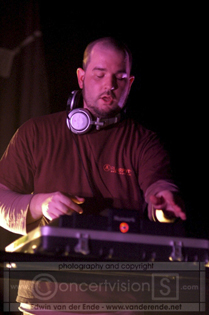 Client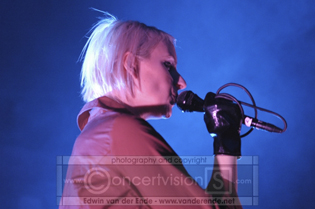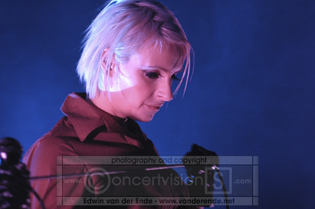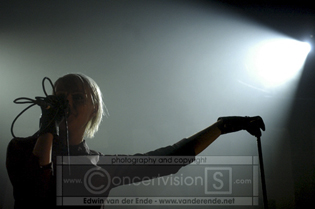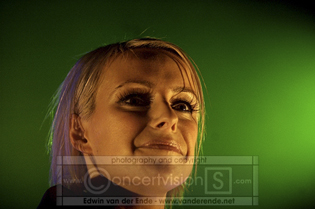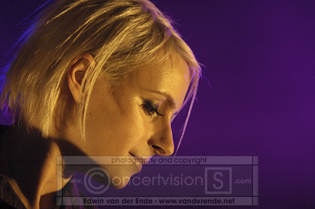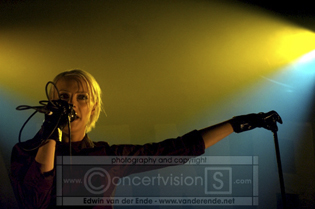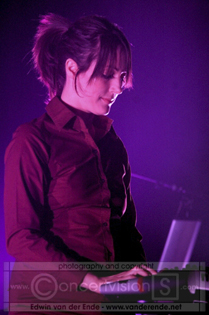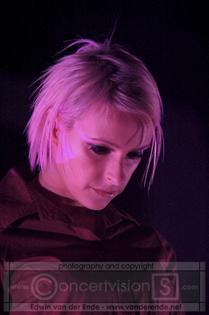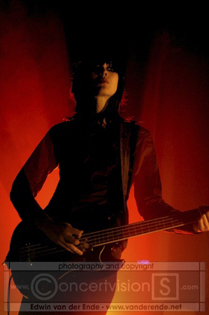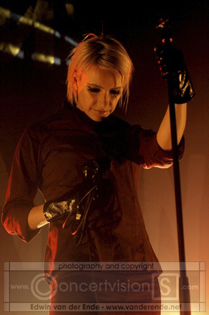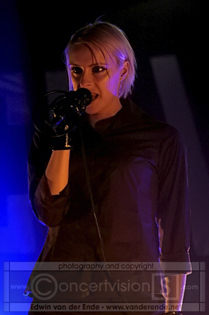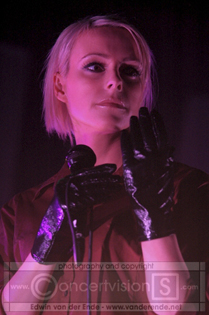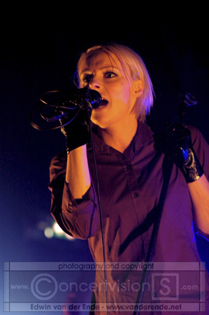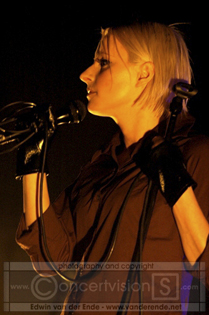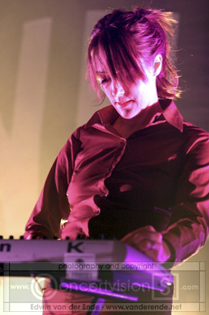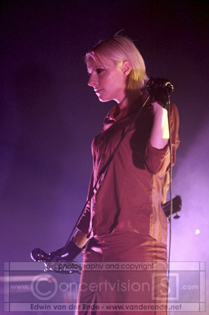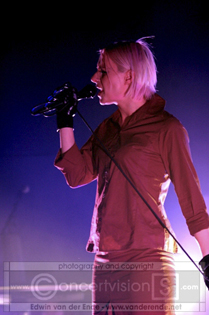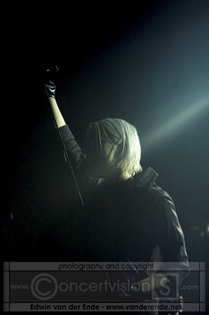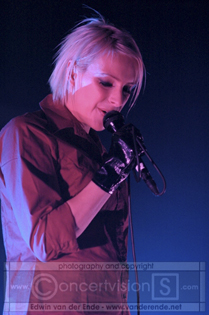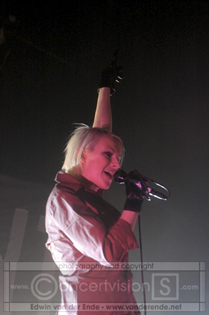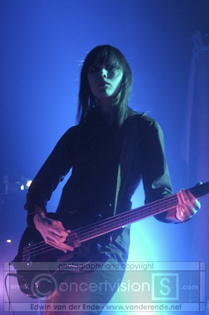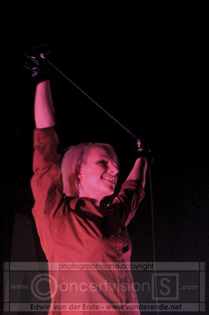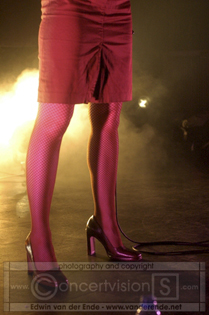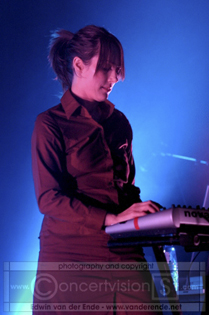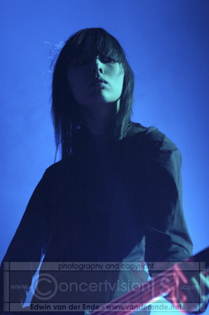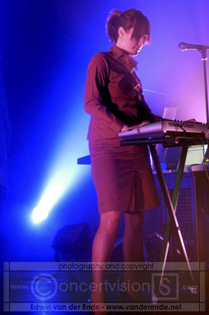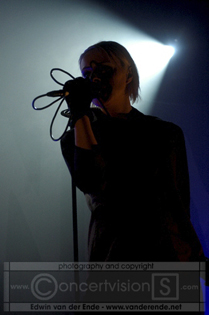 Covenant