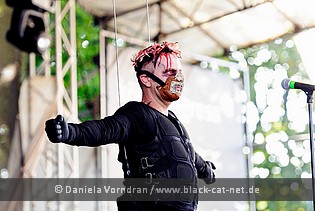 Interview with
Chris L. (lyrics and vocals) from Agonoize

Short before their appearance at Dark Munich Festival we had a little chat with Chris L. speaking about the anniversary release, the new project THE SEXORCIST as well as about the plans for 2015. Of course we also wanted to know what the band expects from DMF. Just check out this little interview.
Reflections of Darkness [RoD]
: Tell me more about the anthology 'Reborn In Darkness – The Bloody Years 2003-2014'. It is a limited edition with four CDs, which includes immortal hits, rare and previously unreleased material. 11 years it's a long story, but why have you decided to release this anthology now? But most of all I intriguing in the design. Who have made it and created the idea for it?
Chris
:
We actually wanted to release the anthology for the 10th anniversary of AGONOIZE, but I was almost done with the 'Apocalypse' album so I decided to release it after the new album. The release of the 'Hexa' album was in 2009, so people might get the wrong idea if you put out a best of after five years instead of a new album. It's not the end of AGONOIZE, just a look back on the work we have done over the years. The design was made by a graphic dude from our label, but of course I knew exactly how I wanted it to look like, I had the idea for years, and I am glad that he understood my ideas so well. The bible look was of course the best way to present a product of the C.O.A. I am really excited about the final cover and I think it's a very special fan item. Our way to thank the fans for the support.
RoD
: Chris, in addition to music you've decided to express yourself as actor and director in a mini horror-series. How is your work with this project going?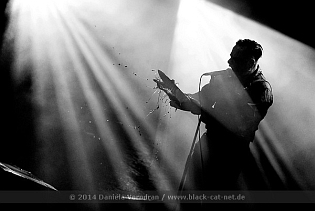 Chris
:
Slow. I decided to spend a little more time to focus on the music first, but still I am full of ideas and piece by piece the series takes form. But again I am focused on the live DVD production for AGONOIZE at the '12 years written in blood' show 31.10.2015 at Huxleys, Berlin and also will produce some video clips first. I love the way to express my ideas behind the camera and I can't get enough of it.
RoD
: Fans of your work have now a possibility to enjoy your work not only in AGONOIZE. You recently finished your work on the release of new project THE SEXORCIST. Please tell us more about that.
Chris
:
I simply wanted to do something else, something with a clear voice and Gunnar Kreuz passed my way at the right moment. We are going along very well, no one expected that. We are both working on the music and we have similar ideas how we want a song to sound like and the more often we work together the more complex the songs are getting. We have around 28 songs now and we are deciding at the moment which ones we will take on the debut album which should be released around late summer. So we will also start to play first live shows around that time. You can follow us on Facebook www.facebook.com/thes3xor5ist or soon on www.the-sexorcist.com
RoD
: You always have very impressive and interesting shows. Who normally plans your shows, how they will go? Have you had a situation when something went wrong or not the way it was planned?
Chris
:
What to say, I have a lot of stupid ideas and it's just about how to realize them, but I work together with a very professional team who mainly can make 90% of my ideas possible. I usually do the setlist first before I decide on which song we will do what effect and especially on most of the festivals we have a good budget which I normally burn completely for the show. And every festival has a setlist on their own, you will never hear the same setlist on another festival. We are already building new effects and new stage gear for big festivals like Amphi or Darkstorm. And yes, accidents happen most of the time, but luckily the crowd doesn't realize them all. That's showbiz… I fell from stage a few times, broke my nose onstage, fucked up my ribs, lost a tooth by smashing it out myself, had the wrong song playing, trouble with the blood, etc., the list is very long.
RoD
: What are your plans for 2015? In what direction do you plan to work - to invest more time in the development of THE SEXORCIST, or should we expect something new from AGONOIZE?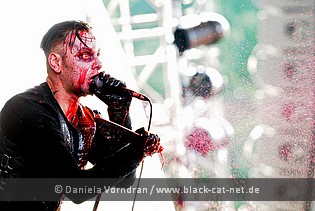 Chris
:
I am already working on a new AGONOIZE single and there is enough time to work on both projects, there will also be a third one at the end of the year but you will see. AGONOIZE is a kind of priority but it doesn't need much attention at the moment, except of the live shows. I think there will be a new AGONOIZE album at the end of 2015 or the beginning of 2016, depends on how satisfied we are with the results. And sure, as soon as we finished the first SEXORCIST album we will start to work on the second asap. We will tour with AGONOIZE the entire year, end of October, beginning of November with my friends of DIE BRAUT from Chile as a special guest for some AGONOIZE shows. We have plans to go back to Mexico for a few shows and maybe finally 10 US shows. Hopefully Russia again in 2016 if the situation gets better and maybe two summer festivals in 2016 in Germany. With THE SEXORCIST we will also play some festivals in 2016, some support shows in 2015/16. A lot of touring to do.
RoD
: This year you will play at Dark Munich Festival. What are you expecting from this event? Will you prepare some surprises for this show?
Chris
:
I do not expect much from the event. Sadly there is no budget for a real special show, so we will give the crowd what they want, music, bass & blood. I will try my best to make a real tough setlist for that day to wake people up and make them dance.
RoD
: And in the end a few words to our readers.
Chris
:
Thanks to all the fans out there, thanks for the support over all these years. You made us what we are today and without you we are nothing.
Dark Munich Festival (30th April to 3rd May 2015):
http://d-m-f.me
Written by Alina Belova & Daria Tessa (Ukrainian Gothic Portal). The Russian version of the article is available
HERE
.