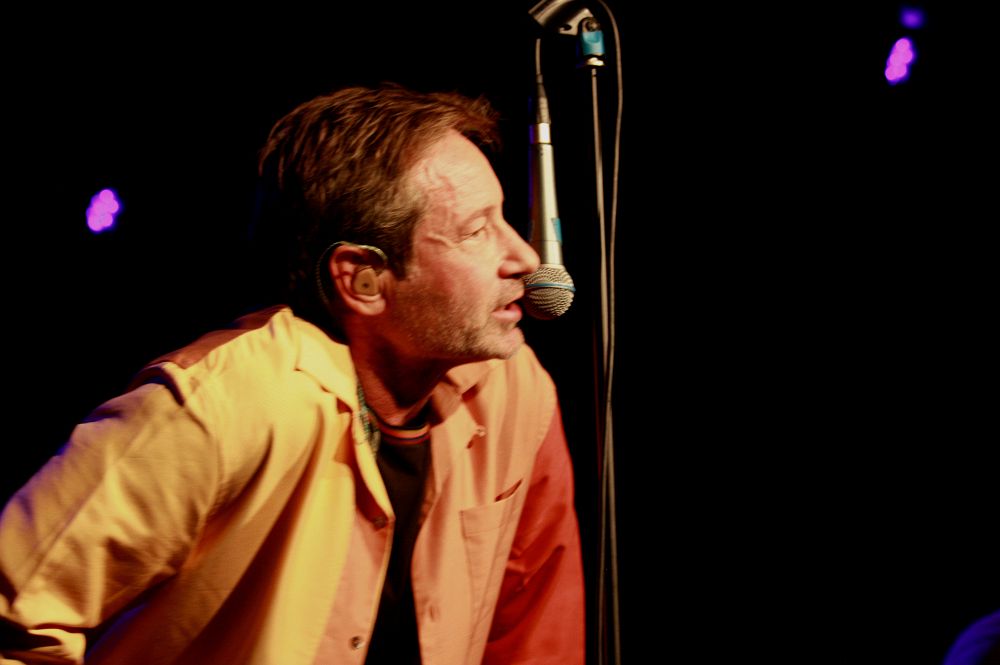 Große Freiheit 36, Hamburg, Germany
11th November 2023
David Duchovny and his band live in concert - Opening Act: Komodo

Golden Globe-winning actor DAVID DUCHOVNY has always been reluctant to limit himself to a single career, making his directorial debut on an episode of the television series that made his name, 'The X-Files', before moving into feature films with 'House of D'. As a bestselling author of literary and graphic fiction, he has also recorded three albums - 'Hell or Highwater' (2015), 'Every Third Thought' (2018) and 'Gestureland' (2021) - and this year embarks on his second European tour. Meanwhile, he is currently appearing on the big screen alongside Meg Ryan in the romantic comedy 'What Happens Later'. As part of the European Tour 2023 with his live band, Duchovny played two concerts in Germany, in Hamburg and Cologne. As an opening act, he invited an unusual exotic Rock and Roll band from the Netherlands, KOMODO.
Komodo

KOMODO is a vintage exotic Rock and Roll band from Holland. They make Psychedelic Rock mixed with Desert Blues, Surf Rock, Afro-Disco, Rumba and Indian Raga. KOMODO brings non-western sounds and rhythms, unexpected instruments and an amazing energetic live show. You'll hear Greek bouzouki, Arabic oud and West African kora, as well as flute and melodica, among others. When the band didn't have an album yet and only three tracks were online, they were already playing at well-known Dutch festivals. Now the band is rapidly spreading outside of Holland. The band has two main inspirers - Gino Bombrini (also a member of SKIP&DIE) and Tommy Ebben, who is an irreplaceable vocalist. After playing in clubs and festivals all over Europe, Gino left the live band but still writes and produces songs for the band together with Tommy. Sony Music is listed as the label behind the band.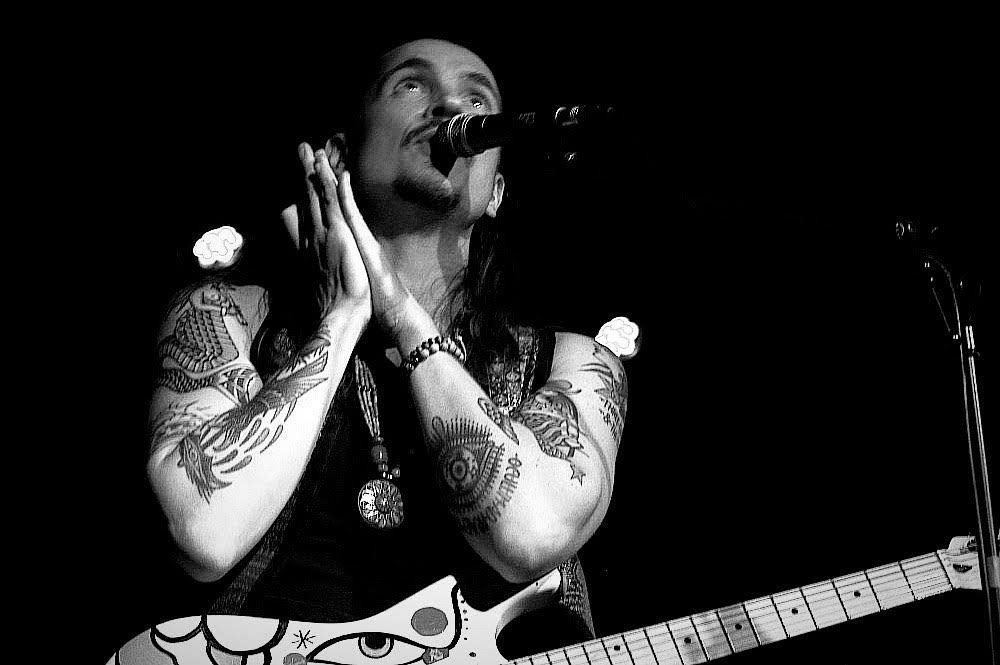 The current line-up consists of Tommy on guitar & vocals, Jody van Ooijen on drums, Menno Roymans on guitars, bouzouki, flute, percussion & vocals, Joris Ram on bass & vocals and Massimo Bombrini on percussion. Since the release of their debut album in 2019, KOMODO have performed at several prestigious festivals such as Noorderslag and Grasnapolsky. They have also performed at the renowned French festivals Transmusicales de Rennes and Printemps de Bourges. Last spring the band released their second album 'Barbarians'. The record is full of Psychedelic Indie Rock songs that make you want to dance the night away. Following the release of the album, KOMODO went on a club tour in the Netherlands. The new single 'Push & Pull' is currently blasting across the radio waves. Other songs from the album are also rapidly gaining popularity.
https://www.thebandkomodo.com
/
https://www.facebook.com/thebandkomodo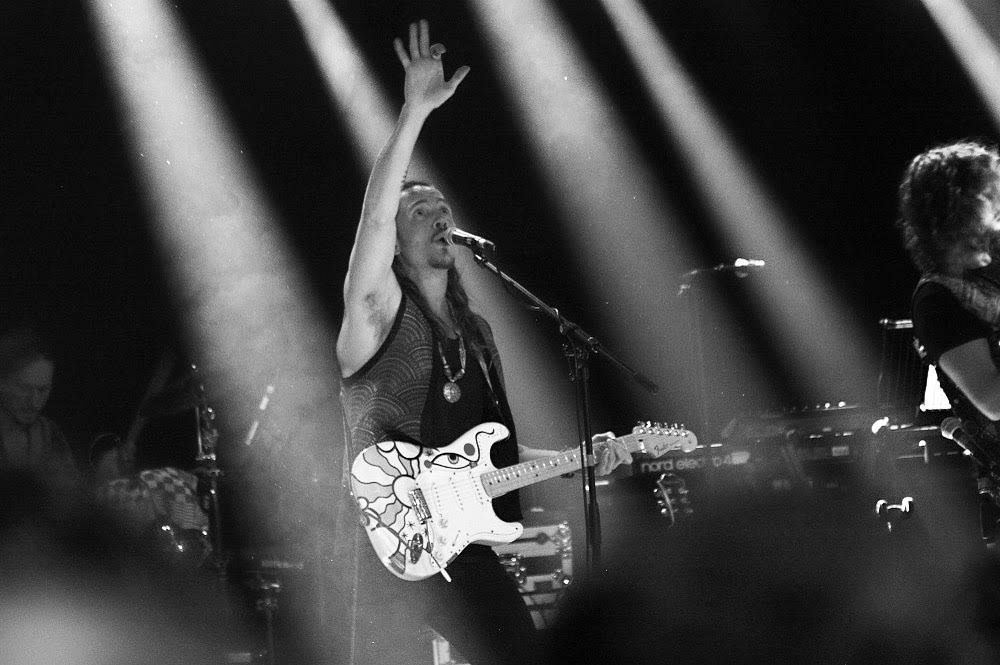 Music & Performance

What to say, the eclecticism of the band KOMODO immediately made a strong impression on me. Yes, many styles and directions are mixed, but it is done in a quality way. KOMODO creates, in their own words, "vintage exotic Rock'n'roll", firmly rooted in the sixties and seventies, but flavoured with style elements and instruments from faraway places. And this is the first thing that comes to mind at the sight of the musicians' boho-style costumes, the vocalist Tommy's manner of singing, and the sound in general - the romance of the 60s in an exotic role and presented in the most modern way. The setlist was a mix of the two albums. The songs from the new album such as 'Easy Prey', 'Lost Kids', 'Ghost Pilot' are influenced by Blues and Disco. 'Lost Kids' and 'Easy Prey' have already become hits on Dutch radio. The latter even made it to Radio 2 TopSong. However, my personal favourite is the first song of the setlist, 'Sharks', from the band's first debut album. 'Devil's Short Hand' and 'Bengali Crown' were also played.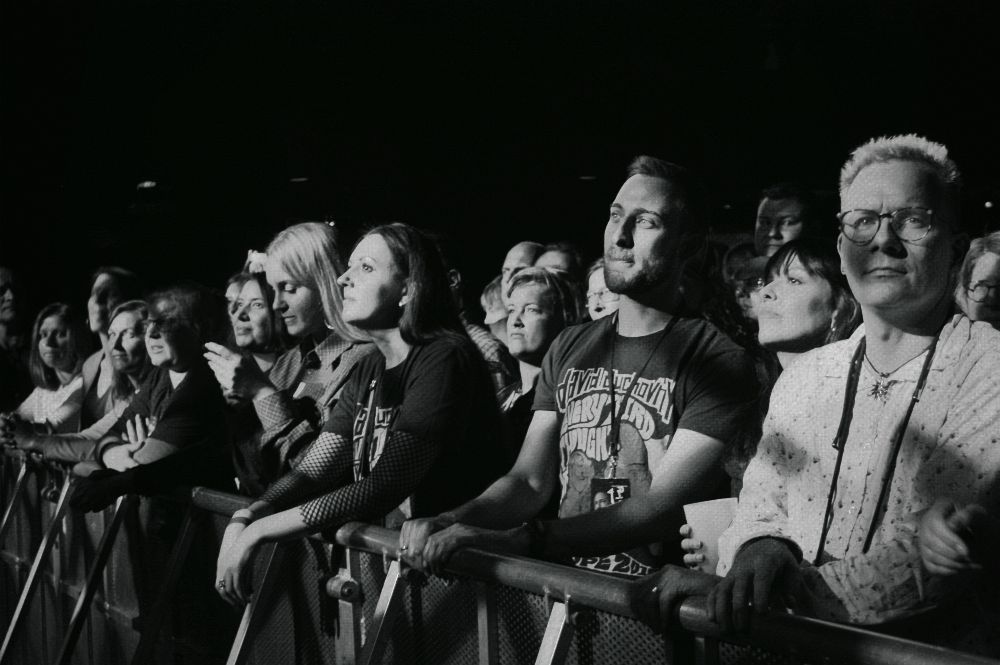 In general, the band has a very positive and attractive energy. The symbiosis of exotic instruments plays an important role in the perception, somehow touching the deepest corners of your mind, and all this is paired with the charisma of vocalist Tommy and the friendly cohesion and organisation of the band members. It was a pleasant surprise for me to get to know KOMODO, so I'm grateful to the occasion and DAVID DUCHOVNY of course, who invited the guys to warm up two concerts in Germany, in Hamburg and Cologne. Very soon KOMODO will return with solo concerts in Germany:
28.11. Hamburg Prinzenbar
29.11. Berlin Badehaus
30.11. Frankfurt Nachtleben
01.12. Cologne Tsunami Club
Tickets:
https://kj.de/artist/6074/Komodo.html
Rating

Music: 9
Performance: 10
Light: 8
Sound: 9
Total: 9 / 10
David Duchovny

DAVID DUCHOVNY's latest album, 'Gestureland', was released in 2021 during the pandemic. While the feelings on 'Gestureland' are intimate, the music is expansive: reminiscent of 70s Californian Pop, Alternative Rock, Folk and Country. With his two previous releases ('Hell or Highwater' from 2015 and 'Every Third Thought' from 2017), Duchovny earned much praise from critics. Allmusic called his music "eloquent, alt-rock-kissed country-folk in the vein of Wilco and the Wallflowers," while the Boston Globe praised Duchovny's voice, noting, "He sings with a hushed resonance and just a hint of rasp. He's quite profound". Duchovny in real life is a songwriter with a healthy sense of humour - nods to the compliments, but follows his own humble methodology: "I finish a record, and then I sit down, listen and say, Yeah, it's really nice melodic stuff. What more could you want?"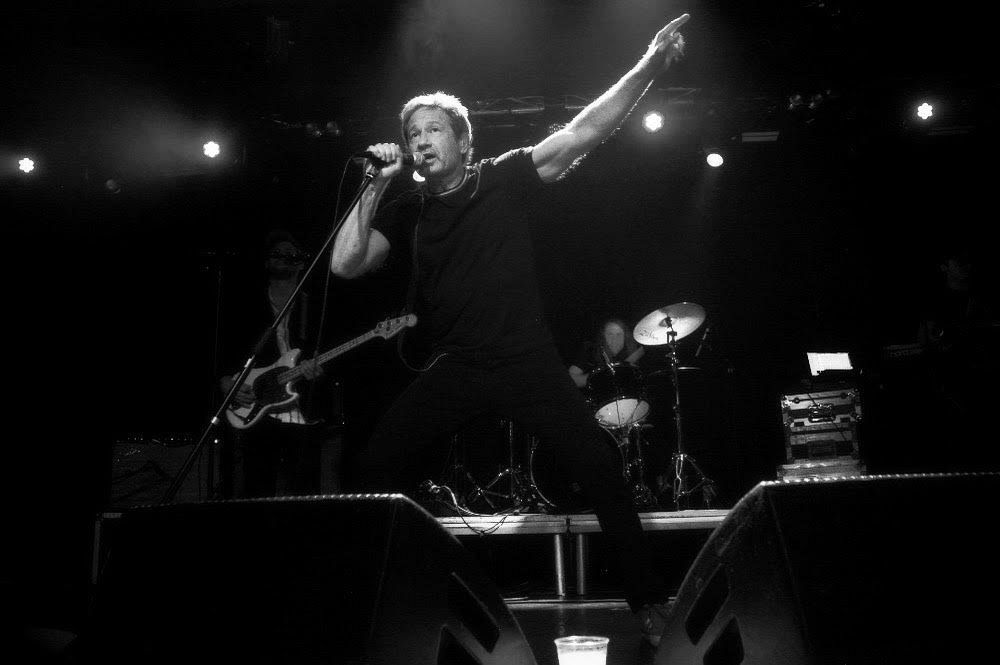 They helped achieve all these sounds: Colin Lee, Mitch Stewart and Pat McCusker, three former Berklee College of Music classmates and longtime studio musicians who have worked with Duchovny on all of his records. "David has so much joy in making music, and his lyrical approach and way of looking at songs is like poetry," Lee says. "He creates things that inspire us as musicians." Since the release of 'Gestureland', Duchovny has published a new novel ('Truly Like Lightning'), a novella ('The Reservoir') and the graphic novel 'Kepler'. He has also made his own novel, 'Bucky F*cking Dent', into a film, which premiered at the Tribeca Film Festival.
https://www.davidduchovny.com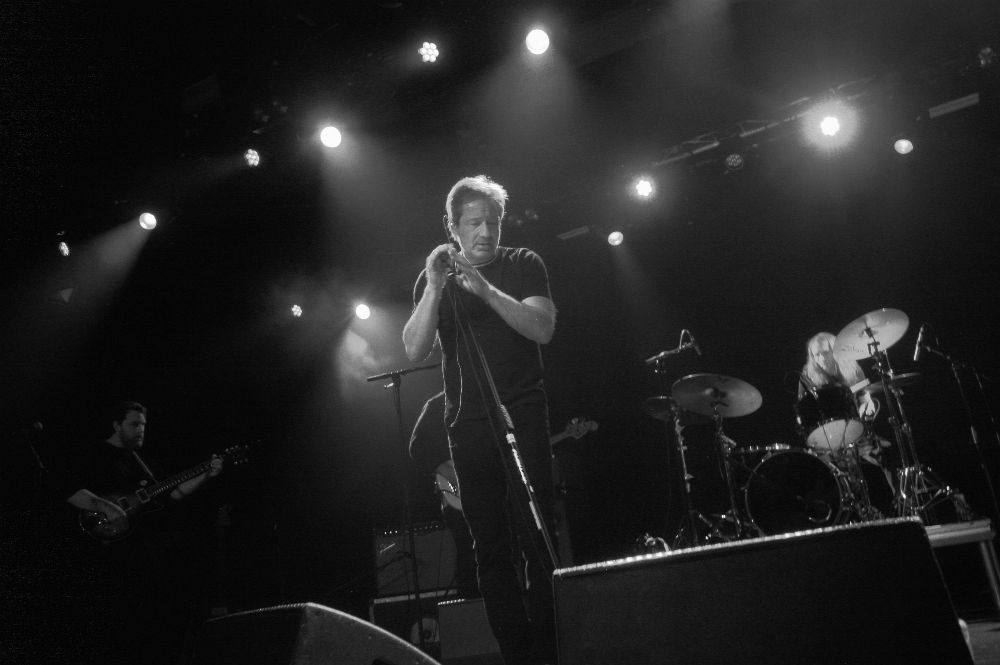 Music & Performance

"I like the live performances to have a flow in and out of tempo; in and out of feelings; in and out of a rock song, where you're dancing around, to a ballad, hopefully where you're being moved or listening to the lyrics" – DAVID DUCHOVNY. First of all, you have to know that music has been an important part of DUCHOVNY's life since his youth when he would attend concerts in his native New York. He particularly recalls the excitement of securing a ticket to see PETER FRAMPTON at Madison Square Garden in 1976 at the height of his success. According to David, it was like magic to see big artists live when he was a teenager. Back then you couldn't see them on TV often, you couldn't make your Spotify list and listen to your favourite artists all day. He is also a longtime fan of the ROLLING STONES, BOB DYLAN, TOM PETTY, AIMEE MANN, and MICK JAGGER. By the way, it seems to me that David adopted Jagger's stage behaviour for his performances.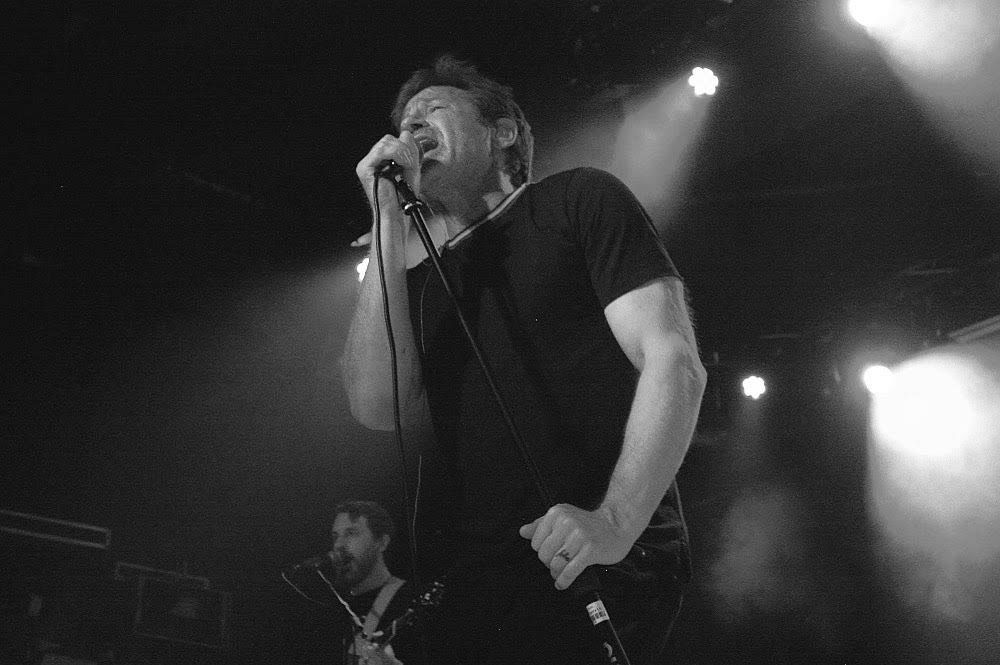 Could I have ever imagined that I would photograph the singing "Agent Mulder"? This would have been fantastic in my childhood. But now this is reality, and I am infinitely glad that I was able to see one of my childhood idols from the other side, from the side of music, which for me is also the air. After a brief technical pause, David appeared on stage. He calmly walked out and waved to the crowd with a big smile on his face. My thoughts that most people came to see David solely because of his big name were quickly dispelled. I was pleasantly surprised that the audience knew almost all of his songs by heart. He seemed to be a little surprised himself from the stage when he remarked that "you have prepared well for our meeting". David has repeatedly said in interviews that it is very important for him that people who come to his concerts are interested in him not only as an actor, but that they are interested in his music, that people like the music and the atmosphere.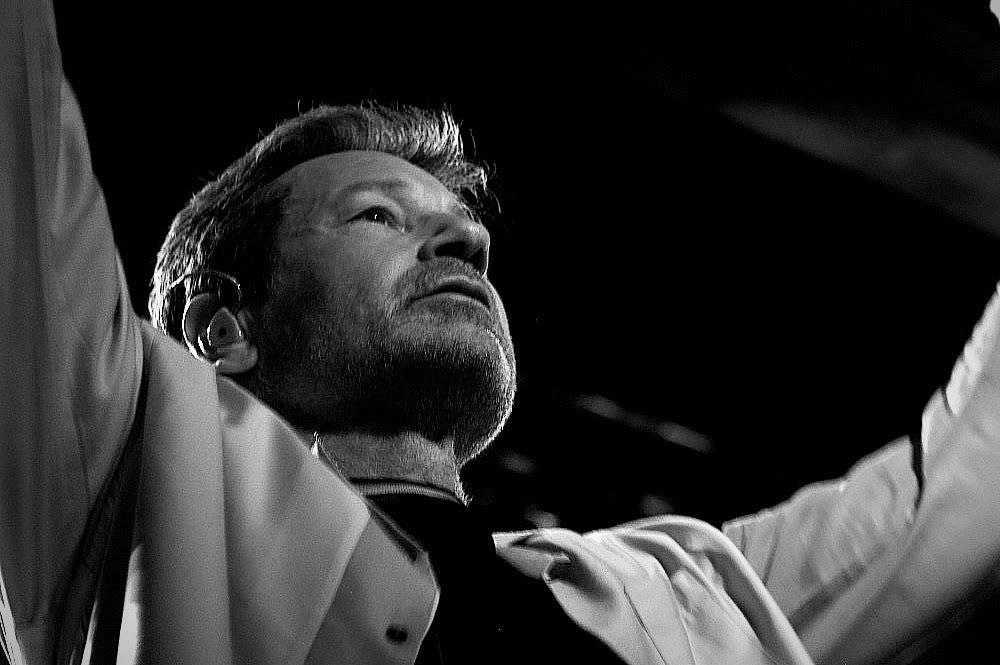 With material from three albums at his disposal, Duchovny was able to plan a set list that ranged from a wide variety of moods and genres, from dynamic Rock songs to quiet ballads. Duchovny finally seems to have found material that perfectly suits his voice, ranging from solid above-average songs to surprisingly strong Rock songs with Country and Folk elements. Such as the seemingly heavy 'Nights Are Harder These Days', the simple and cosy 'Mind of Winter', the brass-infused, hauntingly pensive and softly arranged 'Holding Patterns', or the surprisingly pleasant ballad 'Stay Until'. The fateful 'Every Third Thought' lit up the hall with its swagger, while 'Strangers in the Sacred Heart' plunged into reflection and captivated with vivid imagery. A mixture of blues and dirty tones came to the fore on 'When The Whistle Blows', with a dirty sound and rumbling, occasionally showing the distance between vocals, musicianship and live experience.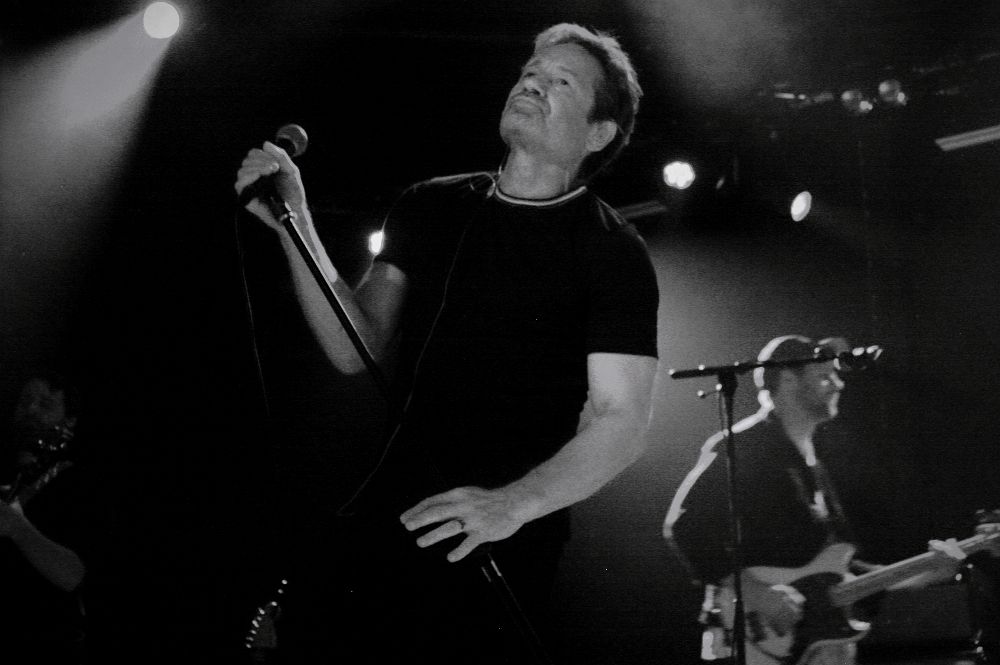 During his performance, Duchovny kept the audience under his charming and confident control. He has great stage skills and great charisma that allows the audience to become enamoured with his music. His voice is at times rich with a beautiful timbre, really drawing the audience in to the lyrics. Some audience members were affected by David's charisma so much that they couldn't contain themselves. For example, it was very funny when a drunken bald man behind the bar shouted to David across the room that he wanted to have children with him. Oh, David, what are you doing to us? While Duchovny is not a natural vocalist, he has shown himself to be quite good, and isn't that what the Blues is all about? Of course, his vocals need some improvement. However, he proves to be a more than capable professional frontman. He is glowing with happiness performing his songs in front of the fans and it is a great experience to be at his concert, to see a different side of him, and of course to join in the fun.
Rating

Music: 9
Performance: 10
Light: 9
Sound: 9
Total: 9.3 / 10
All Pictures by Iryna Kalenska
See also (all categories):