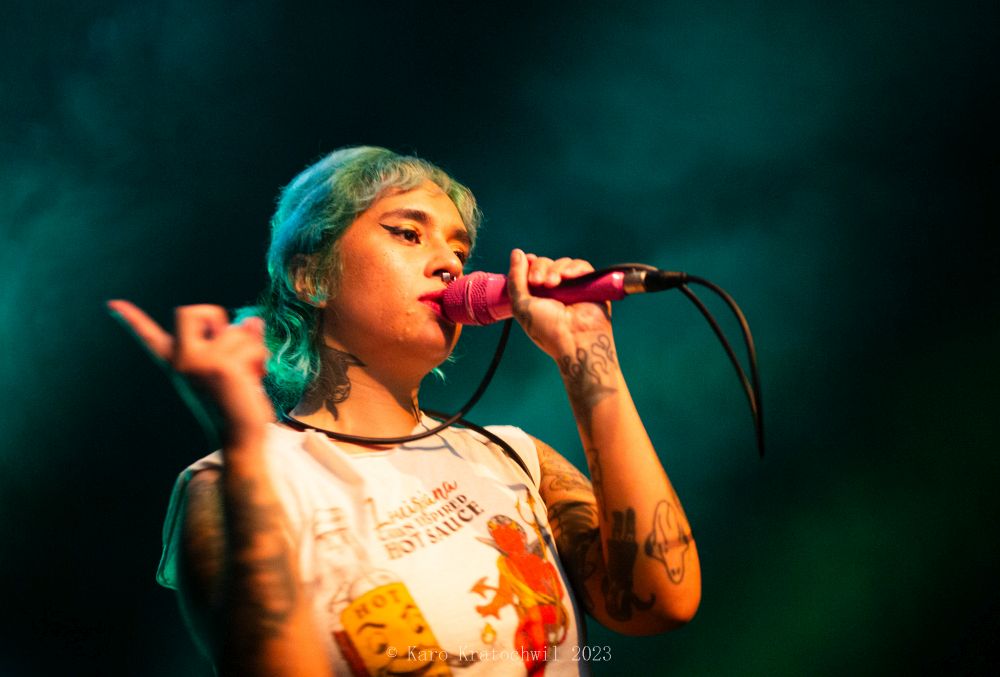 Das Rind, Rüsselsheim, Germany
11th November 2023
Cold Transmission Label Night with SYZYGYX, Kalte Nacht, Incirrina

These days, it's a rare occasion for me to travel nearly 900 kilometres by car to attend a concert, but I made an exception for this event. The Cold Transmission Label is comprised of a couple of incredibly dedicated and wonderful individuals who excel at promoting high-class music, and that's precisely how this event was organized.
Das Rind is a medium-sized club with excellent amenities: captivating lighting, top-notch sound systems, an amiable staff, friendly bartenders, and efficient security - coupled with a minimalist interior. It proves to be highly suitable for concerts. The club has welcomed numerous outstanding guests, making it a highly frequented and well-known scene.
I arrived in Rüsselsheim on Friday evening, and after an 8-hour car journey - regardless of the quality of the company and music served - I was thoroughly exhausted. On Saturday, I made a brief visit to Frankfurt: yup - they are still constructing new floors to the already high skyscrapers. The rest of the day was dedicated to preparing for the concert. Fortunately, we were just two minutes away from the club, making it easy to get there right at the beginning of the concerts. The projects scheduled to perform in the evening were SYZYGYX, KALTE NACHT and INCIRRINA - upon first glimpsing the line-up, the immediate expectation that crossed my mind was an evening filled with duets. Each of the featured projects promised the combination of exceptional vocalists and skilled gentlemen at the helm of the controls. This dynamic added a captivating harmonious accent to the entire event.
Incirrina

INCIRRINA is an Electronic / New Wave synth band hailing from Athens, Greece. The group was founded by Irini Tiniakou, responsible for synthesizers and vocals, and George Katsanos, handling bass synth, drum machine, samples, and vocals.
https://www.facebook.com/Incirrinaband
Music & Performance

INCIRRINA was the opening act for the evening, making a unique and eye-catching entrance. The duo performed amidst a backdrop of white and red lights, not only showcasing the array of instruments used but also delivering a visually stunning show.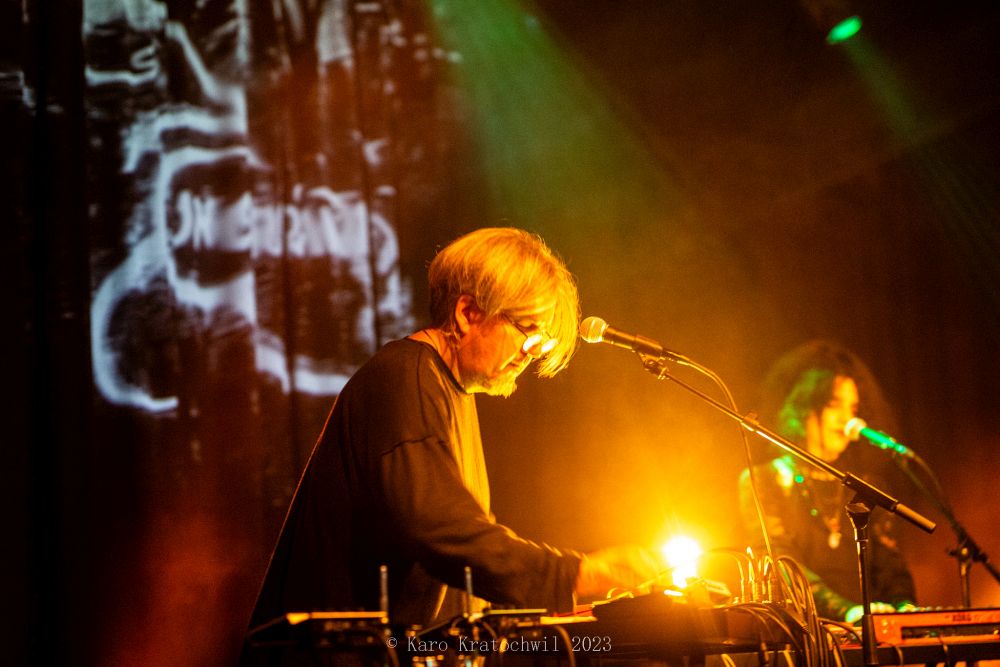 The magnificent, charismatic singer, Irini Tiniakou, seamlessly blends energy and passion with the poetry and theatricality of her performance. Superbly dynamic yet fragile and delicate simultaneously, she takes centre stage, perfectly complementing the balanced presence of George Katsanos. Musically, it is a fusion of cold synthesizers, vibrant energy, and pulsating beats. The vocals, oscillating between warm melodies and powerful screams, not only reach the listener but also cut through the musical layers, leaving a lasting impact. Fantastic opening, bravo!
Setlist
01. The Angel
02. Only One Smile Alone
03. True Love Doth Pass Away
04. Shrapnel Words
05. London
06. Hatred
07. Not Live
08. Careworn Face
09. Dance Of The Dark
---
10. R.Daneel
Rating

Music: 9
Performance: 8
Light: 8
Sound: 9
Total: 8.5 / 10
Kalte Nacht

KALTE NACHT emerges as a Dark Synth Wave duo hailing from Greece, comprised of Nikos Konstantinidis (synths, bass & backing vocals) and Myrto Stylou (vocals). Initially conceived as a solo project by Nikos Konstantinidis, the ensemble found its completion in 2018 with the addition of Myrto Stylou, who brings her captivating vocals to the forefront. This charismatic duo channels their energy and inspiration into the contemporary realms of dark wave and synth wave sounds. The dark lyricism in Myrto's vocals coherently complements the analogue cold sounds and arrangements crafted by Nikos.
https://www.facebook.com/KalteNachtDuo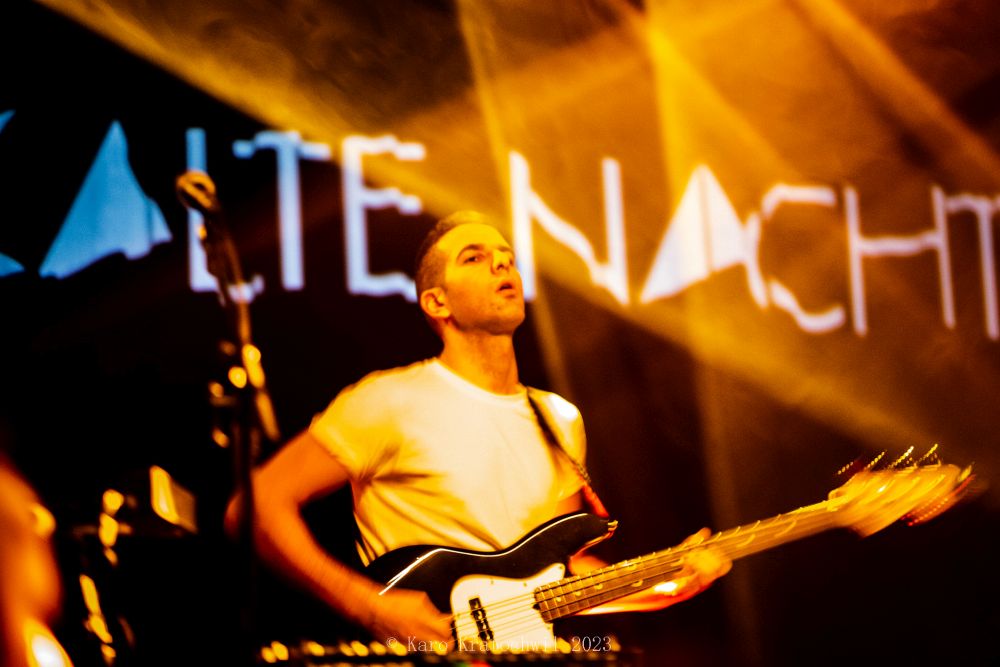 Music & Performance

For those who appreciate sonic innovation, an unrelenting display of breath-taking energy, and a fusion of ultra-fast sounds with profound, penetrating vocals that both captivate and send shivers down your spine, this is the project for you. Myrto and Nikos form an equal and dynamic team on stage, each contributing a unique dimension to the performance. Myrto, a captivating presence on stage, exudes dramatic flair, incredibly expressive facial expressions, and a vocal delivery that resonates deeply. In contrast, Nikos embodies pure energy, radiance, and stage exuberance. The absolute integration of light and dark, complexity, and musical and visual contrasts left me utterly enchanted. An exceptional performance - please continue to deliver more!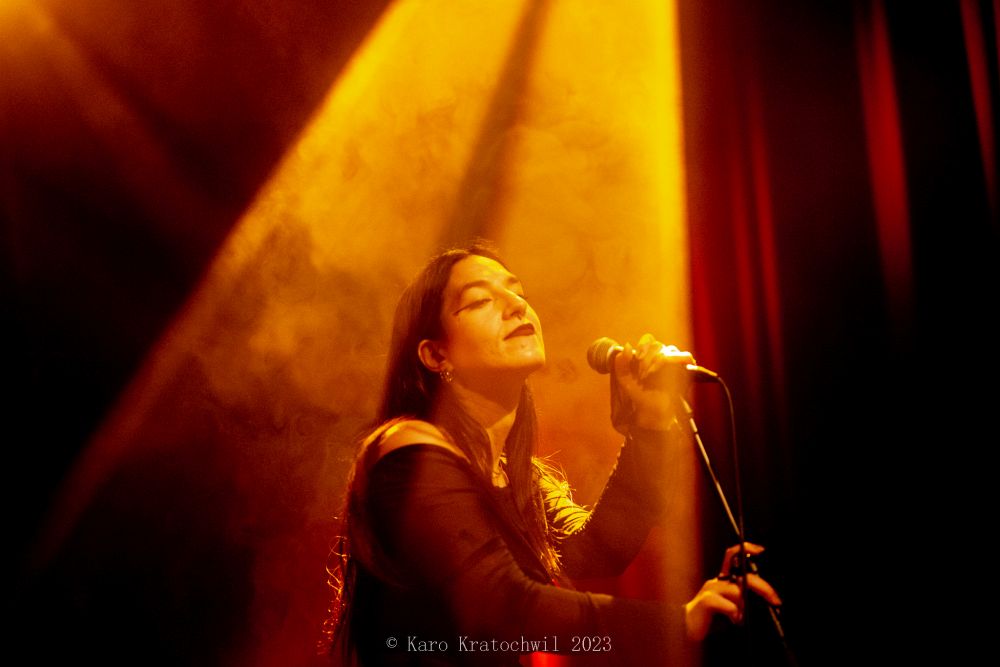 Setlist

01. Intro- Kalte Nachte
02. Rare Obsession
03. Sanctum
04. Our Moments are Answers
05. Humans are mistakes
06. Ghost Dance
07. Where the Deep Seas Meet
08. The Last Breath
09. Inmost Desire?
---
10. Dare to Defy
11. Runaway
12. Nychta Skia
Rating

Music: 9
Performance: 9
Light: 9
Sound: 9
Total: 9 / 10
SYZYGYX

SYZYGYX, the solo project of Luna Blanc based in Washington, DC, delivers post-apocalyptic soundscapes with Electro-Pop synth lines and haunting minor scale hooks. Founded in 2018, SYZYGYX' musical journey explores diverse sounds, transcending genre boundaries. In 2018, the project's debut EP was released on Cleopatra Records, followed by the album 'Fading Bodies' under Negative Gain Productions (US) and Cold Transmission (EU) in October 2019. Continuing her sonic exploration, Luna released the single 'Cold Touch' in June 2020, preceding her album '(Im)mortal' under Cold Transmission. SYZYGYX presents a dynamic 2-piece live show. While Luna operates as the solo producer, she collaborates on stage with Corey, her partner in both life and their musical endeavours.
https://syzygyx-music.com
/
https://www.facebook.com/syzygyxmusic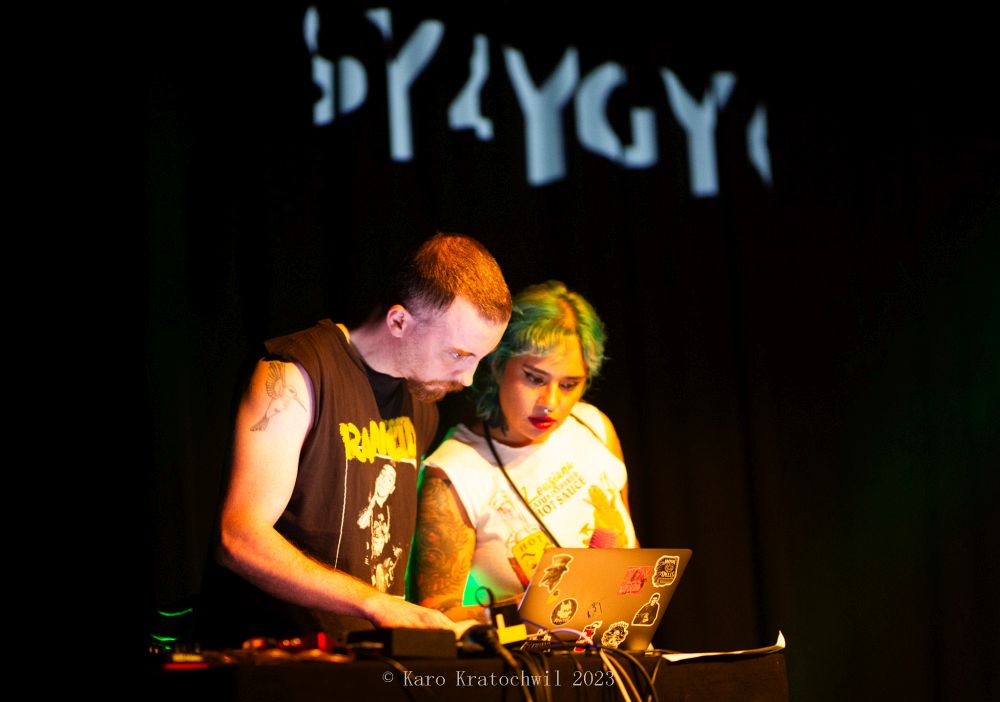 Music & Performance

Anyone who hasn't witnessed the SYZYGYX project live is in for a shock. Luna is a true stage dynamo, flawlessly blending a slightly cartoonish outfit with an outstanding and utterly overwhelming energy that is simply irresistible. The music, both catchy and lively, paired with vocals that encompass every possible range of expression - singing, screaming, laughing, giggling, joking, effortlessly navigating high and low registers, effortlessly transitioning from cold to warm - leaves no room for breathing or boredom. The music itself, vibrant and multi-layered, is a masterpiece. As for the concert, Luna is undoubtedly an artist who doesn't hold back on stage - interacting with the audience, dancing, and actively participating in the show. It was a captivating performance!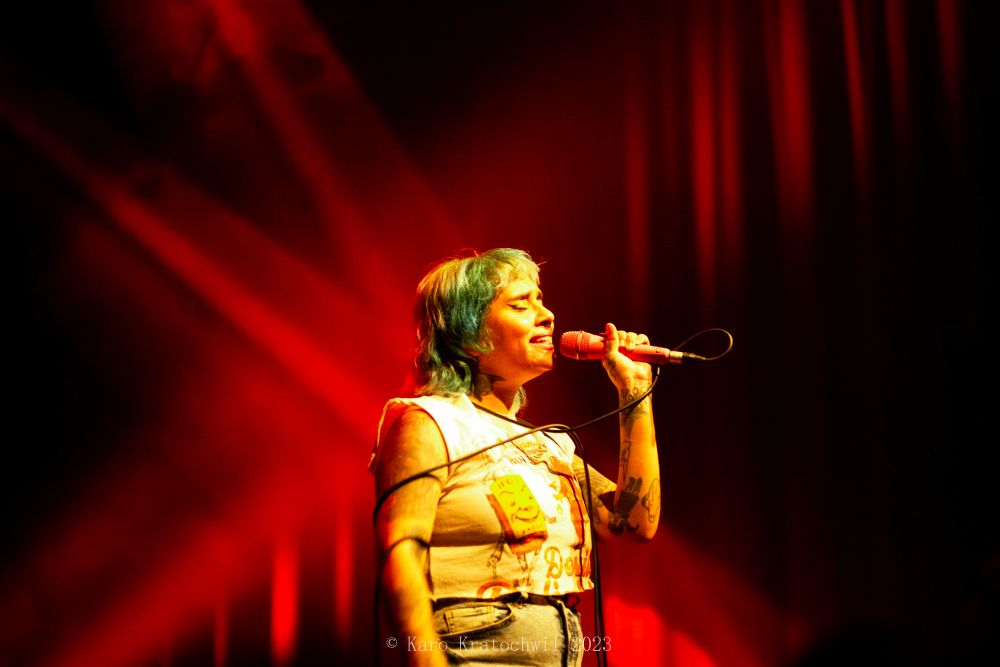 Setlist

01. Cold touch
02. In pieces
03. Deeper
04. Lovely deadly
05. Unknown humanoid
06. Self sabotage
07. Gimme chaos
08. Die like a rockstar
09. Can't kill me
10. Old Karambit
11. Hold tight
12. Dangerous creature
13. Heart frequencies
14. Immerse in doom
15. Play with fire
16. Snake and poison
17. Blurred visions
Rating

Music: 9
Performance: 9
Light: 9
Sound: 9
Total: 9 / 10
After the concerts, there was an afterparty, and the following day, many of us gathered for breakfast, providing a fantastic conclusion to the event. The organizers, Suzy and Andreas from Cold Transmission Label, personally approached the participants and inquired about their impressions - an appreciated gesture that contributed to a warm and familial atmosphere. The event was not only artistically delightful but also socially engaging. Many thanks for the abundance of warmth and beautiful music. Given the cyclical nature of the event, I can confidently say, "See you next year!"
All Pictures by Karo Kratochwil
See also (all categories):