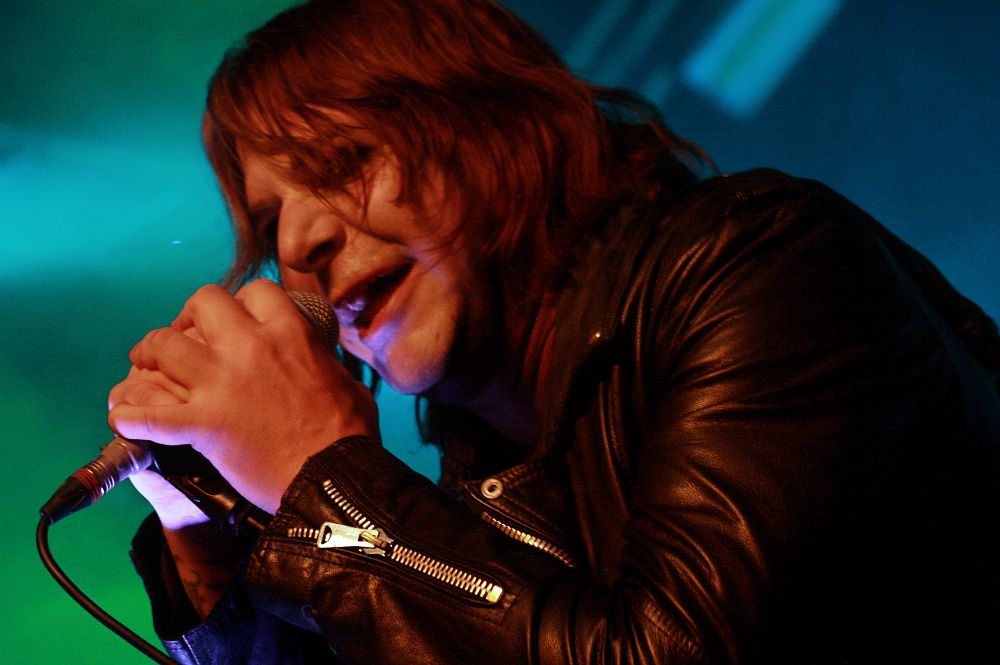 Markthalle, Hamburg, Germany
4th November 2023
Deathstars - "Everything Destroys Europe Tour 2023" - Special Guests: Priest - Opening Act: Liv Sin

It took almost nine years for the Swedish Dark Metallers to release a new album. 'Everything Destroys You' is the name of the album and is the band's fifth release in total. The album contains everything that characterises the band's sound: adrenaline, bombast, sex and glam! Their diverse musical spectrum ranges from electric, lightning-fast tracks full of fun, action and adrenaline to dark ballads and deep black humour. The supporting programme featured the bands PRIEST (Synth-Pop) and LIV SIN (female-fronted Metal), also from Sweden.
Liv Sin

LIV SIN is a Swedish Heavy Metal band (Liv Jagrell ex SISTER SIN). In 2016 singer Liv Jagrell let the world know that she had formed a new band. LIV SIN is heavy and driven of massive guitar riffs. Liv's previous band, SISTER SIN, called it quits in 2015 after 13 years of touring, supporting bands like SLAYER, KING DIAMOND, MOTÖRHEAD, ARCH ENEMY, DORO and U.D.O. LIV SIN has now released three albums: 'Burning Sermons', produced by Emil Nödtveidt (DEATHSTARS), the debut album 'Follow Me' in 2017 (produced by Stefan Kaufmann & Fitty Wienhold) and 'KaliYuga' in 2023 released through Mighty Music, mixed & mastered by Tue Madsen. Front women Liv both ethereally sings and screams out her inner frustrations and conversations when she reflects on the world today and her own inner journey, with a deep longing for a better world.
https://www.livsinofficial.com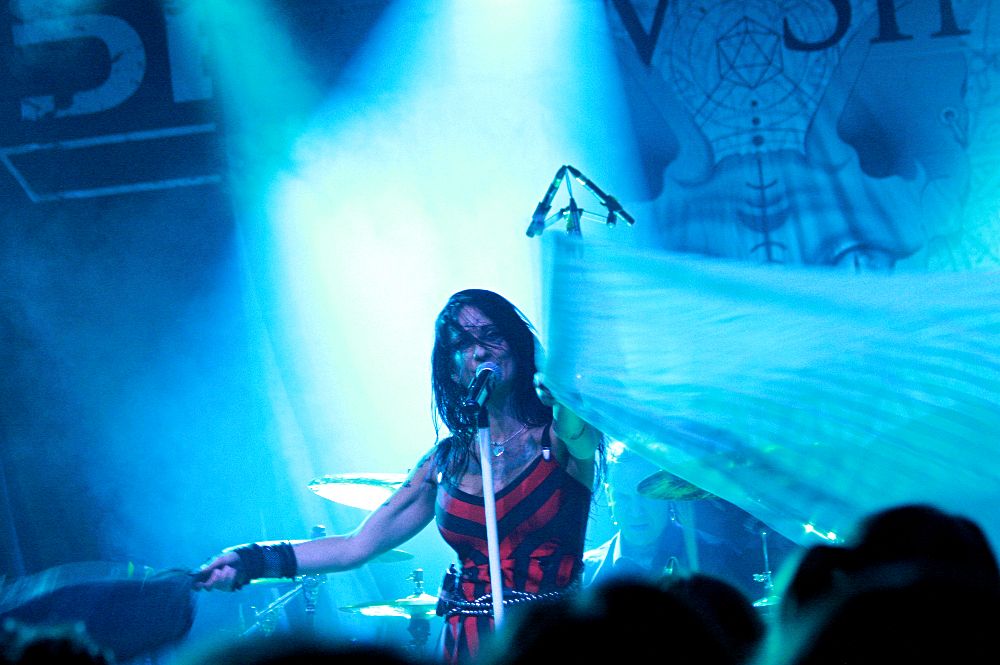 Music & Performance

Vocalist Liv Jagrell has managed to put together a modern Metal band that stays true to Swedish Dark Metal traditions. This can be felt in everything, both in her stage role and in the sound of her compositions. On stage she is extremely energetic and mobile, it's an endless flow of energy, which falls on you from the first notes. One of the latest works is a cover of DEATHSTARS song 'Synthetic Generation', apparently created especially for this tour. In my opinion it's a very successful variation of the much-loved DEATHSTARS hit. Also, the band has very beautiful and creative art design, with Egyptian cats. Of course, it couldn't pass me by.
Rating

Music: 8
Performance: 8
Light: 8
Sound: 9
Total: 8.3 / 10
Priest

PRIEST is a Swedish Synth-Pop band from Stockholm. The first PRIEST album entitled 'New Flesh' was released on 17 November 2017 and featured guest contributions from former GHOST musicians. With PRIEST a fresh new band appeared some time ago in the scene. But even as their first album has been released in November 17th, 2017, behind the masks of its three members you will find some very experienced musicians.
https://priestnexus.com/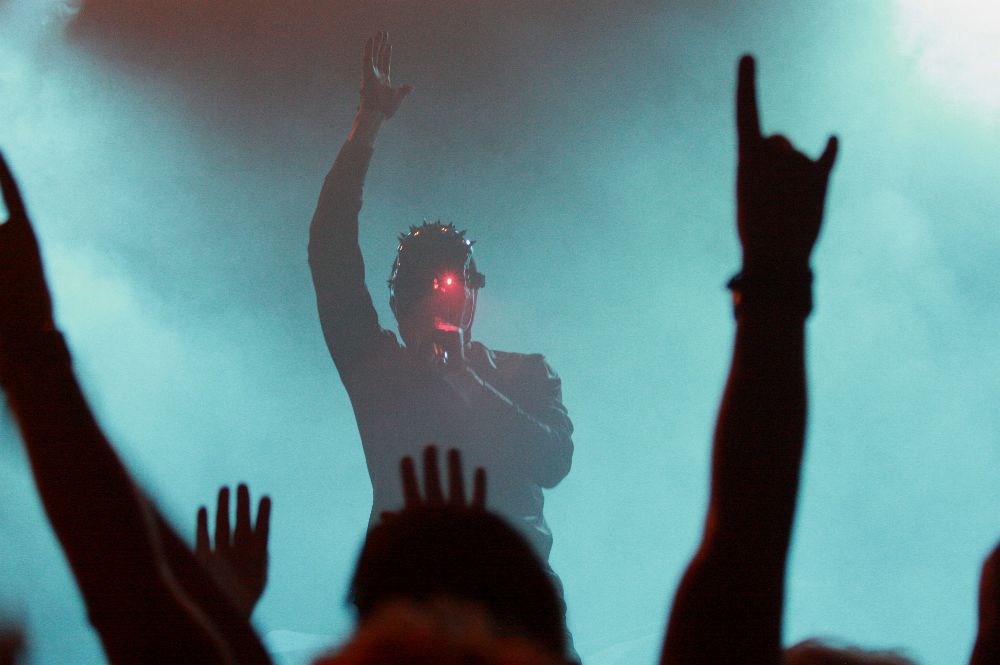 Music & Performance

The people behind PRIEST haven't been very forthcoming about their identities, so it's a bit confusing following the timeline of the band. It is known that as of 2019 the band has a new vocalist, Linton Rubino, who is the main driving force behind the project. PRIEST's first incarnation had a higher tempo and a much stronger dancefloor sound than what we're hearing today. Some of their best-known tracks are 'History in Black', 'Obey', 'The Cross', and an excellent track 'Neuromancer', we were lucky enough to hear all these songs at Markthalle.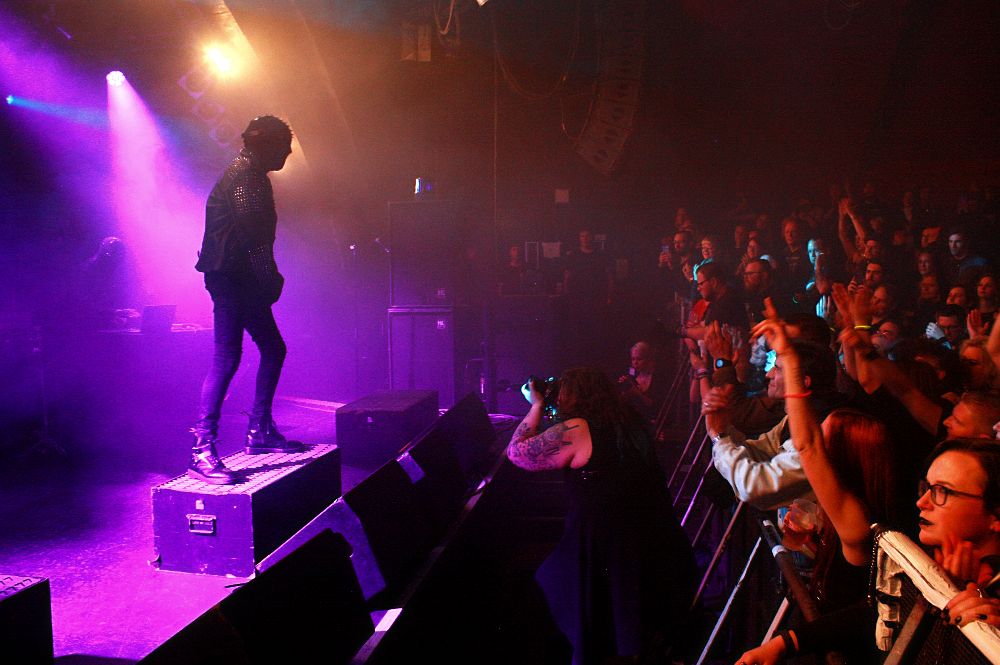 I personally know many people who came to the club that night partly because of PRIEST. And that's not surprising. Their performance is very spectacular. The first time I saw their show was at the COMBICHRIST warm-up. But I didn't photograph them then and wasn't that closely involved in the event. But now, I'm completely absorbed in the music and the performance and it's just a fascinating experience. Stylish, wild, sexy, empathetic, melodic. There is probably some truth in the musicians' statement that without the masks there would not be such a strong effect.
Setlist

01. The Pit
02. Neuromancer
03. A Signal In The Noise
04. Blacklisted
05. The Cross
06. Obey
07. Burning Love
08. History in Black
09. Vaudeville
Rating

Music: 9
Performance: 10
Light: 8
Sound: 9
Total: 9 / 10
Deathstars

DEATHSTARS began in 2000 in the Swedish town of Strömstad. The band writes lyrics with a dark horror theme and uses face paint, uniforms and is also linked to the gothic theme. Their sound is constantly compared to RAMMSTEIN's work and the Swedes have even been the opening band for the Germans on several occasions in Europe. Known for their energetic Rock'n'Roll shows, which the band describes simply as "Scandinavian Deathglam", DEATHSTARS have won awards such as the highly prestigious "Metal Hammer Golden God Award", completed arena tours with the likes of RAMMSTEIN and KORN and toured the world time and time again. In over 20 years, the Swedes have not only created their own legacy and a worldwide following, but have also inspired many other bands with their uniqueness and glamorous magic. Although the new release is progressive in its own way, it remains true to their vision and distinctiveness that is so charmingly and unmistakably DEATHSTARS.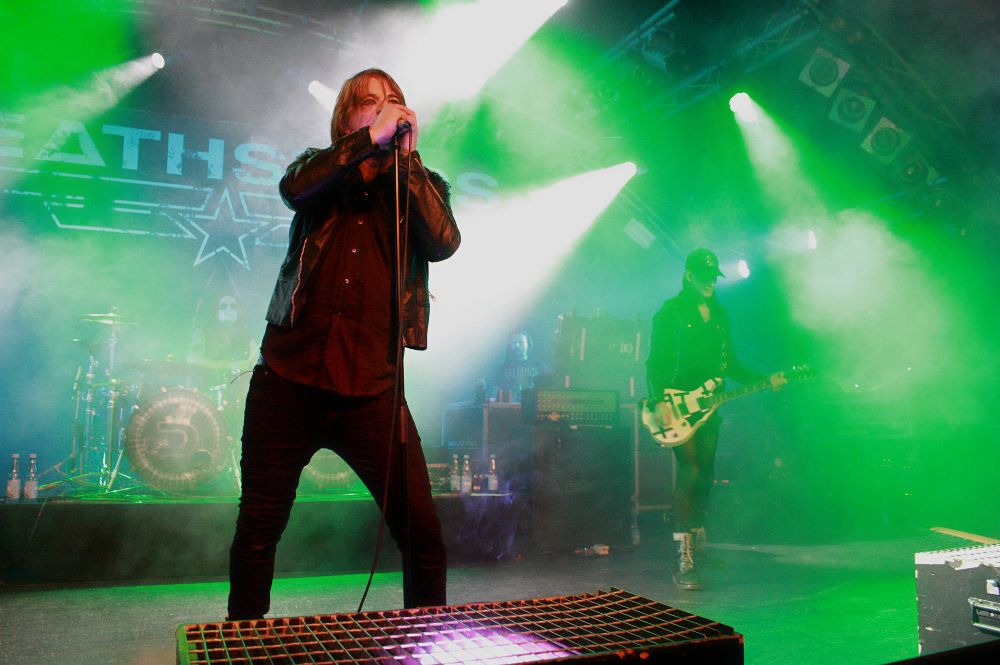 'Everything Destroys You' was released worldwide on 5 May by Nuclear Blast Records and received a national release in partnership with Shinigami Records. The 10-track disc is the successor to 2014's 'The Perfect Cult'. Nightmare Industries, the guitarist, explains about the eight years between releases: "We simply wanted - and needed - a break after an intense tour and on top of that, we had the pandemic, so the tours were postponed and the release with them, so it's fantastic to finally be able to present 'Everything Destroys You'." The new album delivers exactly what the inclined listener has been waiting for: synthetic-industrial Gothic Metal with catchy melodies and a full sound as well as a whole load of "sex & glam". It feels like every song is an attempt to create another catchy tune. And this calculation also works. Whiplasher's pleasantly dark voice is particularly appealing to anyone who has previously enjoyed the sound of Peter Steele (TYPE O NEGATIVE) or Andrew Eldritch (THE SISTERS OF MERCY).
https://www.deathstars.net/
Music & Performance

So, in Hamburg's Markthalle we had a great opportunity to appreciate the new album live, of course mixed with the band's time-tested hits. When the air was pierced by the light sound of keyboards and the stage was greenlit, Skinny, Nightmare and Nitro took their positions, but the party officially started when Whiplasher took the stage and opened the show with 'Night Electric Night', from the band's third studio album. Of course, songs from the new album like 'This Is', 'Midnight Party' or 'Everything Destroys You' were played, which sound in typical DEATHSTARS style, but the more experimental tracks from the new album like 'The Infrahuman Masterpiece' or 'Angel Of Fortune And Crime' were unfortunately not played live.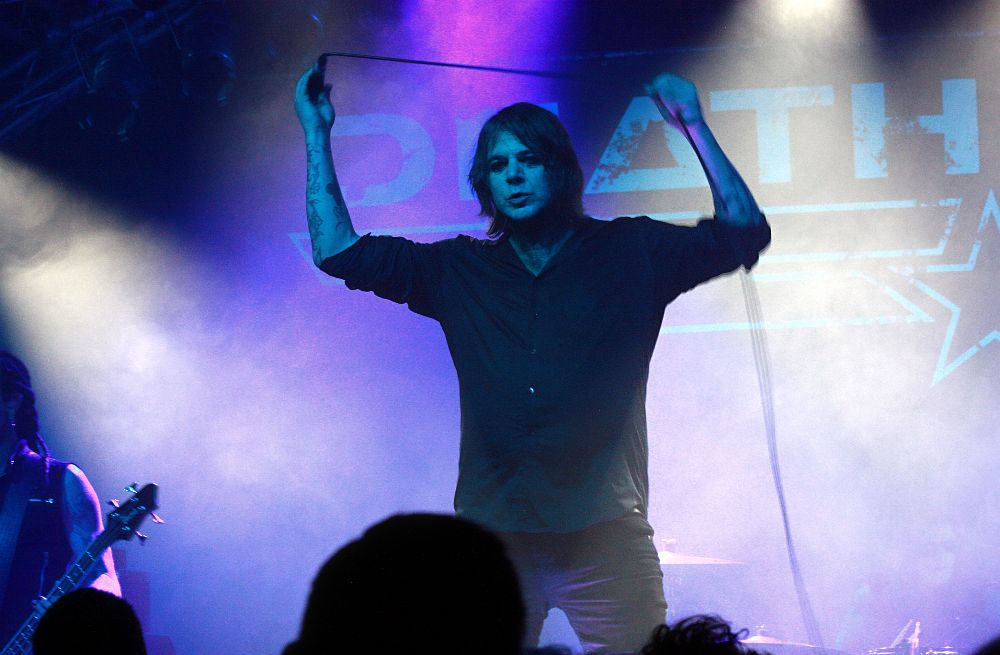 The audience gave a lively welcome to the stars of the evening and showed even more enthusiasm when they took us back to the days of 'Synthetic Generation', performing 'New Dead Nation' and the eponymous 'Synthetic Generation'. The whole show was electrifying and although Markthalle wasn't completely filled, the band really put their best foot forward. With Skinny and Nightmare doing crazy guitar moves and vocalist Whiplasher running all over the stage, it seemed like the band were having a blast and that they were really happy to be back on the road. In between songs Whiplasher flirted with the audience, and he smiled indecently at me into the camera, which made us laugh at each other. The band captured the atmosphere of their music perfectly.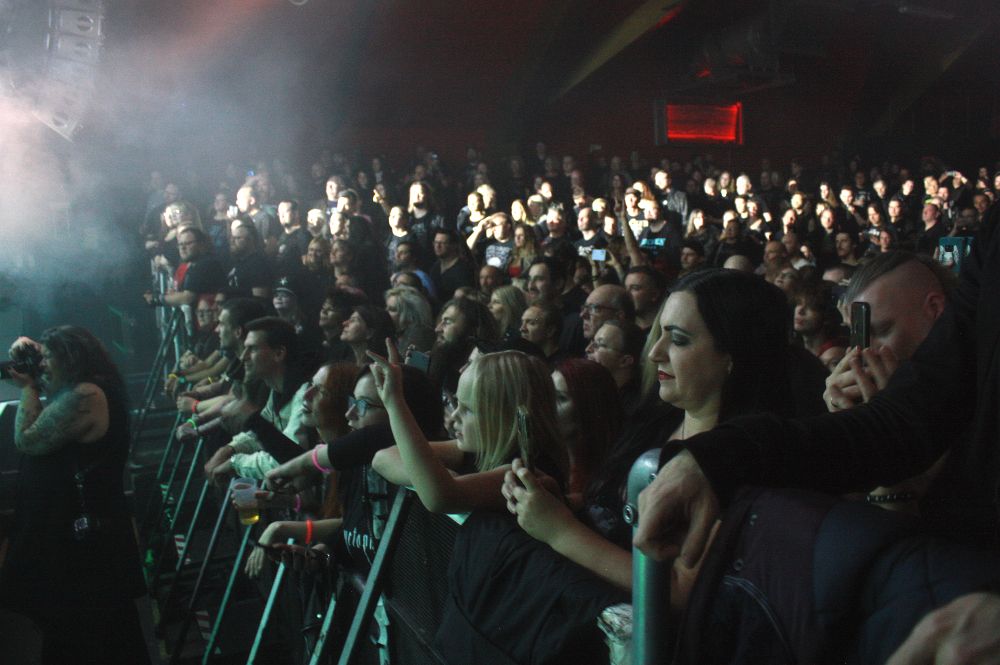 They came back for an encore of the colourful 'Blitzkrieg', and the legendary 'Cyanide', which had the fans going crazy. Well, it was an amazing show. See you all again DEATHSTARS and hopefully there will be no more such long pauses between tours.
Setlist

01. Night Electric Night
02. Between Volumes and Voids
03. All the Devil's Toys
04. Ghost Reviver
05. Midnight Party
06. Tongues
07. The Greatest Fight on Earth
08. Death Dies Hard
09. This Is
10. New Dead Nation
11. Fire Galore
12. Metal
13. Synthetic Generation
14. Everything Destroys You
15. Blood Stains Blondes
16. Chertograd
---
17. Blitzkrieg
18. Cyanide
Rating

Music: 9
Performance: 10
Light: 9
Sound: 9
Total: 9.3 / 10
All Pictures by Iryna Kalenska
See also (all categories):