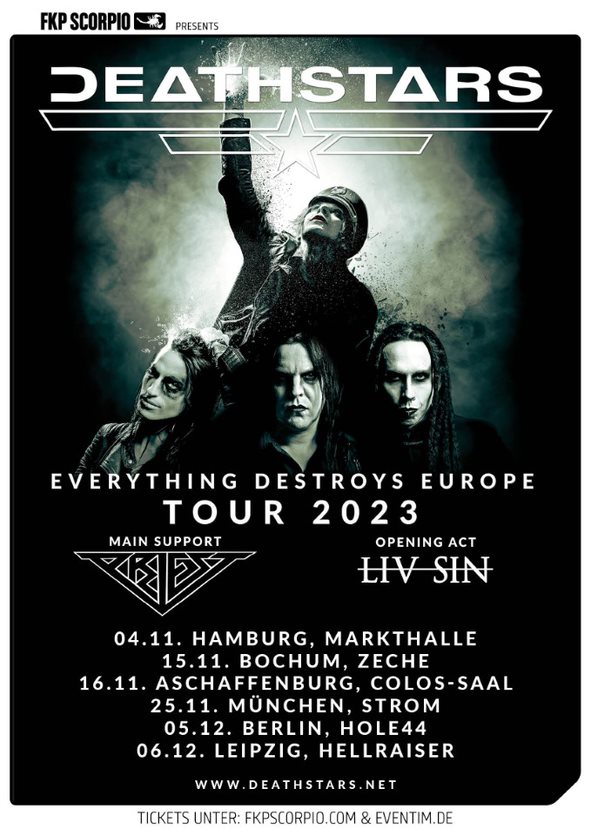 Markthalle, Hamburg, Germany
4th November 2023
Deathstars - "Everything Destroys Europe Tour 2023" - Support: Priest, Liv Sin

DEATHSTARS are back! The Swedish Industrial Metallers are back with a new record. 'Everything Destroys You' is the first release after almost nine years, and immediately falls into the house with the rusty steel door. The long-awaited comeback brings everything that makes DEATHSTARS tick: adrenaline and fear, bombast and dystopia, party night and horror, sex and glam. The musical spectrum ranges from electric, lightning-fast highways of fun, action and adrenaline to darkness and deep black humour.
"Of course, there are reasons why it took so long. We simply wanted - and needed - a break after the intense tours. On top of that was the pandemic, so the tours were postponed and the release with them," says lead guitarist Nightmare Industries Nödtveidt. But now DEATHSTARS are back and with a full line-up. The return of Cat Casino Bäckman on rhythm guitar is clearly noticeable in the punchy sound.
"The new album is a sprawling piece of work and feels well calibrated in tracing the band's world over the years," finds shouter Whiplasher Bergh. Since DEATHSTARS was formed from the remnants of DISSECTION and SWORDMASTER just over 20 years ago, their energetic Rock'n'Roll shows have represented Scandinavian Deathglam like no other. The band has won awards such as the highly prestigious Hammer's Golden Gods Award, completed arena tours with the likes of RAMMSTEIN and KORN and toured the world time and again. And while the new album is progressive in its own noisy way, it remains true to their vision and distinctiveness. It's just scarred urban life in the raw. It's unmistakably DEATHSTARS. In November, the five Swedes come to us on tour.
Additional Concert Info
Doors: 19:00
Start: 20:00
Tickets: are available for 28.15 euros (plus charges pre-sale) via
Eventim
Info: https://markthalle-hamburg.de/konzerte/deathstars-2/
See also (all categories):