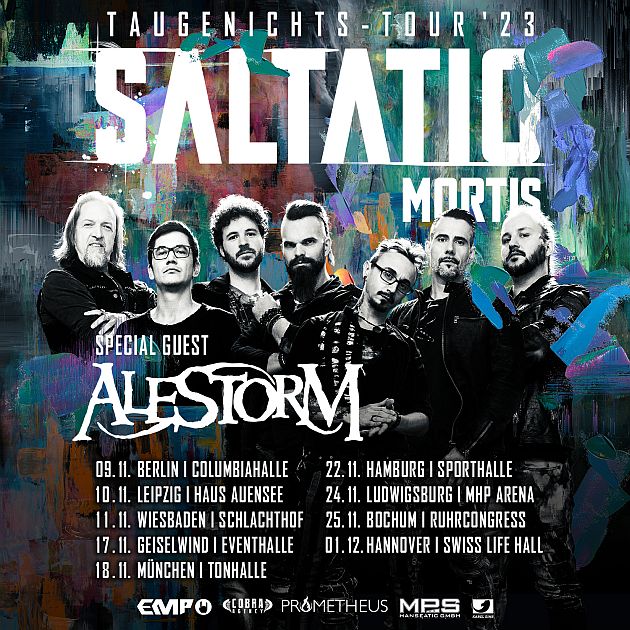 Haus Auensee, Leipzig, Germany
10th November 2023
Saltatio Mortis - "Taugenichts Tour 2023" - Support: Alestorm

They are one of the best and most likeable live bands in the country and they have been inspiring people with their hits and rousing shows for incredible 22 years now. It finally starts again in autumn, because SALTATIO MORTIS is inviting you to the big "Taugenichts Tour": On nine dates in November and December 2023, they will set the halls on fire again, discharge their energy and, with the active support of their support band and fans, spend unforgettable hours together celebrate - more spectacular, louder and wilder than ever before!
Since their beginnings as street musicians in pointed shoes with drums and bagpipes, they have created an impressive twelve albums, four number one positions, a gold record and exciting features with artists such as ELECTRIC CALLBOY and FINCH. Constantly driven by their curiosity and joy of playing, the septet continually breaks new ground and proves their almost limitless musical creativity with every album. They never forget where they come from and always like to return there, playing at medieval events, but also at the biggest festivals, such as the Wacken Open Air or the Full Metal Cruise. With their successful balancing act between the historical and the modern, the seven musicians create their characteristic sound, which, especially live, creates this very special bond between the band and the audience right from the first notes.
Between powerful Rock and delicate Folk, historical instruments and the power of electric guitars, socially critical words and sophisticated word magic from Nordic legends, life, passion and freedom are celebrated. In doing so, they hit the nerve of their loyal and constantly new fans. All those dreamers who, like the band itself, are not afraid of taking risks, don't care about trends or conventions, wear their hearts on their sleeves and extend their middle fingers towards the future and all enemies of freedom. SALTATIO MORTIS is now dedicating a new single to all of these great 'Taugenichts' - and the tour of the same name in the fall.
Included are ALESTORM, a "True Scottish Pirate Metal" band from Perth, Scotland. Together they will burn off fireworks displaying old and new hits - and take it quite literally. Because with lots of pyrotechnics and even more fire, an evening with SALTATIO MORTIS is well worth seeing and celebrated with all like-minded fans and ne'er-do-wells. And if it sounds as fantastic and creates as much power and a feeling of happiness as SALTATIO live - then let's definitely do nothing together! From November 9th, 2023 on a big "Taugenichts Tour" through Germany.
Additional Concert Info

Doors: 19:00
Start: 20:00
Tickets: can be bought for 59.99 + charges (pre-sale) via
Eventim
Info: https://haus-auensee-leipzig.de/saltatio-mortis-23
Bands: https://www.saltatio-mortis.com / https://www.alestorm.net
Facebook Event: https://www.facebook.com/events/158921247052506
See also (all categories):