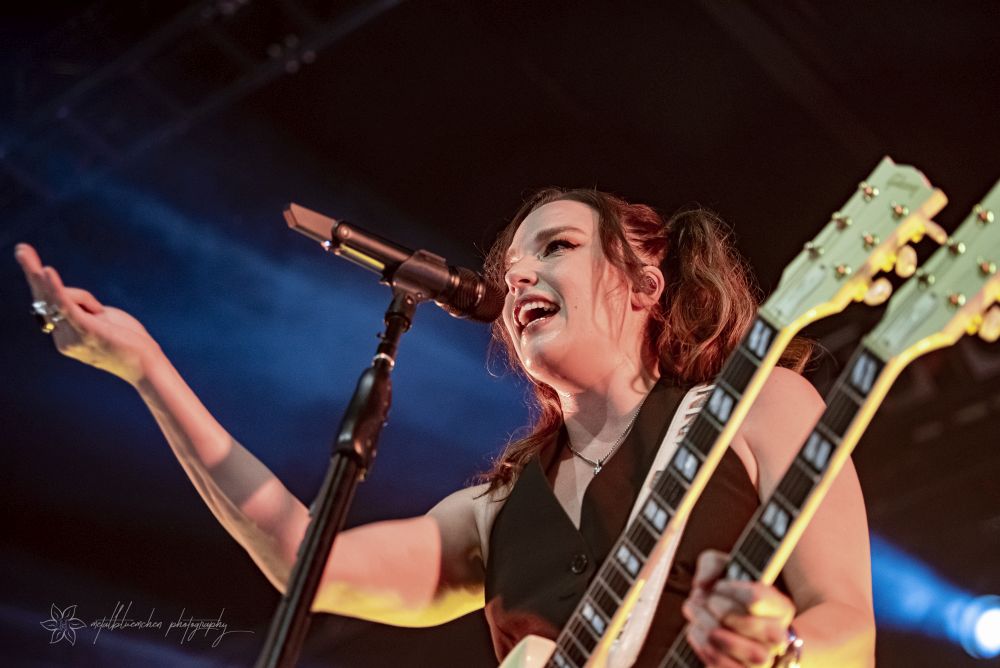 Grosse Freiheit 36, Hamburg, Germany
9th November 2023
Halestorm - "Back from the Dead Tour 2023" - Support: Black Veil Brides, Mothica

With 'Back From The Dead', HALESTORM's fifth and latest album, there is no doubt that the Nashville-based band is more alive than ever. The powerful quartet, led by singer Lzzy Hale, is recognised as one of the most dynamic and energetic bands in the Rock world. 'Back From The Dead' was released late last year and is an uncompromising and undeniable work, which is HALESTORM through-and-through. Special guests, rockers BLACK VEIL BRIDES, support this tour. The concert was opened by amazing MOTHICA.
Mothica

McKenzie Ellis known professionally as MOTHICA, is an American singer. She grew up in Oklahoma City and began producing music when she was 18 years old. Since 2015, she has produced a dozen albums and singles distributed across several online musical streaming platforms such as on Spotify, SoundCloud and Bandcamp. In June 2020, a TikTok video she posted that included her song 'Vices' went viral, providing greater notability as a musician and singer. MOTHICA's music ranges from Pop, Rock, Emo, Electro Pop and Punk Pop. She has produced a dozen albums and singles. In addition, has been involved in many collaborations and features with other musicians. Her most current album was released was this year called 'Nocturnal'.
https://www.mothica.com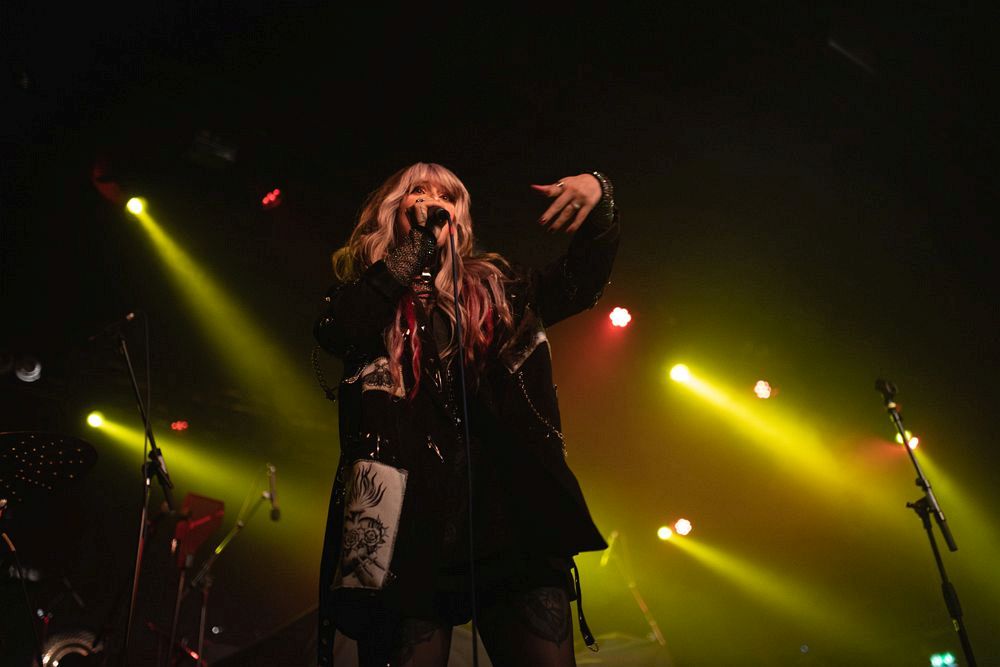 Music & Performance

The Reeperbahn was already glowing with evening lights, with people in brightly coloured costumes walking the streets when we entered the legendary Grosse Freiheit 36. Shortly after 7pm MOTHICA opened this evening. Born McKenzie Ellis, she adopted the name MOTHICA for her music and visual art at age 15, likening it to moths, which have a tendency to be drawn to the light. Her intense set was emotional, touching and highly personal as she spoke plaintively about her struggles with mental health, suicide, assault and domestic abuse.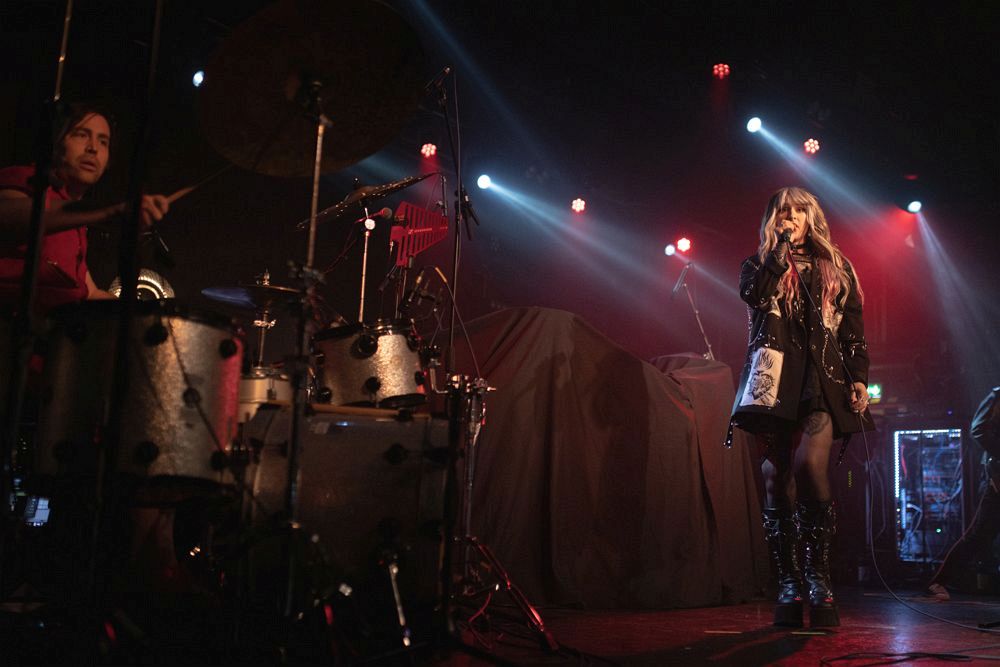 Setlist

01. Casualty
02. Can you feel my heart (BRING ME THE HORIZON cover)
03. Vices
04. Buzzkill
05. All star (Smash Mouth cover)
Rating

Music: 8
Performance: 8
Light: 8
Sound: 9
Total: 8.3 / 10
Black Veil Brides

BLACK VEIL BRIDES is an American Rock band based in Hollywood, California. The group formed in 2006 in Cincinnati, Ohio, and is currently composed of lead vocalist Andy Biersack, rhythm guitarist and violinist Jinxx, lead guitarist Jake Pitts, drummer Christian "CC" Coma and bassist Lonny Eagleton. BLACK VEIL BRIDES are known for their use of black makeup, body paint, tight black studded clothing, and long hair, which were all inspired by the stage personas of KISS and MÖTLEY CRÜE, as well as other 1980s Glam Metal acts.
https://blackveilbrides.net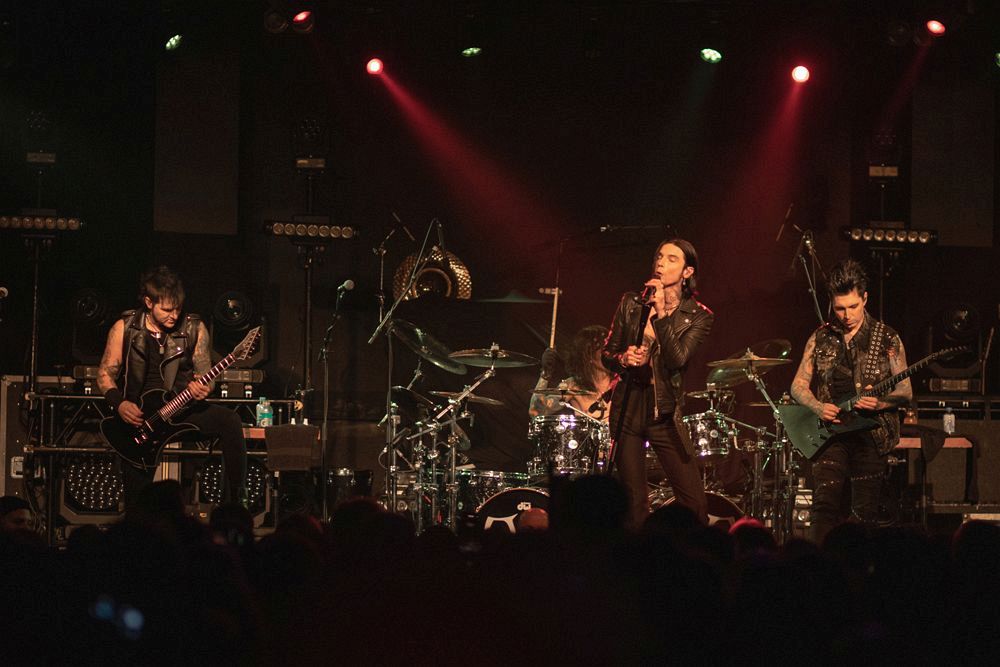 Music & Performance

After MOTHICA's performance, the technicians quickly rearranged the stage and set up the quality sound. When the BLACK VEIL BRIDES came on stage, everything was ready for a great performance and the audience was well warmed up. At the sight of the vocalist Andy Biersack the female half of the audience of course exploded with excitement. Many of them came with posters, that it is possible to demonstrate love in different ways. Starting the set was their latest single 'Crimson Skies' before heading into the back catalogue of hits like 'Rebel Love Song', 'Wake Up', and 'Nobody's Hero'.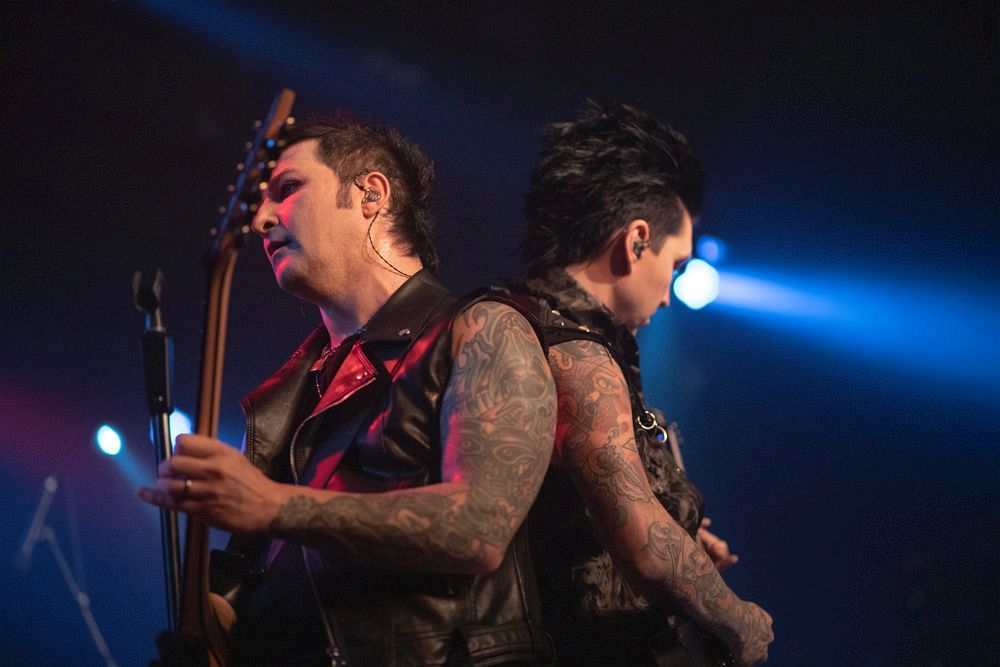 The main thing is that now everyone was enjoying the show to the fullest. Great interaction between Andy and the audience, he tried to have a lively dialogue with the fans, was attentive to what was going on around. Their show picked up with 'Devil', 'Scarlet Cross', 'Torch', 'Knives and Pens', and ended with 'Fallen Angels' and 'In The End'.
Setlist

01. Crimson Skies
02. Rebel Love Song
03. Wake Up
04. Nobody's Hero
05. Devil
06. Scarlet Cross
07. Torch
08. Knives and Pens
09. Fallen Angels
10. In the End
Rating

Music: 9
Performance: 10
Light: 8
Sound: 9
Total: 9 / 10
Halestorm

HALESTORM is an American Rock band from Red Lion, Pennsylvania, consisting of lead vocalist and guitarist Elizabeth "Lzzy" Hale, drummer Arejay Hale, guitarist Joe Hottinger, and bassist Josh Smith. Lzzy and Arejay are siblings, and they founded the band in 1997. The band's self-titled debut album was released on April 28, 2009, through Atlantic Records. HALESTORM is well known for their near non-stop touring, often performing as many as 250 shows a year. After touring as supporting artists for Hard Rock and Heavy Metal acts, they sold out their first headlining arena show in 2016. They have gone on to host tours throughout the United States and internationally, and they are a regularly appearing act at music festivals.
https://www.halestormrocks.com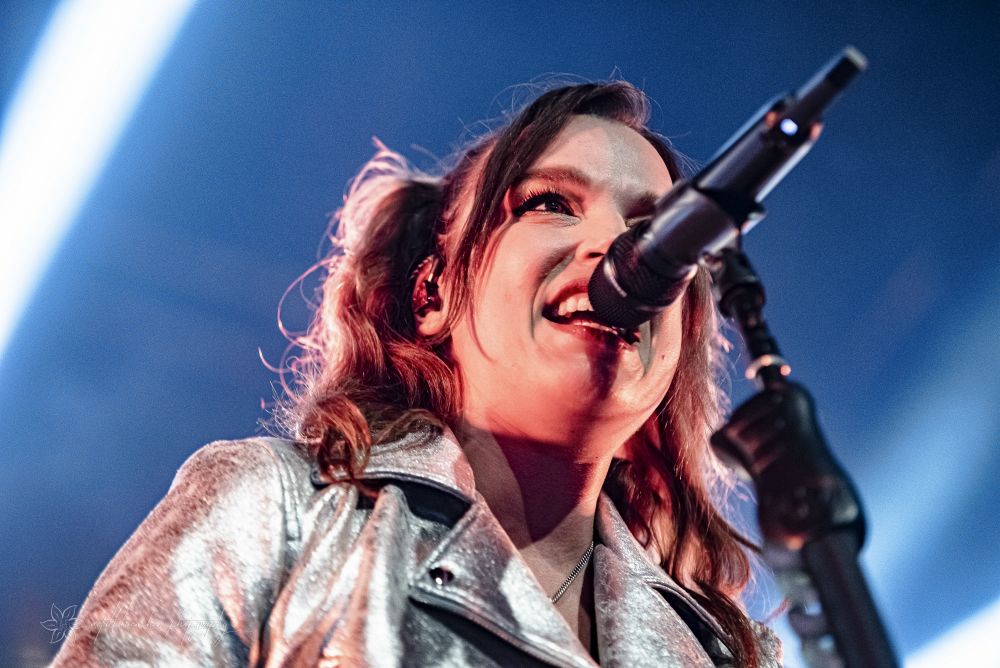 Music & Performance

Lzzy Hale and her henchmen hit the stage for a very energetic and fun performance. The quartet is currently promoting its 2022 album 'Back from the Dead'. The band put on a flawless show performing songs from throughout their career, with songs such as 'I Miss the Misery' and the closing 'The Steeple' causing the most excitement amongst fans. Lzzy has an amazing vocal range, she can effortlessly hit the high notes, or scream, her brother Arejay with his first-class drum solos also takes all the attention of the audience. Well, this performance will be remembered for a long time, and HALESTORM is rightly read as one of the best modern bands.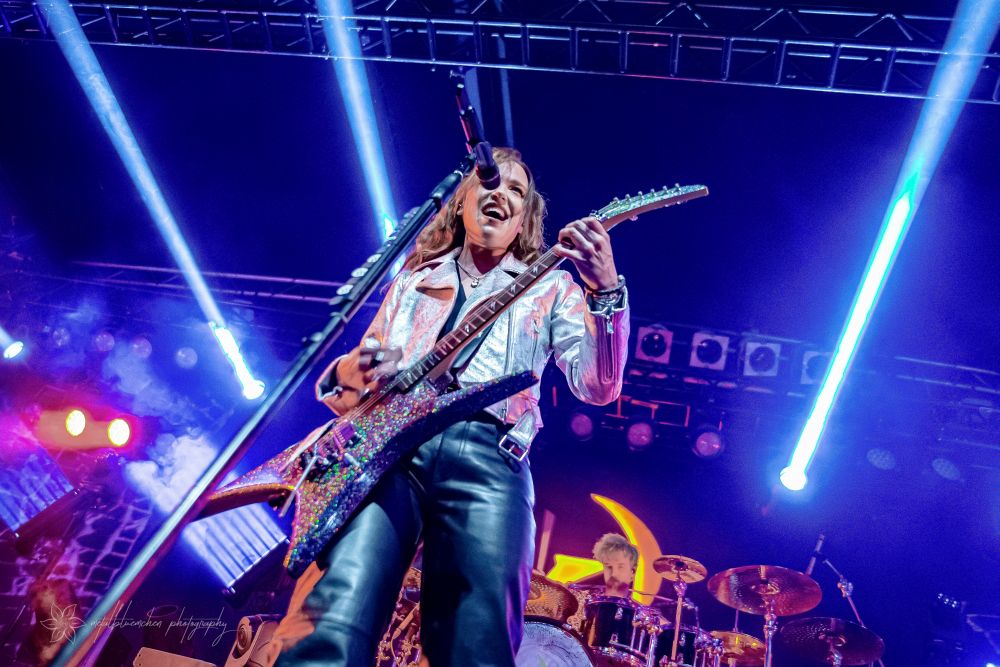 HALESTORM bringing BLACK VEIL BRIDES and MOTHICA on tour made sure it was a night to remember for new and young fans as well as the most veteran fans of these bands.
Setlist

01. I Miss the Misery
02. Love Bites (So Do I)
03. It's Not You
04. I Get Off
05. Wicked Ways
06. Freak Like Me
07. Raise Your Horns
08. Heart of Novocaine
09. Familiar Taste of Poison
10. Takes My Life
11. Drum Solo
12. Back From the Dead
13. I Like It Heavy
14. Amen
15. Rock Show
---
16. Here's to Us
17. The Steeple
Rating

Music: 8
Performance: 8
Light: 7
Sound: 9
Total: 8 / 10
Pictures of Black Veil Brides & Mothica by Marina Galantseva, Halestorm from Cologne by Metalbluemchen Photography (Festivalstalker)
See also (all categories):